High five!
The recipe has been added to your shopping list.
Veal culotte with potatoes dauphinois and salad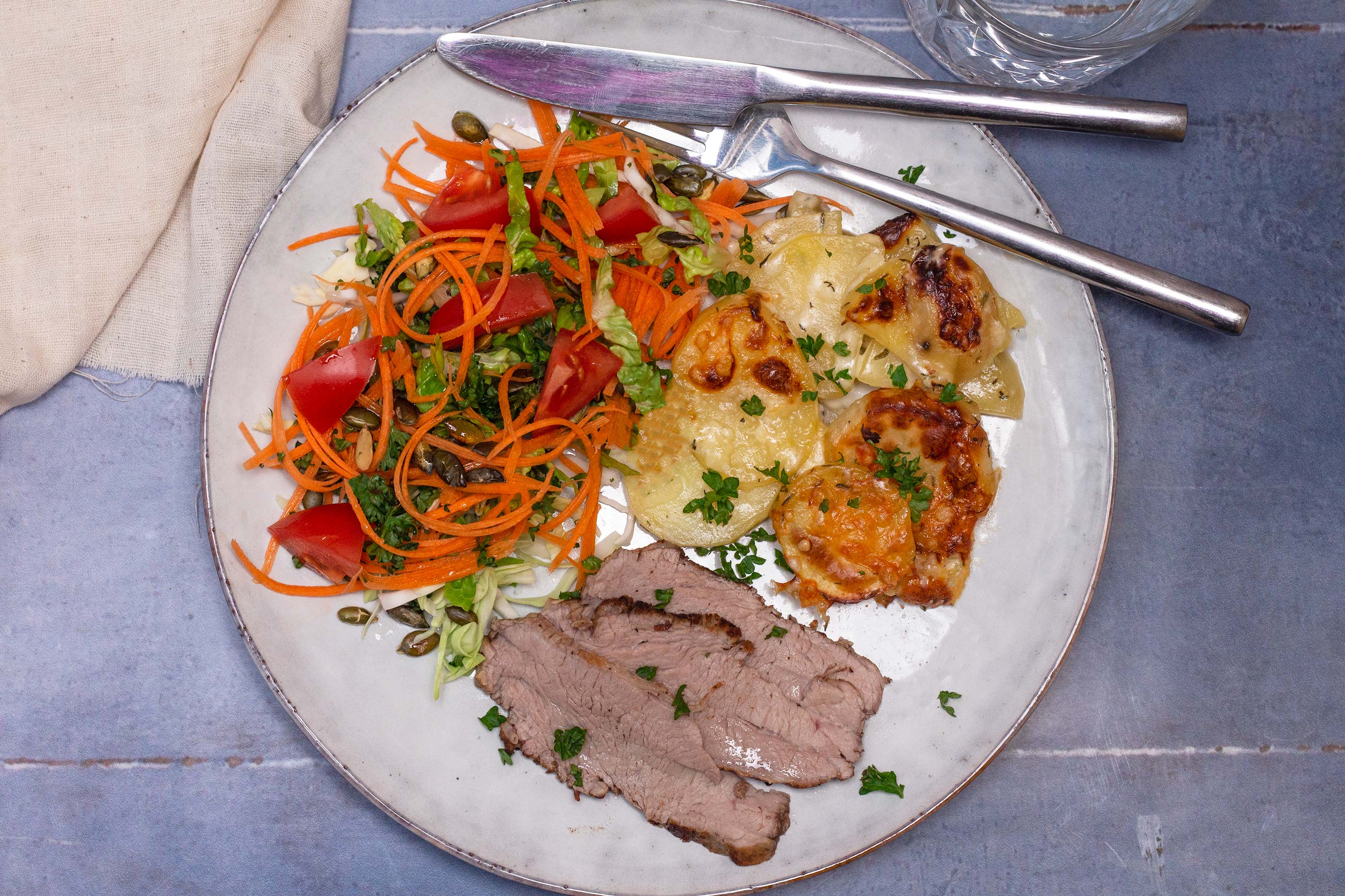 Ingredients
( 2 adults and 2 kids )
1

veal culotte

700 grams

potatoes

1

onion

200 ml

whipping cream

250 ml

milk

1

egg

50 grams

grated cheese

2 tsp

salt

50 grams

pumpkin seeds

- or sunflower seeds

lettuce of your choice

2

tomato

200 grams

carrots

*

dressing of your choice

olive oil

pepper
ADD TO SHOPPING LIST
ADD TO MEAL PLAN
*
= Good to know - click the ingredient

= See the recipe - click the ingredient
Potatoes dauphinois and veal culotte never disappoint! It's a brilliant classic - and it's delicious! We're serving it with an easy and crispy salad - perfect Friday night or weekend dinner. Enjoy!
Directions
1. Preheat your oven to 200 degrees convection. Score the fat on the culotte in a diamond pattern. Season with salt and pepper, and sear the veal in a bit of oil on a pan or the grill for a few minutes, until seared on all sides. This will make it juicier when you roast it.
2. Pop the veal in the oven in a tray with a bit of water in the bottom, or grill it over indirect heat, if weather permits. Cook for about 45-60 minutes per kilo, then let rest for 10-15 minutes, uncovered on a cutting board. It's best to use a meat thermometer if you have one. When the roast is 56-58 degrees in the centre, it's medium - but remember to remove it a bit before that, as it continues to cook as it rests. So if you remove it when it's 52-54 degrees, it will end up around 56-58.
3. Peel the potatoes and thinly slice them. Finely dice the onion. Whisk cream, milk, egg, grated cheese, salt and a dash of pepper in a bowl. Now mix potato slices, onion and the cream mix with your hands in a large bowl, and pour the lot into a lightly oiled casserole tin.
4. Bake the potatoes for about 40 minutes, or until beautifully golden on top and tender when poked with a fork.
5. Roast pumpkin seeds on a dry pan. When they're golden and "popping", they're ready - let them cool off on a plate. Rinse lettuce and tomatoes and cut both into smaller segments. Peel the carrots and grate them on the rough side of a grater. Mix the salad with the pumpkin seeds and a dressing of your choice. Serve the juicy culotte with potatoes dauphinois and salad. Enjoy!
Tip
Tasks for kids in the kitchen: Let your kids help slice  the potatoes. They can also help cut the tomatoes and toss the salad.
Share your tips and comments