High five!
The recipe has been added to your shopping list.
Tomato soup with meatballs and dumplings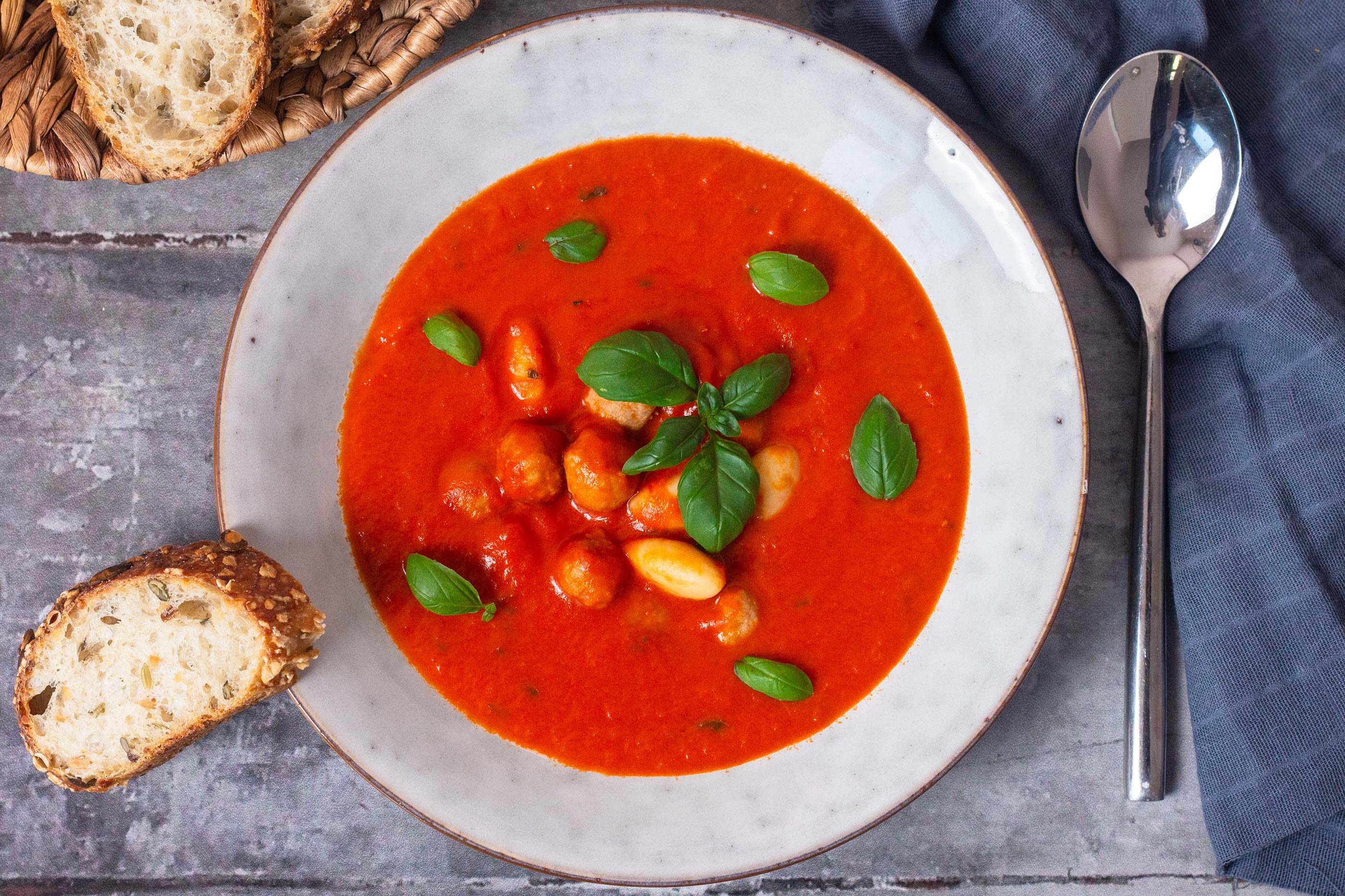 Ingredients
Freezer friendly
( 2 adults and 2 kids )
2

onion

1 clove

garlic

8

tomato

2 can

chopped tomatoes

140 grams

tomato purée

0.5 tbsp

dried oregano

1 cube

vegetable stock

400 ml

water

1

wholewheat baguette

200 ml

single cream 8%

500 grams

meatballs

salt

pepper

olive oil
ADD TO SHOPPING LIST
ADD TO MEAL PLAN
*
= Good to know - click the ingredient

= See the recipe - click the ingredient
Tomato soup is a big hit with most families! Here we've made an easy tomato soup with frozen meatballs and dumplings to make it extra easy, and served it with brown bread - just like the good old 80's. In Denmark you can find meatballs and dumplings in mixed frozen bags - you can pick up a frozen bag of whatever you like in your soup. Enjoy!
Directions
1. Preheat your oven to 185 degrees convection.
2. Roughly chop onion, garlic and rinsed tomatoes. Sautée onion and garlic in a bit of olive oil in a large pot. It needs a couple of minutes, until a bit browned. Then add the fresh tomatoes, and let sautée for another few minutes.
3. Add chopped tomatoes, tomato purée, oregano, crumbled stock cube and water, and let the lot simmer for about 10 minutes. Meanwhile, warm the bread in the oven.
4. Blend the soup smooth with a hand blender. You can also use a regular blender, but remember to only fill it halfway, as warm liquids can 'explode' when blended. We suggest removing the lid and placing a clean dishtowel over top instead. Add meatballs and heat up until they are done.
5. Season to taste with salt, pepper and a dash of honey with warmed bread and an optional sprinkle of herbs on top, if you have some to hand.
6. Enjoy!
Tip
Tasks for kids in the family: Let your kids help rinse and dice the tomatoes. They can also crumble the vegetable stock and pop the other ingredients into the pot.
Share your tips and comments