High five!
The recipe has been added to your shopping list.
Tomato soup with celery, meatballs and dumplings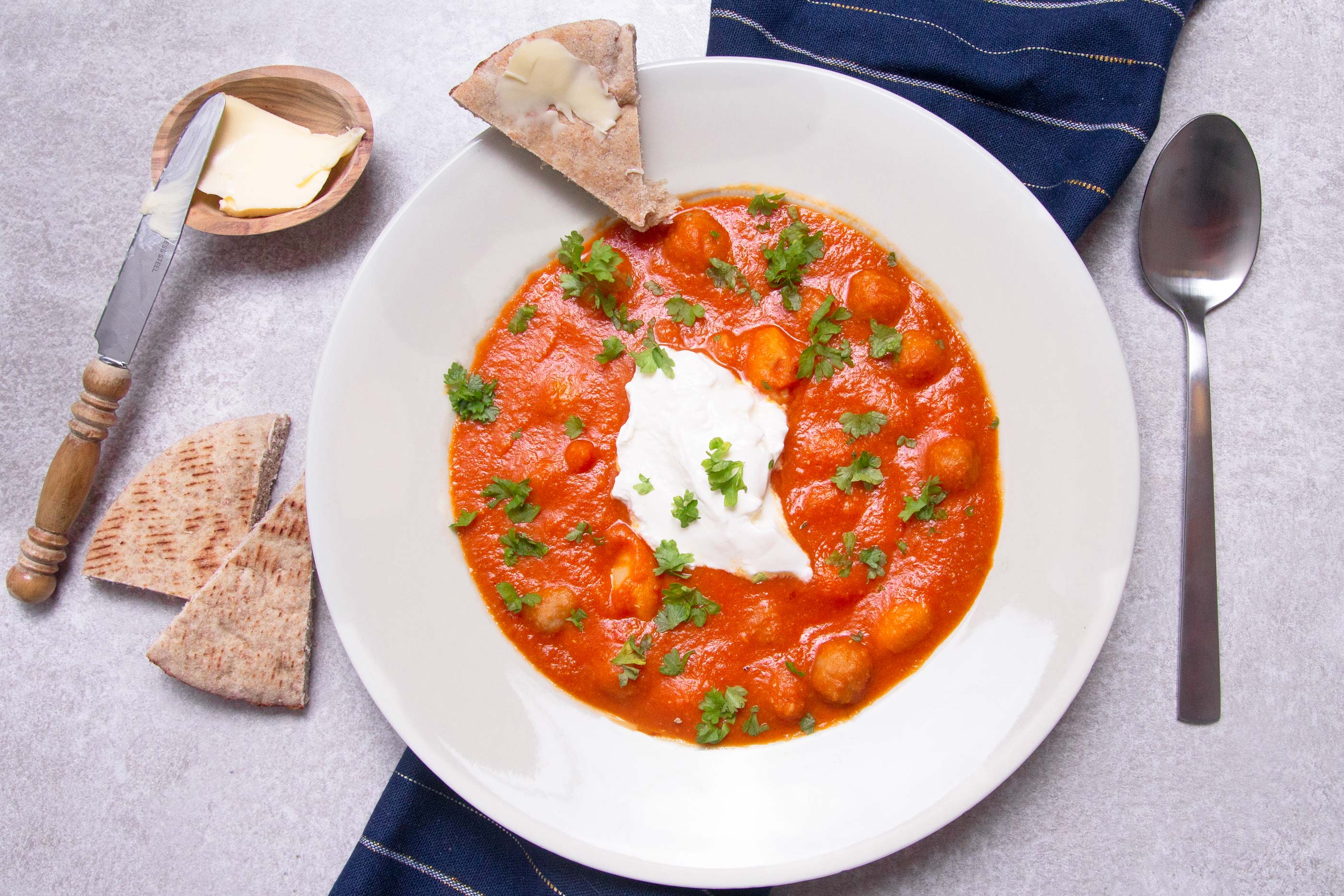 Ingredients
Freezer friendly
( 2 adults and 2 kids )
2

onion

1 clove

garlic

0.5

celeriac

*

2 can

chopped tomatoes

140 grams

tomato purée

0.5 tbsp

dried thyme

1 cube

vegetable stock

600 ml

water

4

wholewheat pitabreads

500 grams

meatballs and dumplings

150 ml

creme fraiche 9 %

salt

pepper

olive oil
ADD TO SHOPPING LIST
ADD TO MEAL PLAN
*
= Good to know - click the ingredient

= See the recipe - click the ingredient
Tomato soup is a classic, and a hit with lots of kids - and did you know that canned tomatoes count as one of your Five A Day? Here we've snuck some celeriac into the soup, which adds really nicely to the flavour. We're serving the soup with meatballs and dumplings, a common combo here in Denmark (you're fine to stick to meatballs if dumplings are a bother - or vice versa). Easy and quick dinner for busy days. Enjoy!
Directions
1. Preheat your oven to 185 degrees convection.
2. Chop onion and garlic. Peel the celeriac and cut it into rough chunks. Sautée onion and garlic in some olive oil in a large pot, until slightly browned. Then add celeriac and let that sizzle along for a couple of minutes.
3. Add chopped tomatoes, tomato purée, thyme, crumbled stock cube and water and let simmer for about 15 minutes. Meanwhile, warm the pitabreads in the oven.
4. Blend the soup smooth with a hand blender. You can also use a regular blender, but remember to only fill it halfway when blending warm liquids, as they can "explode" when blended.We suggest removing the lid and popping a clean dishtowel over instead. Add meatballs, dumplings or both and heat up.
5. Season to taste with salt, pepper and some honey, and serve with warmed pitabreads and creme fraiche on top.
6. Enjoy!
Tip
Tasks for kids in the kitchen: Let your kids help cut up the celeriac. They can also crumble the stock cube, add the ingredients to the pot - and help with tasting, of course!
Share your tips and comments