High five!
The recipe has been added to your shopping list.
Tomato risotto with crispy sausage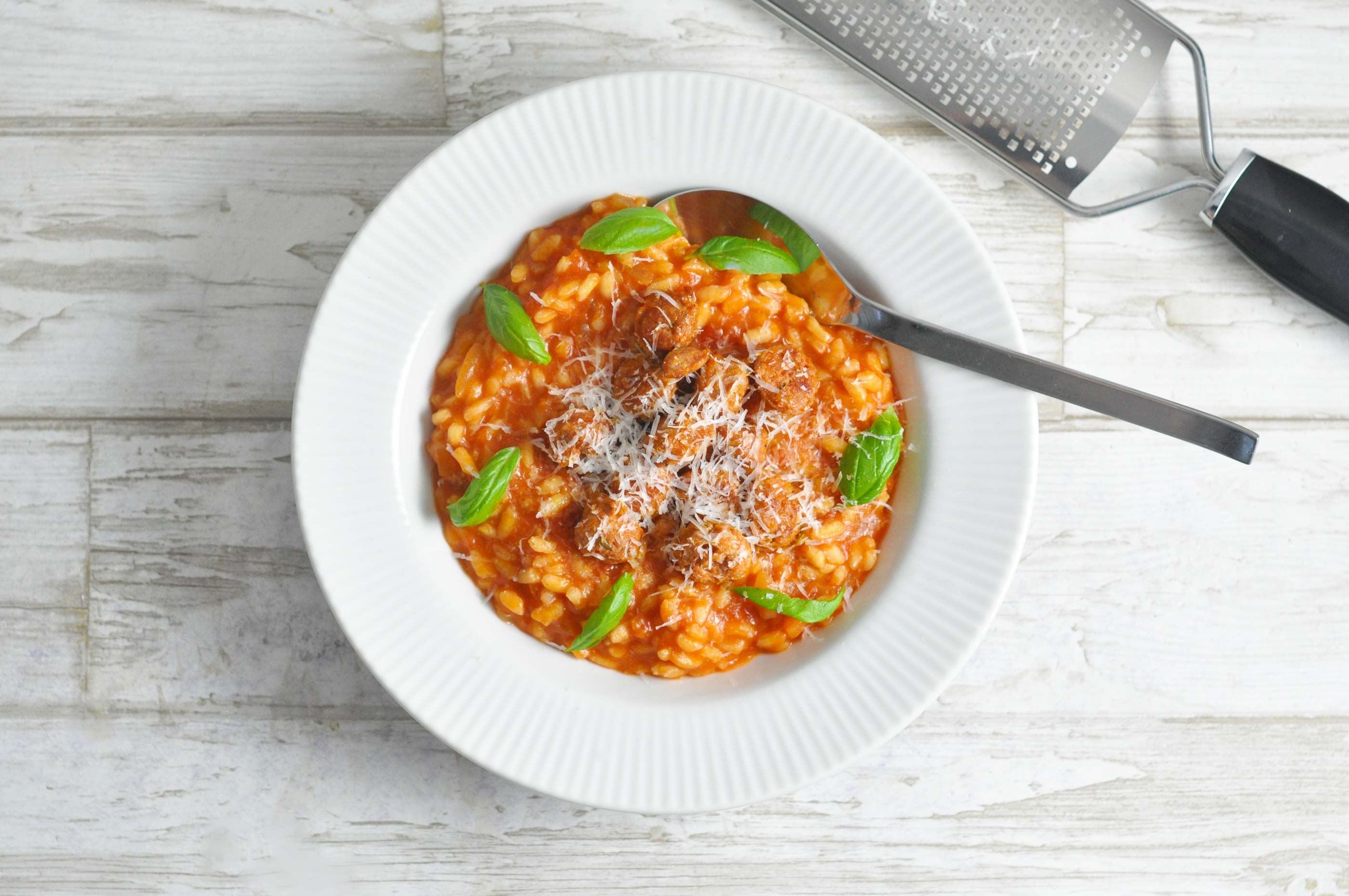 Ingredients
( 2 adults and 2 kids )
700 ml

water

2 cube

vegetable stock

2 can

chopped tomatoes

70 grams

tomato purée

75 grams

parmesan

100 grams

chorizo

- or similar sausage

1

onion

2 sticks

celery

*

300 grams

risotto rice

200 ml

white wine

1

wholewheat baguette

0.5

lemon

salt

pepper

olive oil
ADD TO SHOPPING LIST
ADD TO MEAL PLAN
*
= Good to know - click the ingredient

= See the recipe - click the ingredient
Risotto is super tasty, and not at all as hard to make as you might think. Here we've made the risotto with yummy tomato and crispy sausage on top. If you want to make a 100% vegetarian version, just leave out the sausage. Enjoy!
Directions
1. Preheat your oven to 185 degrees convection. Mix water, stock cubes, chopped tomatoes and tomato purée together in a pot and bring to the boil. Roughly grate the parmesan, dice the chorizo and set both to the side.
2. Finely chop the onion and washed celery and cook on medium heat while stirring for about 5 minutes, until it starts to smell lovely, and the onions go clear. You don't want them to brown. Meanwhile cook the diced sausage until crispy with a dash of olive oil in a pan. Pop them onto a bit of kitchen roll to drip off.
3. Add risotto rice to the onion and stir for a few minutes to keep from burning. Add the wine while stirring and turn the heat up slightly. Stir until the rice have absorbed almost all of the wine.
4. Add the tomato stock with a soup ladle in rounds while stirring. Let the rice absorb the stock each time before you add more. Keep going until the risotto has the consistency of thin rice porridge - you might not need all of the stock. Be careful not to make it too thick and firm - you want it runnier than you think, and with a bit of bite left in the rice. When the risotto cools on the plate, it can easily get too firm and dense if overcooked.
5. Warm the baguette in the oven. Take the risotto off the heat and add grated parmesan. Stir carefully and add salt, pepper and lemon to taste. Serve in deep plates with the wholewheat baguette and top with the crispy chorizo and a bit of chopped parsley or other herbs, if you have any to hand. Enjoy!
Tip
Although you can buy grated parmesan at the supermarket, it's cheaper to buy a whole chunk and grate it yourself. And it tastes a lot better. You can go for Grana Padano instead of parmesan - it's cheaper and tastes almost exactly the same.
Share your tips and comments