High five!
The recipe has been added to your shopping list.
Tomato and coconut soup with shrimp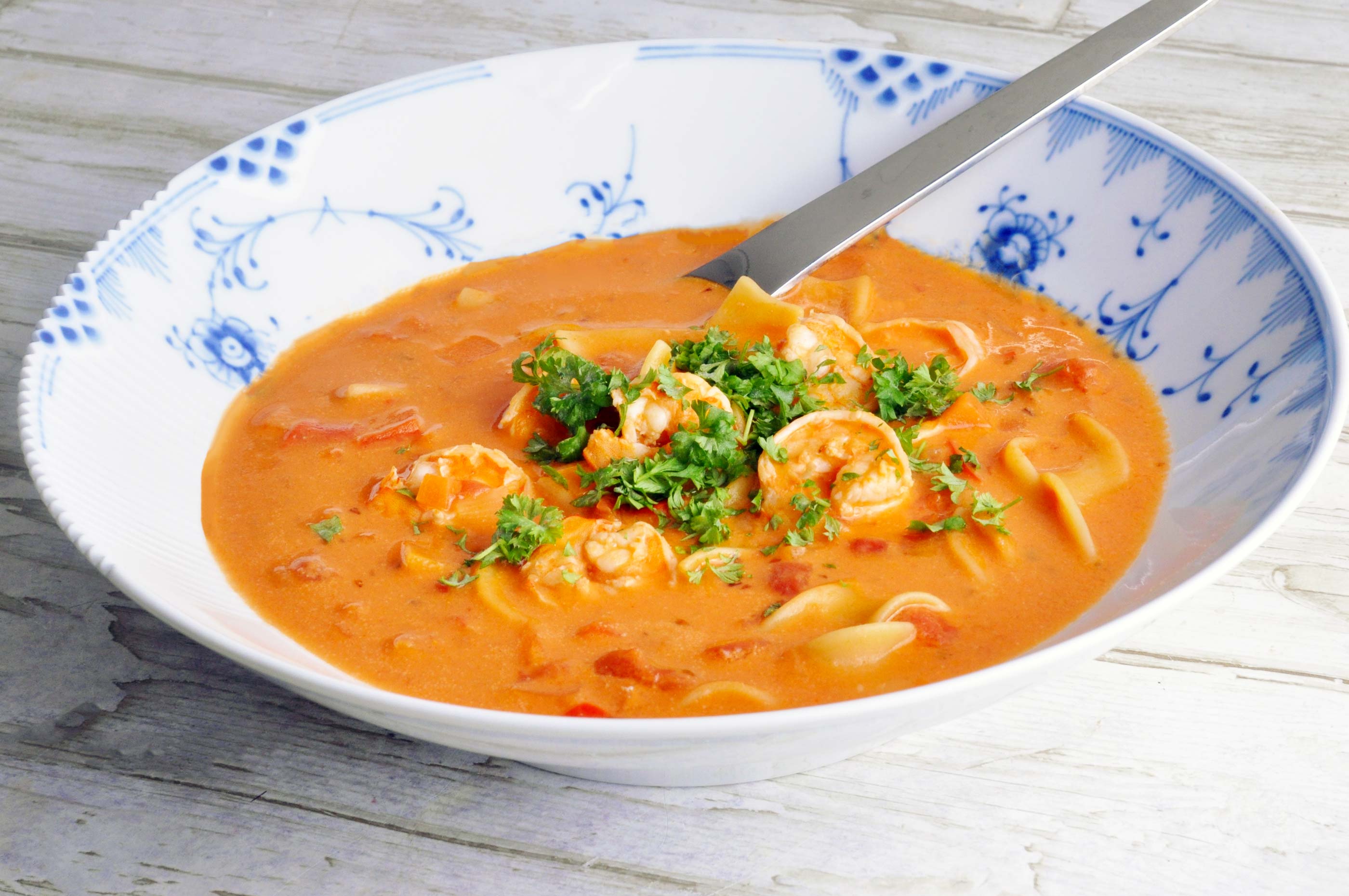 Ingredients
Freezer friendly
( 2 adults and 2 kids )
1

onion

1 clove

garlic

200 grams

carrots

*

1

red bell pepper

1 tsp

cumin

0.5 tbsp

dried oregano

2 can

chopped tomatoes

500 ml

water

100 grams

wholewheat pasta

- fussili

400 ml

coconut milk

200 grams

large shrimp

salt

pepper

olive oil
ADD TO SHOPPING LIST
ADD TO MEAL PLAN
*
= Good to know - click the ingredient

= See the recipe - click the ingredient
This really is the most gorgeous soup you can imagine. The combination of tomato and coconut is just divine - and we've topped the soup with a handful of large shrimp. But you can easily leave those out, if you prefer (or if the kids haven't quite gotten on the crustacean bandwagon yet). The soup is full of diced veggies and wholewheat pasta - so it's both filling and flavourful. Enjoy.
Directions
1. Finely chop onion and garlic. Peel the carrots, rinse the bell pepper and remove the seeds, and finely dice bell pepper and carrot.
2. Sautée all the veg with a bit of olive oil in a pot, along with cumin and oregano. Let the lot cook for a couple of minutes, until the veggies have gotten a bit of colour in them.
3. Add chopped tomatoes, water and pasta, and bring the soup to the boil. Let it simmer for approx. 10 minutes, or until the fussili is cooked. Add coconut milk and bring back to the boil, and add salt and pepper to taste.
4. Finally, add the shrimp. If the shrimp are raw, let the soup simmer for three to five minutes, until the shrimp turn pink and are cooked through. If the shrimp are precooked, they just need to be warm all the way through. Be careful not to overcook the shrimp, as they quickly go dry.
5. Serve the soup and garnish with a sprinkle of herbs, like parsley, if you have any handy.
6. Enjoy!
Tip
We've made the soup with diced veggies, to "beef" it up a bit. If you prefer, you can blende the soup with a handblender so the veggies are a bit more hidden. In this case, boil the pasta in its own pot, and only add it once you've blended the soup - as you can imagine.
Share your tips and comments