High five!
The recipe has been added to your shopping list.
The yummiest Nutella cheesecake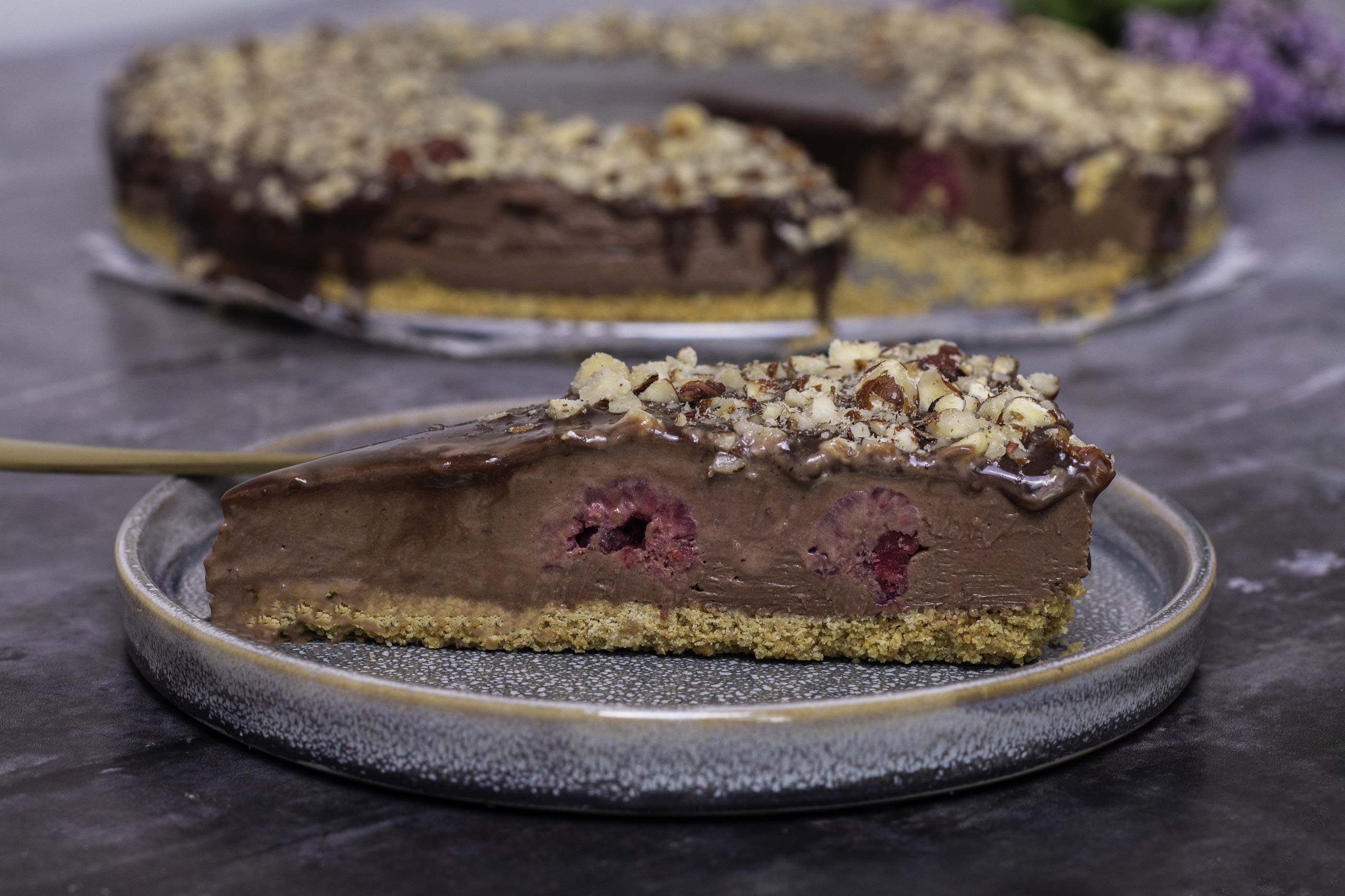 Ingredients
( 1 cake )
Cake

350 grams

digestive biscuits

100 grams

butter

600 grams

cream cheese

450 grams

Nutella

1 tsp

vanilla sugar

100 grams

powdered sugar

150 grams

raspberries

100 grams

hazelnuts

Ganache

200 grams

Nutella

1.5 tsp

instant coffee

100 ml

whipping cream
ADD TO SHOPPING LIST
*
= Good to know - click the ingredient

= See the recipe - click the ingredient
We're just gonna say it: This recipe is for a mega sinful and insanely delicious cheesecake with Nutella, which will have everyone (well, NEARLY everyone) asking for the recipe. The cake needs no baking - you just need a bit of fridge and freezer space. Instant coffee can be Nescafé or the like. Get excited - and enjoy!
Directions
1. Pop digestives in a mini chopper and finely blend them. Melt the butter in a pot or the microwave. Mix melted butter with the finely chopped biscuits and pour the mix into a round cake tin. Press the mass proper into the bottom of the tin. Pop the cake tin in the freezer while you get the rest ready.
2. Pour the cream cheese in a bowl and lightly whisk it, until lump free. Add Nutella, vanilla sugar and powdered sugar and whisk together.
3. Pour half of the batter on top of the digestive base. Evenly spread the raspberries, and pour over the rest of the batter.Smooth the surface and pop the cake in the fridge for about five hours - or a couple of hours in the freezer. Meanwhile, finely chop the hazelnuts and set aside for later.
4. Once the cake is cool, make the ganache. Pour Nutella into a bowl along with instant coffee. Bring cream to the boil in a pot, pour it into the bowl with Nutella mix everything well into an even mass. Pour over the cake - tilt the cake slightly, so it can run out to the edges.
5. Sprinkle chopped hazelnuts over the cake and pop in the fridge for about two hours.
6. And it's finally munchy time, yay!
7. Enjoy!
Tip
Tasks for kids in the kitchen: Let your kids help break the digestives to fit in the mini chopper (the biscuits that is - certainly not the kids!). They can also whisk the cream cheese with Nutella and spread raspberries onto the cake. And they can of course scrape the Nutella jar, so you can be sure you got it all! 
Share your tips and comments