High five!
The recipe has been added to your shopping list.
The easiest pepperoni pizzas with snack veggies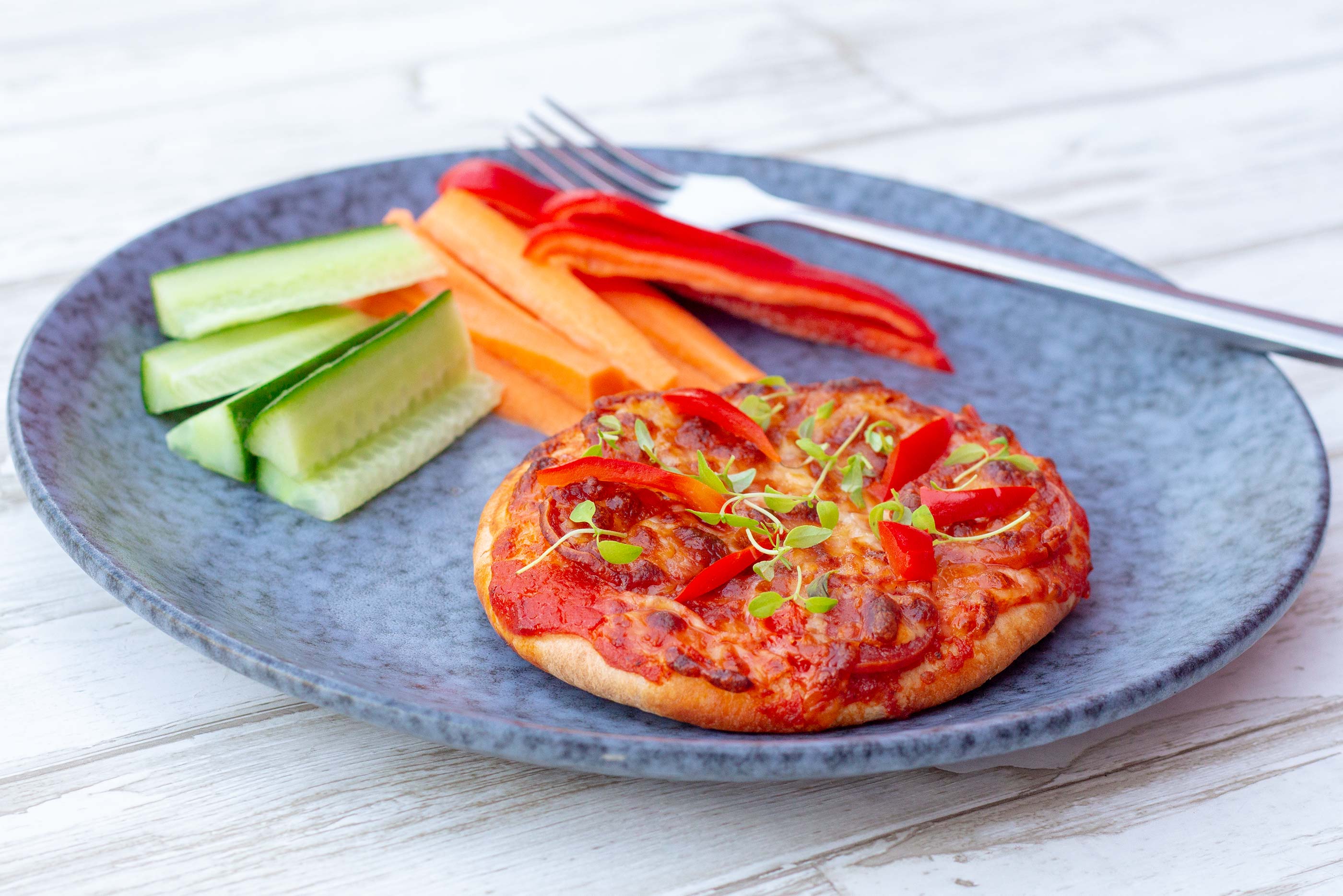 Ingredients
( 2 adults and 2 kids )
1 can

chopped tomatoes

1 clove

garlic

2 tsp

dried oregano

1 tsp

salt

8

wholewheat pitas

2 ball

mozzarella

150 grams

pepperoni

1

red bell pepper

200 grams

carrots

*

0.5

cucumber
ADD TO SHOPPING LIST
ADD TO MEAL PLAN
*
= Good to know - click the ingredient

= See the recipe - click the ingredient
The perfect recipe for easy dinner the kids will love. Cheaty pizzas topped with pepperoni, homemade pizza sauce and mozzarella - served with snack veggies. Yum and enjoy!
Directions
1. Preheat your oven to 225 degrees convection.
2. Pop chopped tomatoes, garlic, oregano and salt in a blender or mini chopper and give it a quick whirl, until the sauce is smooth.
3. Pop 1-2 tbsp. of tomato sauce on each of the whole pita breads. Do avoid putting sauce on the outermost half centimetre of the pitas.
4. Rip the mozzarella into smaller pieces and spread the pepperoni and mozzarella onto the pita breads, with pepperoni on the bottom and mozzarella on top. Optionally, you can sprinkle a bit of dried oregano on top.
5. Bake the mini pizzas for 10-15 minutes, until the cheese is melted and golden.
6. Clean and rinse the bell pepper and peel the carrots. Cut bell pepper, carrots and cucumber into sticks for snack veggies.
7. And dinner is served. Could it be any easier? Enjoy!
Tip
If you like your pizza extra thin and crispy, you can split the pitas in half and top with the filling on the inside of the pitas.
Share your tips and comments