High five!
The recipe has been added to your shopping list.
Thai ribs with easy noodles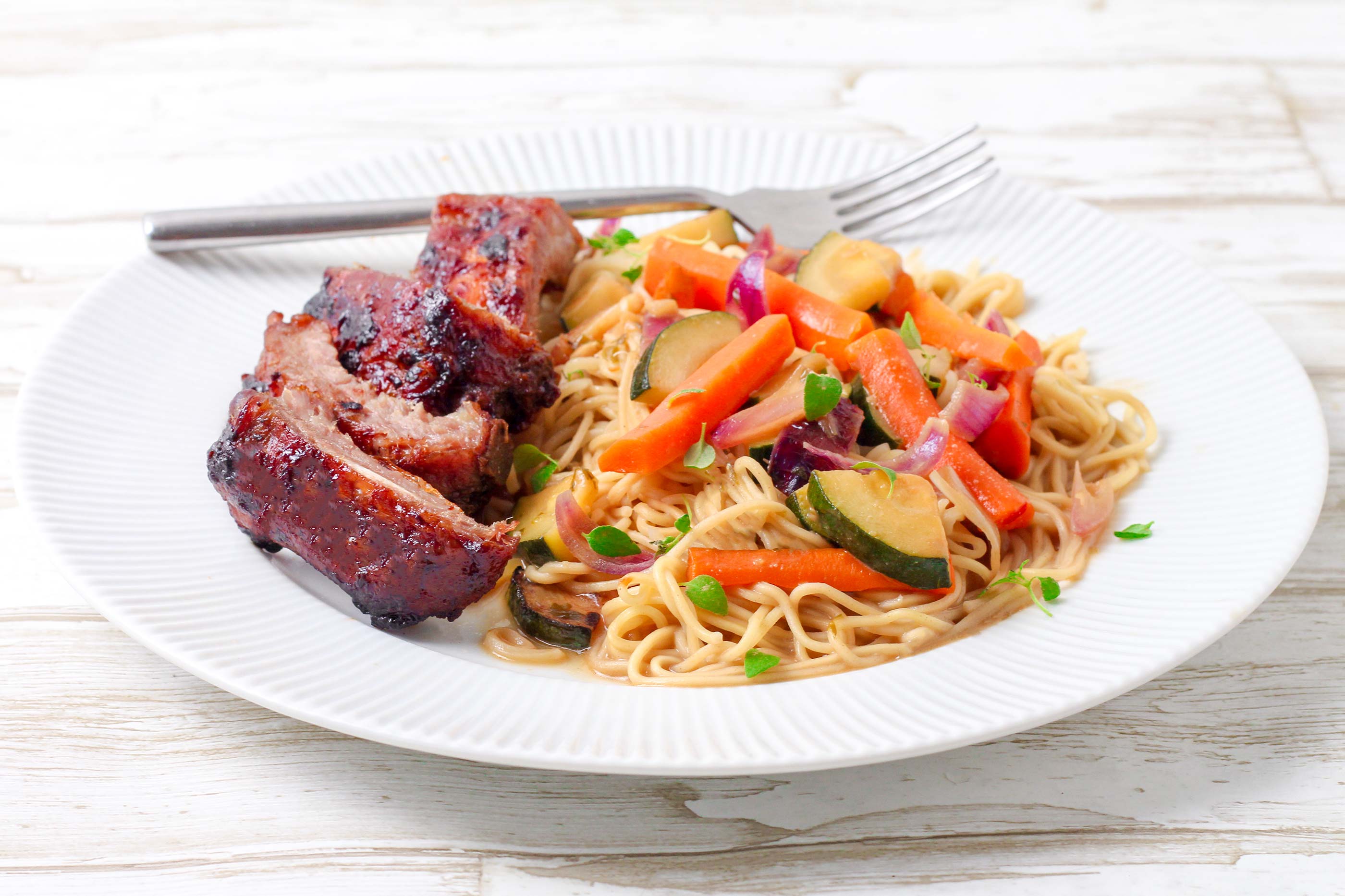 Ingredients
( 2 adults and 2 kids )
1 kg

pork ribs

3 tbsp

peanut butter

50 ml

soy

100 ml

sweet chilli sauce

3 cm

fresh ginger

1 clove

garlic

wholewheat noodles

1

onion

300 grams

carrots

*

1

courgette

1 cube

vegetable stock

100 ml

water

1

lemon

olive oil

salt

baking parchment
ADD TO SHOPPING LIST
ADD TO MEAL PLAN
*
= Good to know - click the ingredient

= See the recipe - click the ingredient
It's not hard at all to make spare ribs yourself - and much cheaper! Here we've marinated them in a delicious Thai marinade and served them with easy noodles. You can find fresh pork ribs in most major supermarkets. Otherwise, just ditch the marinade and buy a packet of the ready made. Enjoy!
Directions
1. Place the raw pork ribs in a large pot and cover with water. Bring the water to the boil and let the ribs cook for approx. 15-20 minutes. Remove the ribs and pop them onto a baking tray covered with baking parchment, if you want to ovencook them, or on a cutting board if you're grilling them.
2. While the ribs are cooking, prep the marinade. Pop peanutbutter, soy, sweet chilli sauce, fresh ginger and garlic in a blender or mini chopper and give it a whirl until the ginger and garlic have been finely blended. Save half of the marinade for later.
3. Rub the ribs with half of the marinade on both sides and cook the ribs in the oven for about 25 minutes at 200 degrees convection until browned. Or chuck them on the grill - remember to keep an eye on them, so they don't get charred.
4. Cook the noodles according to the packet.
5. Peel the onion and cut into wedges. Peel the carrots, rinse the courgette and cut both into bite-sized chunks.
6. Cook the veggies in olive oil in a pot, until browned. Pour the other half of the marinade into the pot along with crumbled stock cube and water. Season the sauce to taste with salt and the juice from a lemon.
7. Serve the tasty Thai ribs with warm noodles and veggies.
8. Enjoy!
9. Turn the oven on 200 degrees convection - unless you whish to use the grill.
Share your tips and comments