High five!
The recipe has been added to your shopping list.
Thai meatballs in green coconut curry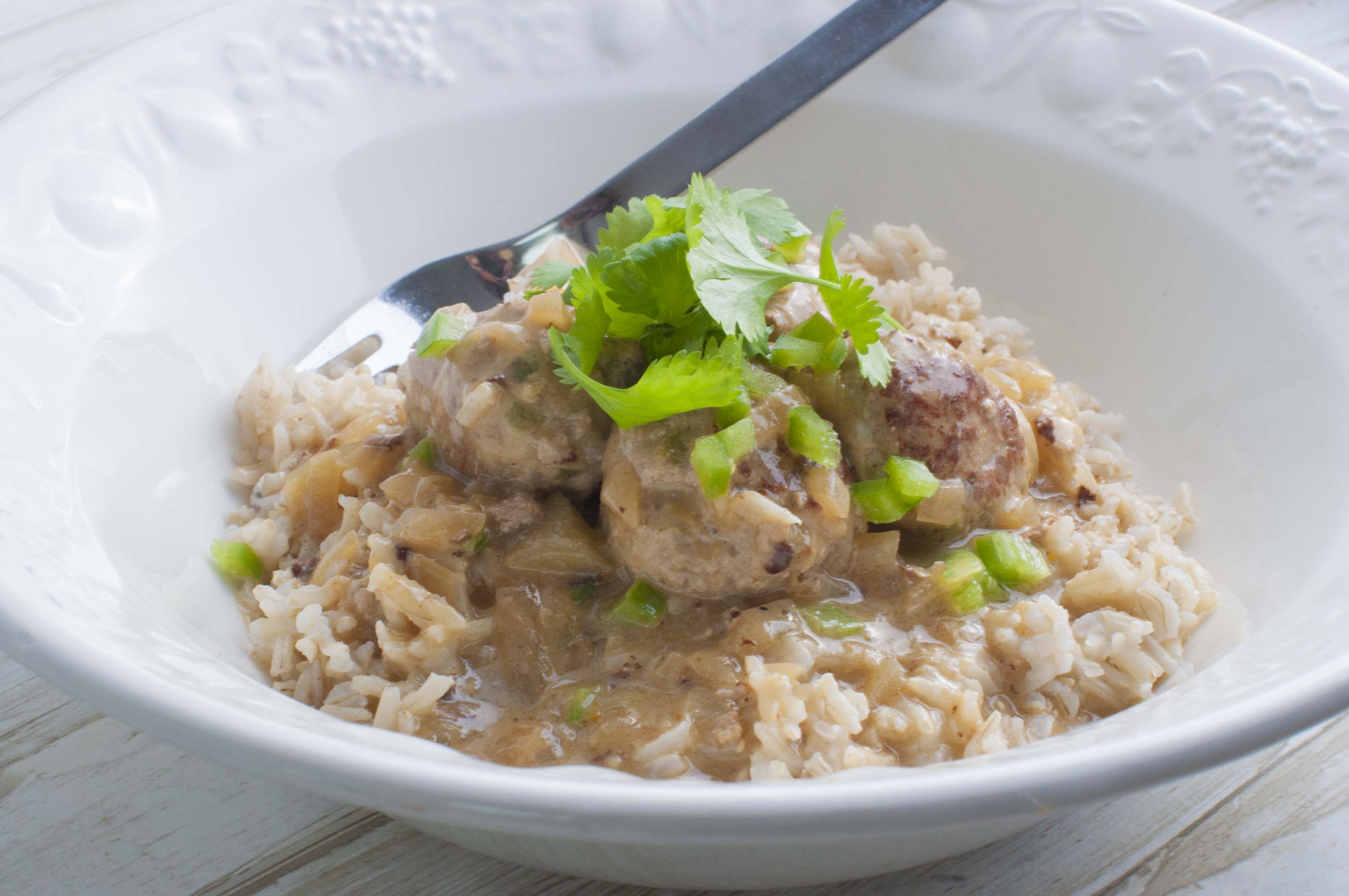 Ingredients
Freezer friendly
( 2 adults and 2 kids )
wholegrain rice

1

onion

1 clove

garlic

1

green bell pepper

2 cm

fresh ginger

4 tsp

green curry paste

1 tbsp

soy

1

egg

1

lime

400 grams

pork mince

200 ml

coconut milk

400 ml

water

1 cube

chicken stock

olive oil
ADD TO SHOPPING LIST
ADD TO MEAL PLAN
*
= Good to know - click the ingredient

= See the recipe - click the ingredient
Yummy meatballs with a hint of the far east, full of ginger, mild curry paste and other good stuff. Served in a delicious and mild curry sauce with piping hot rice on the side. Enjoy!
Directions
1. Boil the rice following the directions on the packet. Finely chop onions, garlic, and a rinsed and cleaned bell pepper - or give it a whirl in the mini chopper. Peel the ginger and grate it on the fine side of a grater.
2. Stir half of the onion mix, ginger, half of the curry paste, soy, egg, the juice from half a lime, and the mince together in a bowl. Optionally, cook a test meatball to see if the mix is seasoned to your liking.
3. Heat a dash of olive oil in a big pan. Shape nice little meat balls, about the size of golf balls, with your hands. Carefully fry them until coloured on all sides. They don't need to be cooked through - that'll happen later. Remember to wash your hands and utensils when you're done.
4. Remove the meatballs from the pan without cleaning off the pan. Cover the meatballs and put them aside. Add another dash of olive oil to the pan and add what's left of the onion mix and curry paste. Let cook for a minute or two and then add coconut milk, water, crumbled stock cube, and a bit of lime juice.
5. Bring the sauce to the boil and let simmer for a couple of minutes, while you adjust to taste. Optionally add more lime juice and curry paste, if you like. Although the sauce in Thai dishes usually isn't thickened, our kids love their sauce to stick to the rice. If yours are the same, you can thicken the sauce with a bit of corn flour or flour stirred into a bit of water in a cup. Remember that thickened sauce thickens at the boiling point - so add your thickening mixture bit by bit.
6. Carefully place the meatballs into the sauce and let the lot simmer until the meatballs are cooked through. Serve with piping hot rice and garnish with a bit of green on top, if you feel the need for a pop of colour. Enjoy!
Tip
If you fancy it, you can swap out the pork for chicken mince. This will make slightly more low-fat meatballs -with a milder flavour. And if you have leftover coconut milk, chuck it in an airtight container and freeze it - then you have it for next time. If the curry sauce is a bit thinner than you'd like, mix a bit of cornflour and water in a cup and use it to thicken the sauce.
Share your tips and comments