High five!
The recipe has been added to your shopping list.
Thai chicken meatballs in coconut curry sauce with rice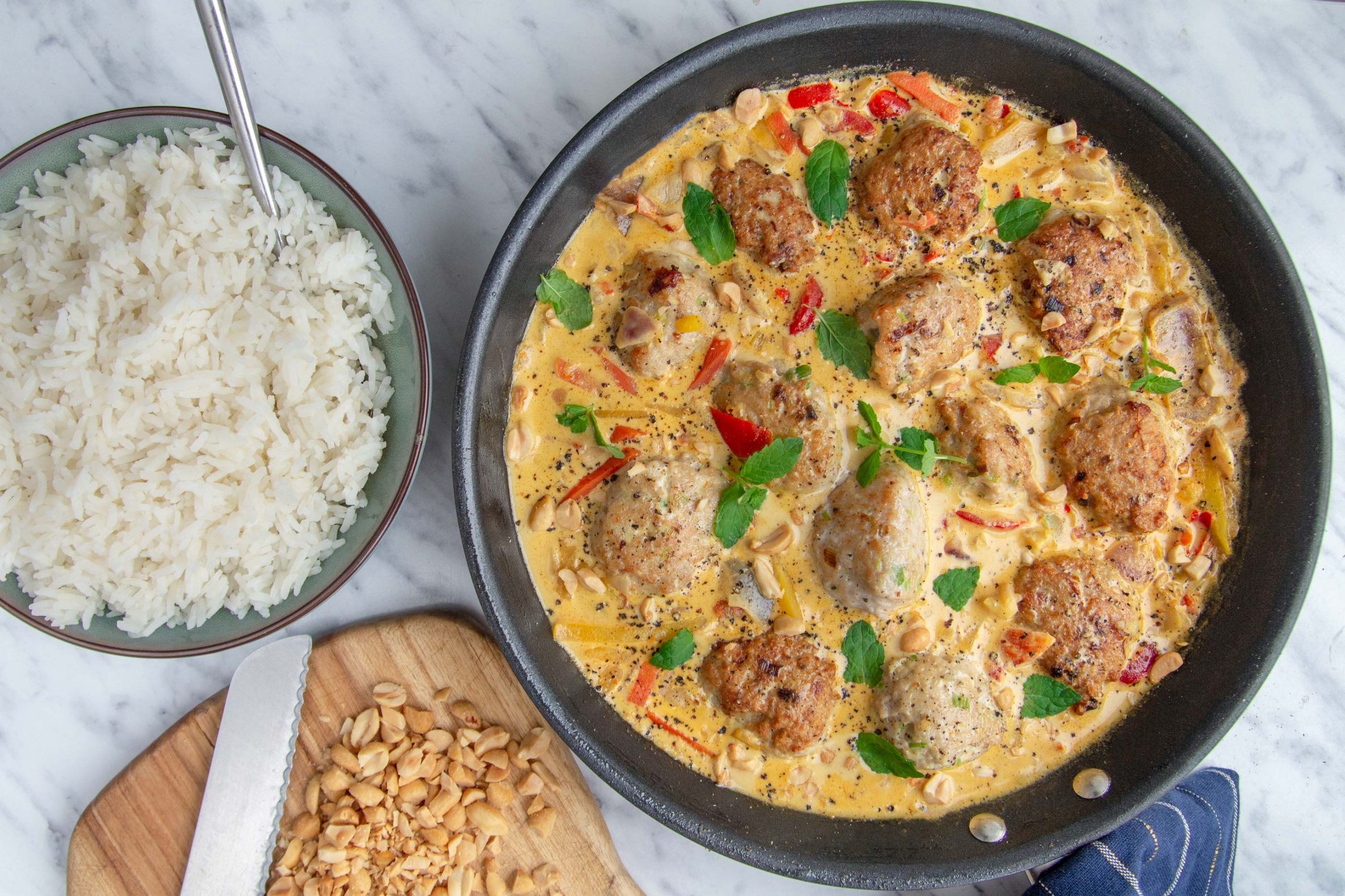 Ingredients
Freezer friendly
( 2 adults and 2 kids )
wholegrain rice

1 bunch

fresh coriander

400 grams

chicken mince

1 tsp

garlic powder

1

egg

1.5 tbsp

breadcrumbs

1 tsp

salt

400 grams

frozen wok mix with red curry

400 ml

coconut milk

1 tbsp

soy sauce

100 grams

peanuts

1

lime

olive oil

pepper
ADD TO SHOPPING LIST
ADD TO MEAL PLAN
*
= Good to know - click the ingredient

= See the recipe - click the ingredient
These Thai chicken meatballs are really tasty! We're serving them with easy veggies in a yummy sauce with coconut milk and topped with chopped peanuts. We've used a ready-made frozen veggie mix with red curry – you can pick any frozen wok mix you like and add some red curry paste if you can't find the pre-made kind. In that case, just remember to adjust your shopping list. Enjoy!
Directions
1. Cook the rice according to the packet.
2. Finely chop coriander – maybe save a handful for garnish. Mix with chicken mince, garlic powder, egg, breadcrumbs, salt and pepper.
3. Heat a dash of olive oil in a large pan – optionally, fry a little tester ball to check that the seasoning is how you like it.
4. Dip a spoon in a cup of water, and shape lovely little chicken meatballs using the spoon and palm of your hand. Gently fry them until seared on all sides. They don't need to be cooked through – that'll happen later. Remember to wash your hands and utensils when you're done.
5. Remove the meatballs from the pan, and don't clean the pan. Cover the meatballs and set aside.
6. Add some more olive oil to the pan, then add the frozen wok mix with curry. Fry for a minute or two, then add coconut milk and soy sauce. Bring the sauce to the boil and let it simmer for a couple of minutes, while you season to taste with salt and pepper.
7. Carefully place the meatballs into the sauce, and let it simmer until the meatballs are cooked through. Meanwhile, chop the peanuts.
8. Serve with piping hot rice, chopped peanuts and garnish with some coriander or other herbs, if you fancy it. Enjoy!
Tip
Tasks for younger kids in the kitchen: Let your kids help chop the fresh coriander and peanuts. Make sure they use a child safe knife. They can also help shape the meatballs and taste the sauce.
Share your tips and comments