High five!
The recipe has been added to your shopping list.
Tenderloin medallions with root veggies and salad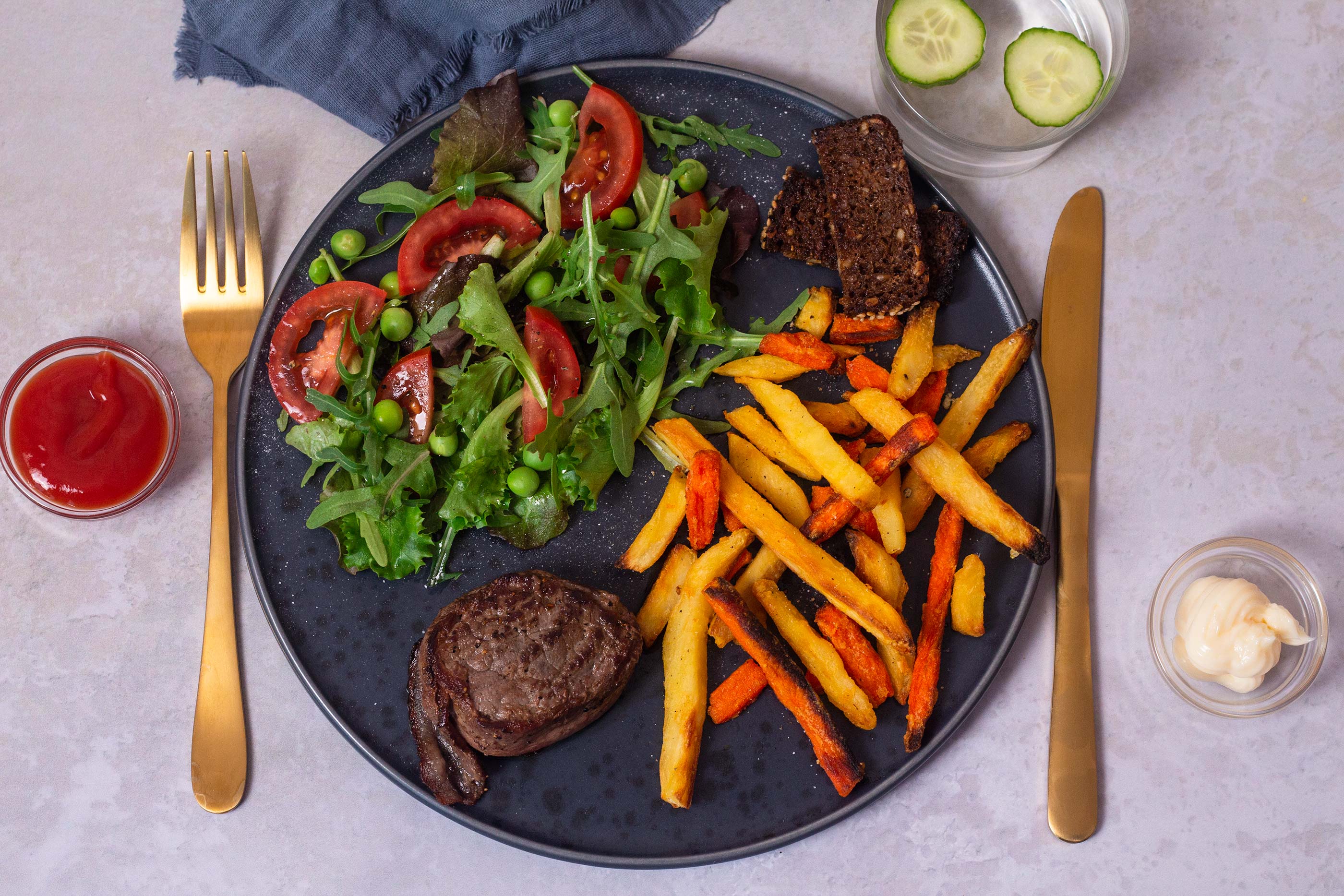 Ingredients
( 2 adults and 2 kids )
650 grams

frozen root vegetables

1

pork tenderloin

100 grams

bacon slices

lettuce of your choice

200 grams

fresh peas

- or frozen

2

tomato

dressing of your choice

wholegrain bread

salt

pepper

meat pins or toothpicks

olive oil

ketchup

mayonnaise

baking parchment
ADD TO SHOPPING LIST
ADD TO MEAL PLAN
*
= Good to know - click the ingredient

= See the recipe - click the ingredient
Mmm, tenderloin steaks with root veg chips! A super tasty weekend dish, which we've made extra easy by using frozen root veggies, which are already peeled, cut, and can be purchased year round - with vitamins and minerals intact. But you can of course go for fresh ones! We're serving the steaks with an easy salad, rye breadsticks and dip of your choice. Enjoy!
Directions
1. Preheat your oven to 200 degrees convection - or fire up the grill. Place the root veggies on a baking tray with baking parchment and drizzle with oil.
2. Trim the tenderloin by removing the largest tendons and fat deposits with a sharp knife. Be careful not to cut too deep into the meat. Cut the tenderloin into steaks about 5 centimetres thick and season them with salt and pepper. Wrap a slice of bacon around each steak and pin it with a toothpick or meat pin.
3. Throw the steaks on the grill, if weather permits. Otherwise: Quickly sear both sides of the steaks on a pan, over high heat, in a dash of olive oil - avoid cleaning the pan when you're done. Place the steaks in a baking tray with half a centimetre of water in the bottom. Place the tray in the oven for 10-15 minutes, until the steaks are cooked through or faintly pink in the centre.
4. While the steaks are in the oven, whip up the salad. Rinse the lettuce, peel the peas (if using fresh ones), otherwise thaw according to the bag. Rinse and slice the tomatoes. Mix the lot together and top with dressing of your choice.
5. Cut the bread into sticks and cook on the pan - in an optional splash of oil - and sprinkle with salt once they're golden and crispy. Serve the tenderloin medallions with crispy root veg chips, salad, breadsticks, and optionally a bit of ketchup, mayo, or other preferred dip. Enjoy!
Tip
Tasks for kids in the family: Let your kids help shuck the peas. They can also slice the tomatoes and cut the rye bread into sticks.
Share your tips and comments