High five!
The recipe has been added to your shopping list.
Tenderloin medallions with pumpkin and tomato sauce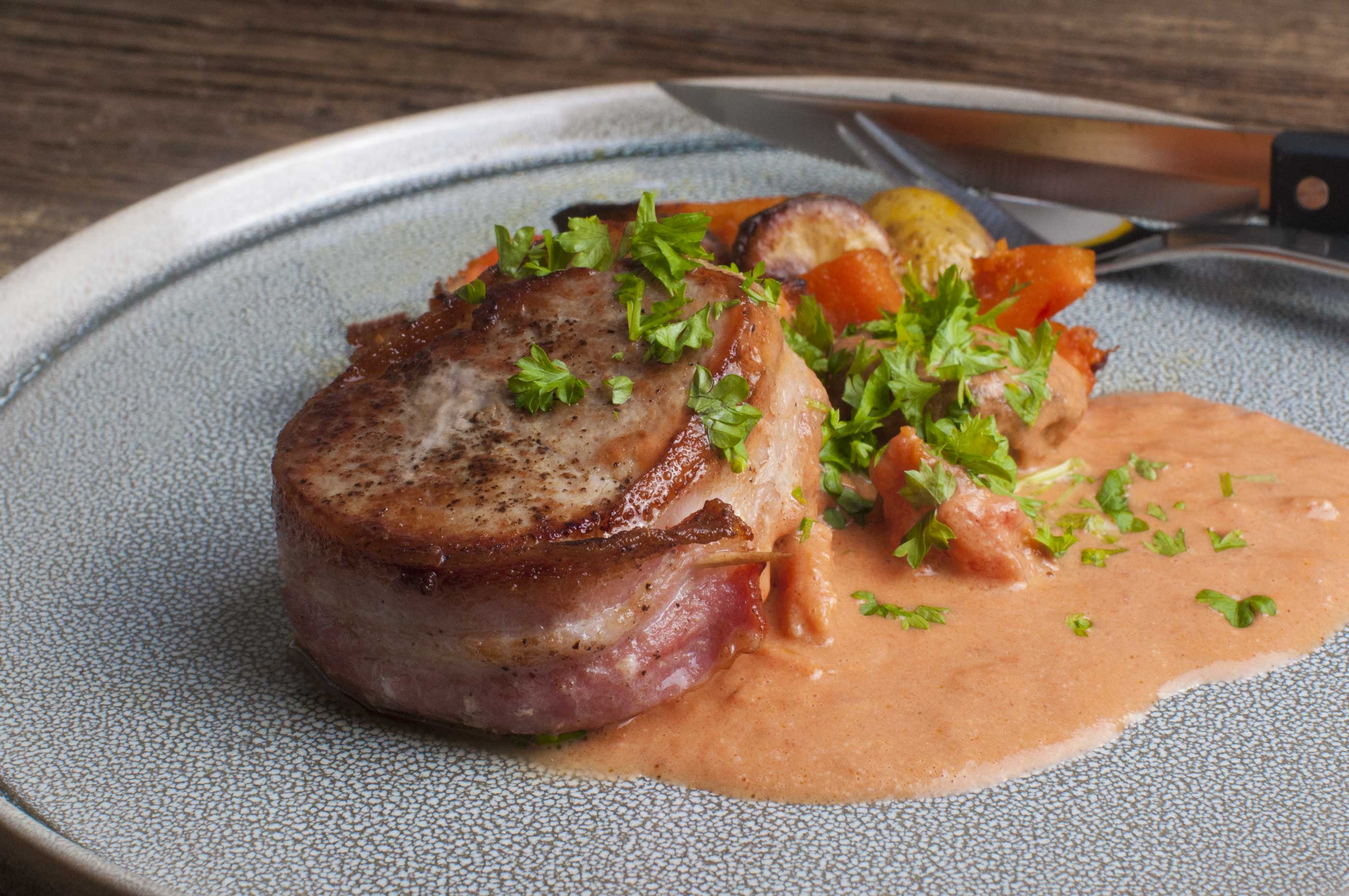 Ingredients
( 2 adults and 2 kids )
0.5

hokkaido pumpkin

400 grams

baby potatoes

1

pork tenderloin

100 grams

bacon slices

1 can

chopped tomatoes

200 ml

single cream

all purpose seasoning

lemon

salt

pepper

meat pins or toothpicks

olive oil
ADD TO SHOPPING LIST
ADD TO MEAL PLAN
*
= Good to know - click the ingredient

= See the recipe - click the ingredient
Pork tenderloin is tender, tasty and lean meat, that won't break the bank. Here we've cut lovely medallions from the tenderloin, wrapped them in bacon and served with baked hokkaido pumpkin, potatoes and a mild tomato sauce. Enjoy!
Directions
1. Preheat your oven to 225 degrees convection.
2. Peel the pumpkin and remove the seeds. Thoroughly rinse the potatoes. If they're very dirty, give them a good scrub with a hard-bristled brush or peel them. Roughly dice the pumpkin and halve the potatoes. Turn both in some olive oil and all purpose seasoning (or just a bit of sauce) in a casserole tin.
3. Bake potatoes and pumpkin in the oven for about 30 minutes, until nice and golden on the top. Remind to turn them while they cook.
4. Trim the tenderloin by removing the fat and biggest tendons with a sharp knife. Be careful not to cut too far into the meat (or your fingers..)! Cut the tenderloin into slices roughly 2 inches wide, and season with salt and pepper. Wrap a slice of bacon around each medallion and pin it with a meatpin or toothpick.
5. Quickly sear the medallions on both sides in a pan, with a bit of olive oil and at high heat - or throw them on the grill, if the weather is feeling summery! Don't worry about cleaning the pan after, as you'll need it for the sauce.
6. Pop the medallions in a casserole tin with half a centimeter of water at the bottom. Turn the heat down to 200 degrees convection, and pop the tin in the oven along with the pumpkin and potato, and cook the medallions for approx. 15 minutes, until they're cooked through.
7. Pour the chopped tomatoes onto the pan and bring the heat back up. Add single cream (or double cream, if you really want to get the party going) and add salt, pepper, lemon, and optionally a dash of honey, to taste.
8. Serve the medallions with baked pumpkin and potatoes, topped with tomato sauce, and optionally some greens if you have any to hand. Enjoy!
Tip
If you're cooking the medallions on the grill, just sear them on direct heat for a couple of minutes, and then grill them under a lid for 10-15 minutes on indirect heat, until cooked through.
Share your tips and comments