High five!
The recipe has been added to your shopping list.
Tasty vegetarian quiche with cottage cheese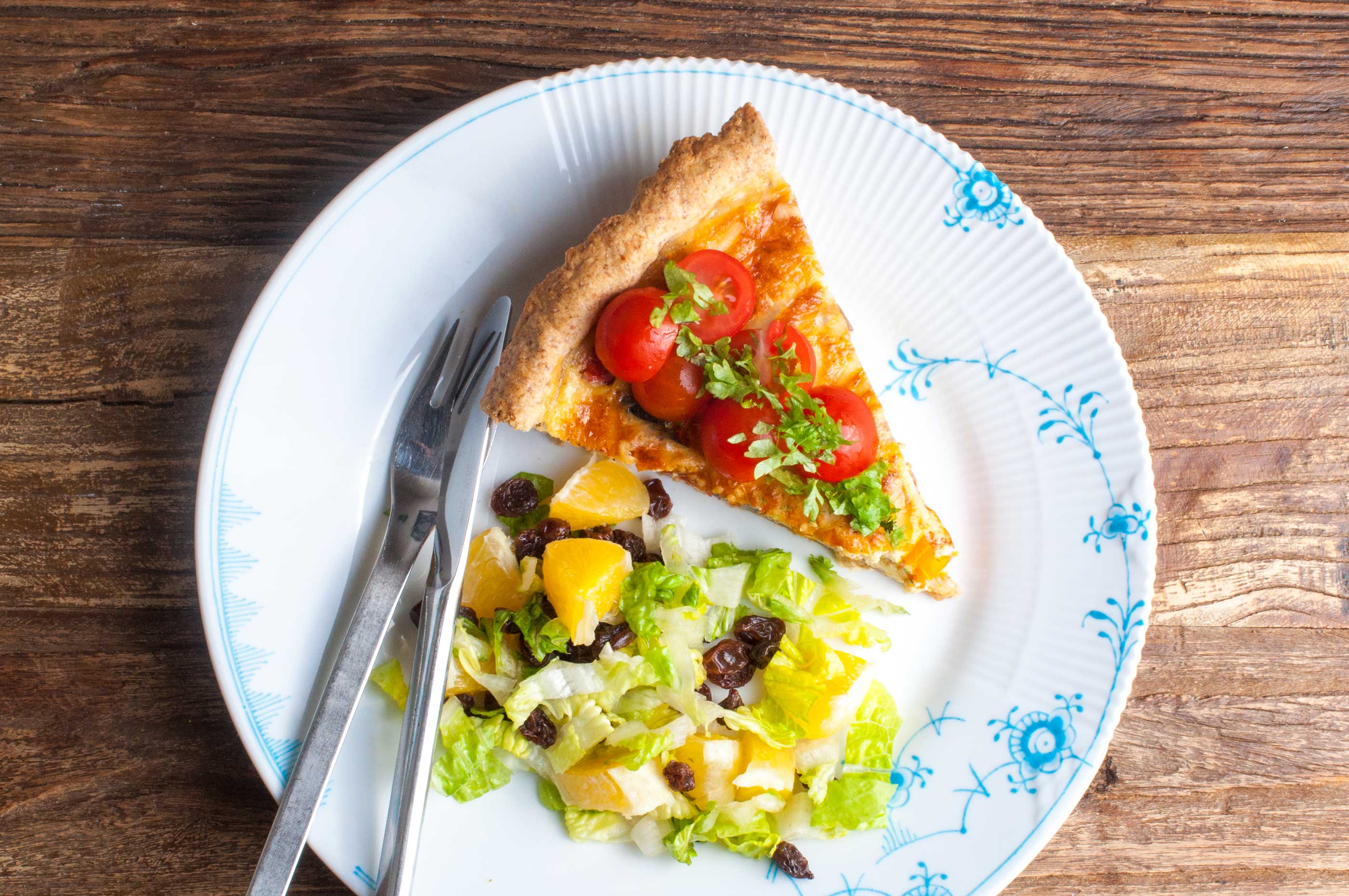 Ingredients
Freezer friendly
( 2 adults and 2 kids )
Shortcrust pastry

100 grams

plain flour

75 grams

wholemeal flour

25 grams

oats

1 tsp

salt

50 ml

olive oil

75 ml

cold water

Filling

4

egg

100 ml

milk

200 grams

cottage cheese

75 grams

grated cheese

1 tsp

salt

200 grams

carrots

*

250 grams

mushrooms

20

cherry tomatoes

1

red bell pepper

1

green bell pepper

pepper

Salad

lettuce of your choice

2

orange

100 grams

raisins

*
ADD TO SHOPPING LIST
ADD TO MEAL PLAN
*
= Good to know - click the ingredient

= See the recipe - click the ingredient
We promise! You will not miss meat in this quiche. It's delicious, and chock full of good stuff, like cottage cheese and lots of veg. We've served this quiche with a green salad - and if you have other veggies in the fridge, just chuck those in. Enjoy!
Directions
Shortcrust pastry
1. Preheat the oven to 200 degrees convection. Mix all the ingredients for the pastry dough in a bowl and knead it well, until you have a firm but pliable dough. Roll the dough between two sheets of baking parchment, or on a floured tabletop, until it's large enough to cover your quiche tin.
2. Place the pastry dough in an oiled or buttered tin - it should hang over the edges slightly. Poke the bottom of the dough sporadically with a fork, to stop your dough from bubbling up. Bake the pastry for 10 minutes, and take it out of the oven.
Filling
3. Mix egg, milk, cottage cheese, grated cheese and salt in a bowl. Save some cheese for topping. Peel the carrots and grate them on the rough side of a grater. Clean and rinse the mushrooms and halve them. Clean and rinse the bell peppers and dice them. Rinse the cherry tomatoes and halve them as well.
4. Sautée mushrooms and carrots in some olive oil on a pan for a few minutes and season with salt and pepper. Drain the veg and spread them across the shortcrust pastry, along with bell peppers and tomatoes. Finally, pour on the egg mixture and top with grated cheese.
5. Bake for approx. 30 minutes, or until the egg filling has stiffened and the quiche has a lovely, golden surface. While your quiche is baking, whip up a quick salad of washed lettuce, orange bites and raisins. Enjoy!
Tip
The shortcrust pastry is super easy to make - only takes five minutes. But you can easily buy one ready-made, just remember to amend your shopping list.
Share your tips and comments