High five!
The recipe has been added to your shopping list.
Tasty muffins with beef and eggs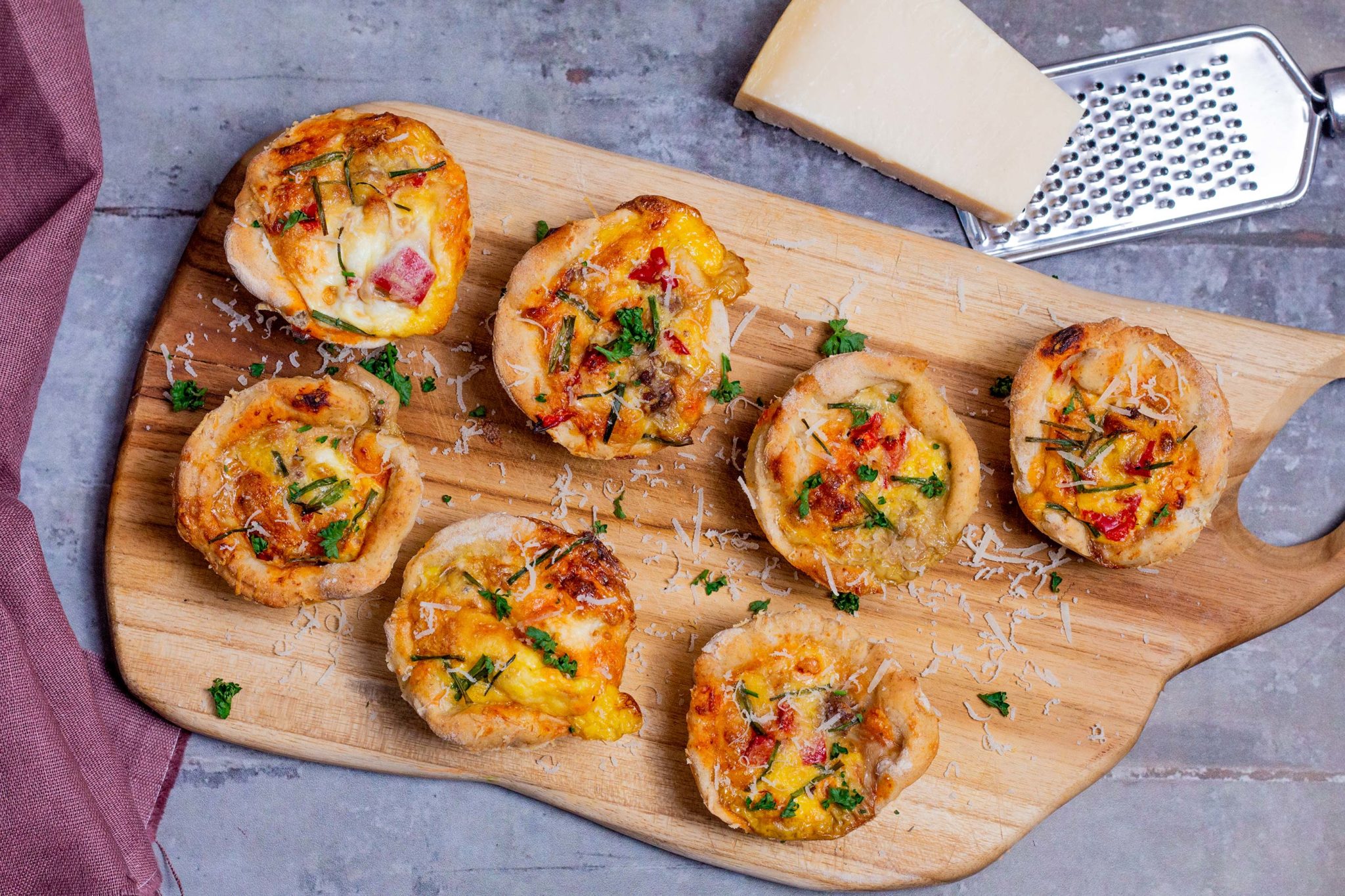 Ingredients
( approx. 24 )
400 ml

cold water

100 ml

boiling water

25 grams

yeast

2 tbsp

olive oil

200 grams

rye flour

500 grams

plain flour

2 tsp

salt

1

red bell pepper

200 grams

beef mince

1 tbsp

dried oregano

- or thyme

4

egg

200 grams

pizza sauce

100 grams

grated cheese
ADD TO SHOPPING LIST
*
= Good to know - click the ingredient

= See the recipe - click the ingredient
The tastiest muffins with beef mince and eggs, giving a soft and yummy consistency. They're perfect in packed lunches or as an afternoon snack to combat falling blood sugar. Enjoy!
Directions
1. Preheat the oven to 200 degrees convection.
2. Mix cold and boiling water in a bowl along with yeast and oil. Add rye flour, plain flour and salt and knead the dough until supple. Add a bit more flour, if the dough is tacky. Leave it to prove, while you prep the rest - approx. 15 min.
3. Rinse and finely dice the bell pepper. Mix the mince with salt and oregano (or thyme). Beat the eggs. Remember to wash your hands and utensils after handling eggs and raw meat.
4. Sprinkle some plain flour onto the table and roll the dough out to about half a cm thick. Find something round with a diameter of 10-15 cm - like a large glass, or and empty (and clean) tin of chopped tomatoes - or, even better, round cookie cutters.
5. Press circles out of the dough and place in a bun tray. The dough is allowed to go a bit outside the edges.
6. Place about half a tablespoon of pizza sauce in each muffin, along with some beef mince and bell pepper, and finally spread beaten egg over each muffin. Sprinkle with cheese and bake for about 20 minutes.
7. And munch away - enjoy!
Tip
Tasks for kids in the kitchen: Let your kids help dice the bell peppers. They can also beat the egg and spread it into the muffins, just as they can top with grated cheese.
Share your tips and comments