High five!
The recipe has been added to your shopping list.
Tasty Easter cake with lemon and coconut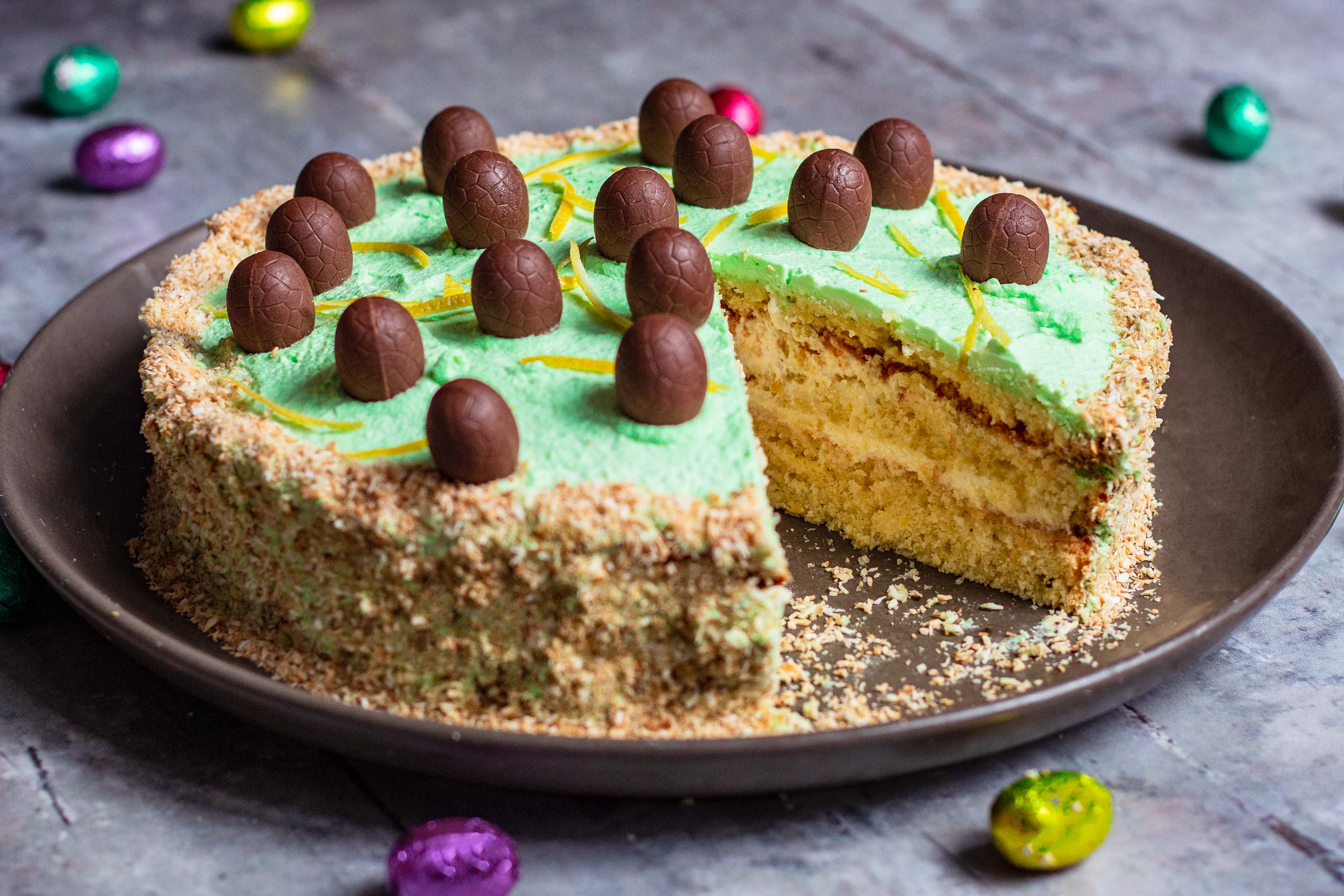 Ingredients
( 1 cake )
Cake bases

230 grams

butter

-

4

egg

300 grams

plain flour

2 tsp

baking powder

2 tsp

vanilla sugar

0.5 tsp

salt

100 grams

coconut flour

375 grams

sugar

350 ml

coconut milk

1

organic lemon

Filling

200 grams

cream cheese

150 ml

coconut milk

3

lemon

75 grams

syrup

Decoration

75 grams

coconut flour

250 ml

whipping cream

200 grams

small chocolate eggs
ADD TO SHOPPING LIST
*
= Good to know - click the ingredient

= See the recipe - click the ingredient
This Easter cake is utterly delicious! It's fresh, creamy, and sinful. And there's enough to invite Easter-guests round. Enjoy!
Directions
Cake bases
1. Remove butter and eggs from the fridge well in advance, as they should ideally be room temperature. Preheat your oven to 185 degrees convection.
2. Mix flour, baking powder, vanilla sugar, salt and coconut flour in a bowl.
3. Mix butter and sugar in a bowl with an electric whisk and add the eggs one at a time, until the batter is airy. Now, alternate adding the flour mixture and the coconut milk. Finally, zest the lemon and mix in.
4. Pour the batter into a buttered round cake tin - or a tin lined with baking parchment. Bake for 35-40 minutes, or until no batter sticks when you poke it with a knitting needle.
Filling
5. Whisk cream cheese and coconut milk until smooth. Add lemon zest and lemon juice. Mix with syrup and refrigerate.
Decoration and assembly
6. Roast the coconut flour on a dry pan, until slightly browned.
7. Whisk the cream to soft peaks and optionally, add a dash of food colouring, if you have some to hand.
8. Once the bases have cooled, carefully slice them with a sharp knife into three bases. Place one of the bases on a cake stand. Spread half of the filling onto the bottom base, place another base on top, and spread the final layer of filling over it. Finish with the final base.
9. Spread the whipped cream onto the top and sides of the cake. Push the roast coconut flour onto the sides of the whipped cream, and pop mini chocolate eggs on top of the cake.
10. Yaaaay, it's finally time to munch - enjoy!
Tip
Tasks for kids in the kitchen: Let your kids help whisk the dough, filling, and whipped cream. They can also squeeze the lemon, and definitely decorate and lick the whipped cream bowl when you're done with it!
Share your tips and comments