High five!
The recipe has been added to your shopping list.
Tartlets with ham and peas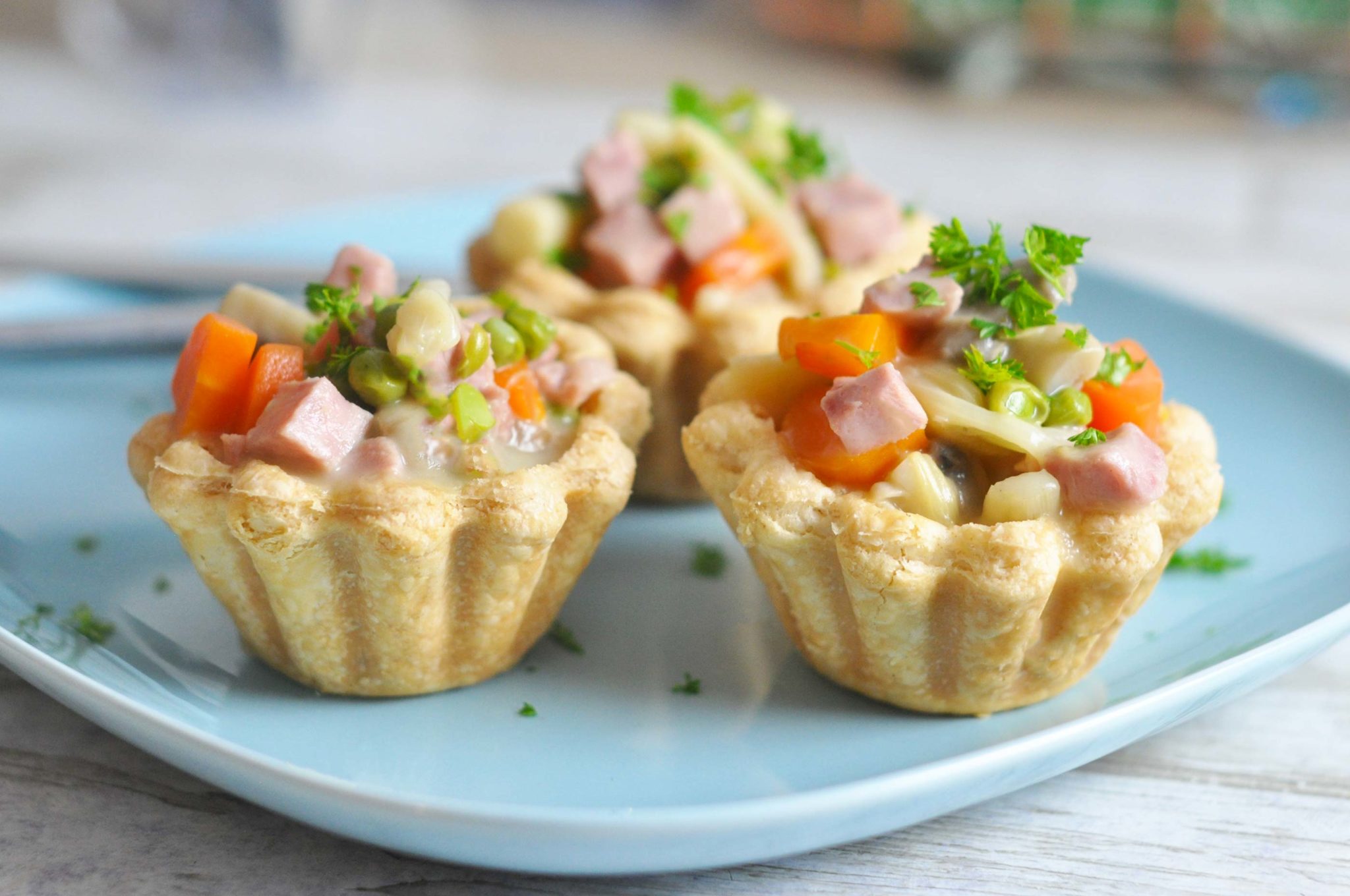 Ingredients
( 2 adults and 2 kids )
Tartlets with ham filling

300 grams

carrots

*

250 grams

mushrooms

50 grams

butter

75 grams

plain flour

2 tin

chopped white asparagus

300 ml

milk

200 ml

water

1 cube

chicken stock

150 grams

diced ham

150 grams

peas

8

tartlets

lemon

olive oil

salt

pepper

Snack veggies

300 grams

carrots

*

0.5

cucumber
ADD TO SHOPPING LIST
ADD TO MEAL PLAN
*
= Good to know - click the ingredient

= See the recipe - click the ingredient
A true continental classic! Crispy tartlets filled with ham, peas, carrots and mushrooms. Not much fuss, not much skyr and no quinoa or millet flakes - just good, old fashioned scran, the way Nan used to make - ours did, at least! Enjoy!
Directions
1. Peel and finely dice the carrots. Clean, wash, and quarter the mushrooms. Now roast the mushrooms in a bit of olive oil on a pan, until they've gotten a bit of colour. Then add carrot, season with salt and pepper, and cook for another couple of minutes, until they're warm throughout, but still have some crunch. Switch off the hob and leave the veggies for now.
2. Melt the butter in a pot, then add flour. Now whisk the very best you know, for a couple of minutes over medium heat, not letting it brown. This takes away the floury taste.
3. Add a bit of the asparagus brine, while your inner Popeye again whisks away. Once all lumps are gone, add a bit more brine, and again whisk until smooth. Carry on until you've used all of the brine.
4. Then add milk and water little by little, while - you guessed it - more whisking. Add the stock cube and season the sauce with salt, pepper, lemon juice and some honey (if needed). You can also add a bit more stock. Add ham, carrots, peas, asparagus and mushrooms. Carefully bring to the boil while - yep! - stirring, so it doesn't burn.
5. Taste again, and maybe add a dash of milk, if you'd like a thinner sauce. Warm the tartlets, fill with the stew and garnish with a sprinkle of herbs, if you have some to hand. Serve with sticks of snack veggies. Enjoy!
Tip
If your kids are really small, avoid serving whole, raw carrots. Grate or boil them, so they don't get lodged in any tiny throats. Or use other, softer snack veggies, like sweetcorn, peas, cherry tomatoes and the like.
Share your tips and comments