High five!
The recipe has been added to your shopping list.
Sweet potato and chickpea stew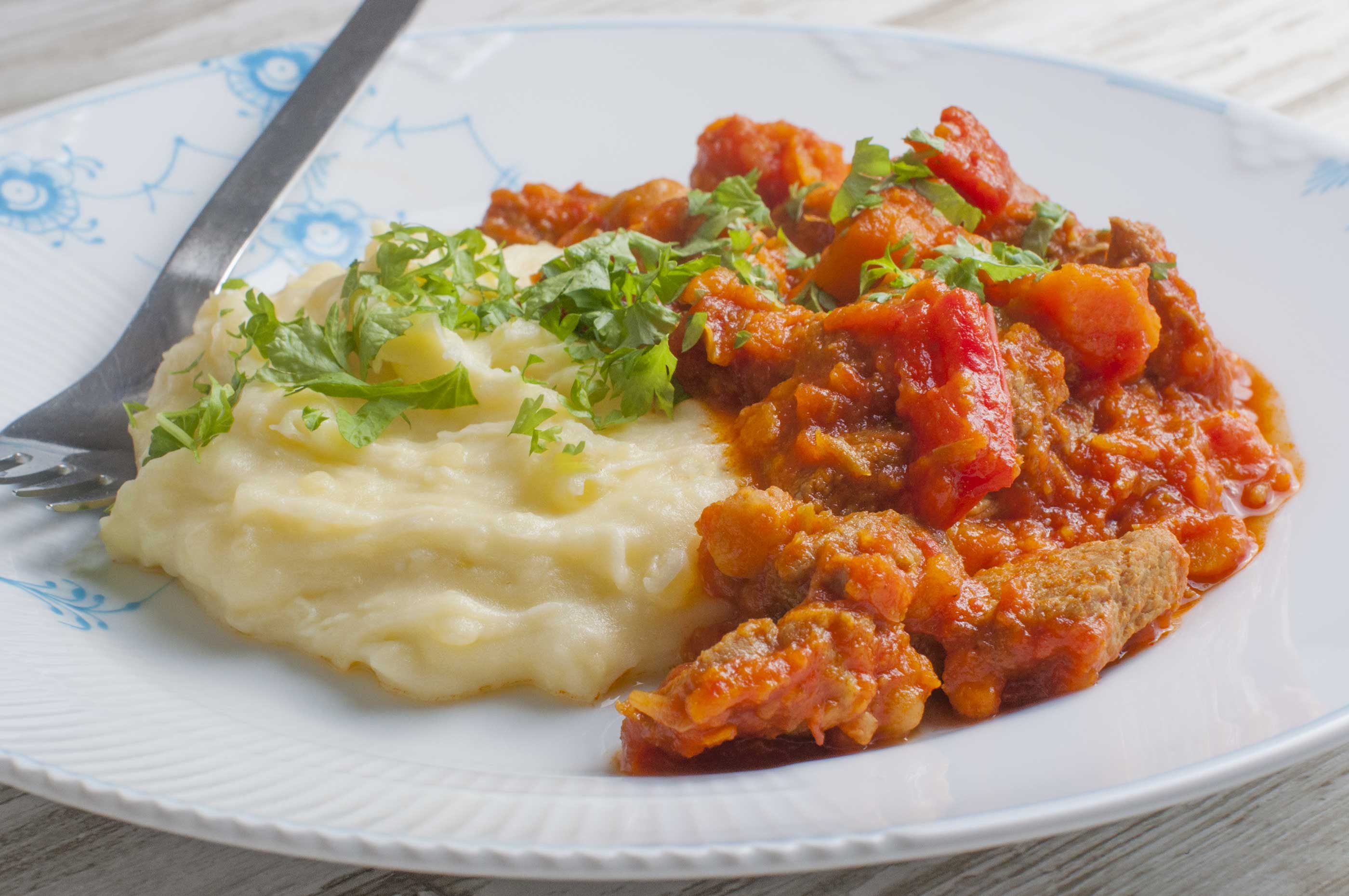 Ingredients
Freezer friendly
( 2 adults and 2 kids )
Sammekogt ret

4

leek

400 grams

sweet potato

1

red bell pepper

800 grams

pork neck chops

4 tsp

curry

2 can

chopped tomatoes

70 grams

tomato purée

300 ml

water

1 can

chick peas

olive oil

Mashed potatoes

800 grams

potatoes

50 grams

butter

200 ml

milk

salt

pepper
ADD TO SHOPPING LIST
ADD TO MEAL PLAN
*
= Good to know - click the ingredient

= See the recipe - click the ingredient
Stews are so delicious and good for kids. This version with pork chops, sweet potatoes, chick peas and curry is no exception - our kids love it anyway, and even the most veggie averse in the family ate the chick peas with absolute pleasure. Please note that this dish is designed for two days.
Directions
1. Start by sorting veggies and meat for the stew. Clean the leeks, remove the outher blades and chop the leek into rings. Peel the sweet potatoes and cut into bite sized cubes. Rinse and clean the bell pepper and dice it. Dice the pork neck, and remember to wash your hands and kitchen utensils afterwards.
2. Sautée leek, curry, and meat thoroughly at high heat with a bit of olive oil in a big pot. Remember to stir to keep it from burning!
3. Add chopped tomatoes, tomato purée, water, rinsed chick peas, sweet potatoes and bell pepper. Let the lot simmer for 30-40 minutes, until the meat and potatoes are tender. Remember to stir once in a while. Add salt and pepper to taste - and if you really want to get a party going, you can thicken with a bit of cream of the more or less sinful kind!
4. While the stew is relaxing in the pot, whip up the mash. Peel the potatoes and roughly dice them. Boil them until tender in a pot with water - no salt. This should take 15-20 minutes.
5. Drain the potatoes, add the butter and whisk thoroughly with a whisk. Warm the milk in a pot or the microwave. Add the milk while whisking, until the mash has the consistency you prefer. Add salt and pepper to taste.
6. Serve the stew with piping hot mash and some optional herb sprinkles on top. Do avoid herb sprinkles for kids younger than 3.
7. Enjoy!