High five!
The recipe has been added to your shopping list.
Super quick wok with lots of veg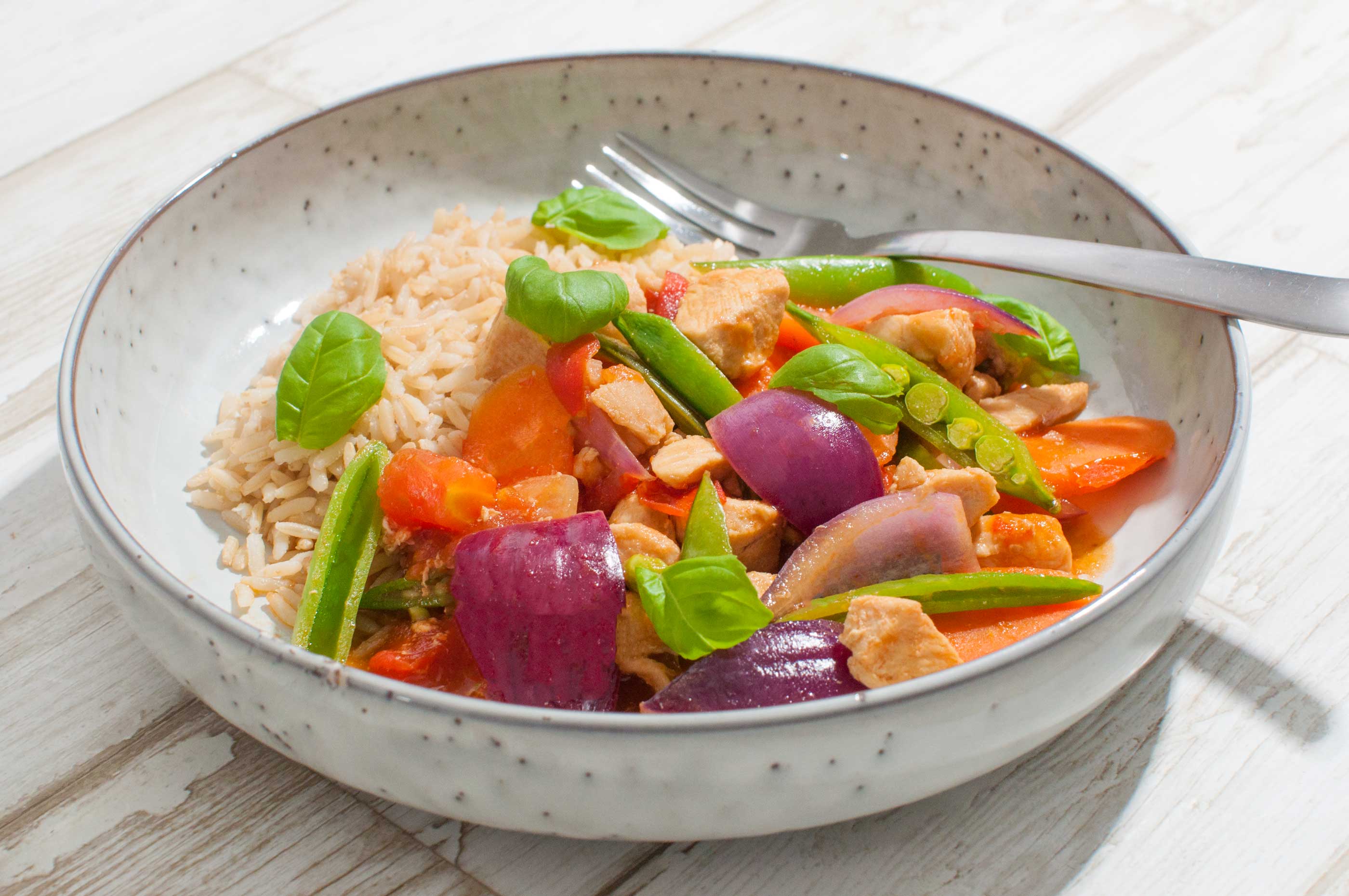 Ingredients
( 2 adults and 2 kids )
wholegrain rice

1 clove

garlic

3

tomato

250 grams

carrots

*

1

red onion

- or regular

150 grams

sugarsnap peas

400 grams

pork chops

2 tbsp

sweet chilli sauce

2 tbsp

soy sauce

olive oil
ADD TO SHOPPING LIST
ADD TO MEAL PLAN
*
= Good to know - click the ingredient

= See the recipe - click the ingredient
A super easy round of dinner for busy days. Yummy flash fried pork with sweet chilli sauce, soy sauce and plenty of veggies. You can use other or more vegetables - like broccoli and cauliflower florets, bell pepper, courgette, etc. Enjoy!
Directions
1. Cook the rice according to the packet.
2. Finely chop the garlic. Rinse the tomatoes and roughly dice them. Peel the carrots and cut into bite-sized diagonals. Peel the onion, quarter it and split apart the layers. Rinse and thinly slice the sugarsnap peas.
3. Cut the pork into strips or dice it - remember to wash your hands and utensils when you're done.
4. Now flash fry pork and garlic for a couple of minutes in some olive oil on a deep pan or in a wok. Remove the pork and set it aside on a plate, when it's just about cooked through.
5. Now flash fry the carrots in the sweet chilli sauce for a few minutes. You can start with a bit of the chilli sauce, so the dish doesn't get too hot - you can always add more. Add the rest of the veggies and continue to cook while stirring carefully, until the veggies are warm throughout, but still have some crunch.
6. Finally mix the pork with the veggies, and season to taste with more soy and chilli sauce. If you'd like more sauce, you can always add a dash of water.
7. Serve with piping hot rice and an optional sprinkle of herbs on top, if you have some handy. Do avoid herb sprinkles for kids younger than 3.
8. Enjoy!
Tip
You can use chicken fillets instead of pork chops - that will give you a leaner dish.
Share your tips and comments