High five!
The recipe has been added to your shopping list.
Super quick noodle dish with pork and veggies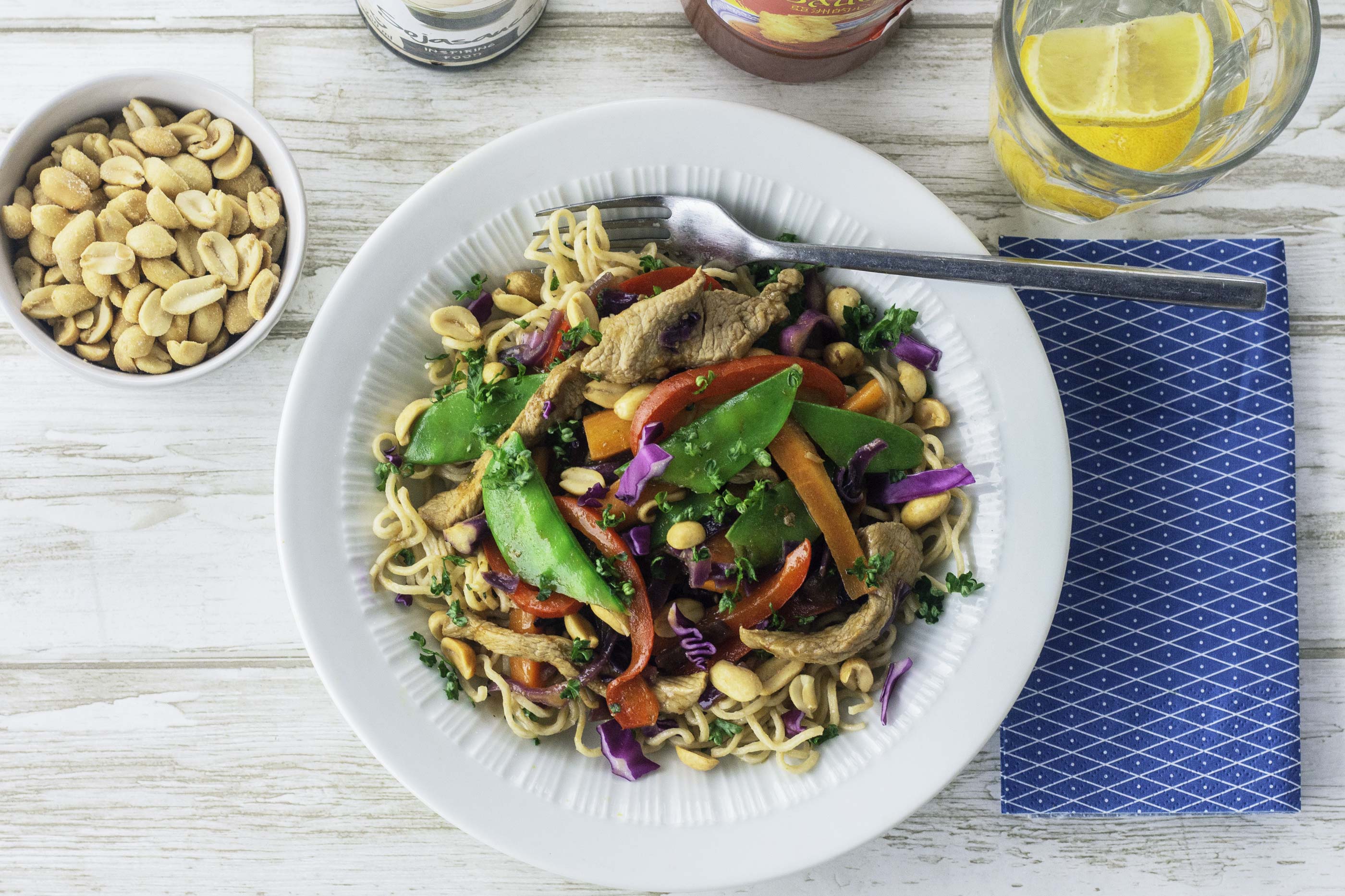 Ingredients
( 2 adults and 2 kids )
250 grams

wholewheat noodles

150 grams

carrots

*

1

red bell pepper

0.5 head

pointed cabbage

150 grams

frozen sugarsnap peas

1

onion

1 clove

garlic

4 tbsp

peanutbutter

5 tbsp

soy sauce

1

lime

3 tbsp

sweet chilli sauce

50 ml

water

400 grams

pork strips

75 grams

peanuts

olive oil
ADD TO SHOPPING LIST
ADD TO MEAL PLAN
*
= Good to know - click the ingredient

= See the recipe - click the ingredient
A quick and absolutely delicious spot of dinner with plenty of flash fried veggies and pork strips, served with noodles and topped with chopped peanuts. Enjoy!
Directions
1. Cook the noodles according to the packet and then blanch with cold water.
2. Peel the carrots, clean and rinse the bell pepper, rinse the pointed cabbage and cut everything into thin strips. Rinse and optionally halve the sugarsnap peas, if you like. Cut the onion into wedges, split apart the layers and finely chop the garlic.
3. Mix peanutbutter, soy sauce, the juice of the lime, sweet chilli sauce and water in a mini chopper or food processor.
4. Now flash fry onion, garlic and pork strips in some olive oil in a wok or deep pan for about a minute while stirring. Add bell pepper, carrots, pointed cabbage and sugarsnap peas and cook for another couple of minutes over high heat, until the veggies have gotten a bit of colour, but still have some crunch.
5. Mix noodles and peanut dressing with pork and vegies and serve with chopped peanuts on top - and maybe a bit of extra soy sauce and sweet chilli sauce.
6. Enjoy!
Tip
Tasks for kids in the kitchen: Let your kids help cut the carrots, bell pepper and cabbage into strips. They can also halve the sugarsnap peas.
Share your tips and comments