High five!
The recipe has been added to your shopping list.
Super easy chicken tikka masala - for two days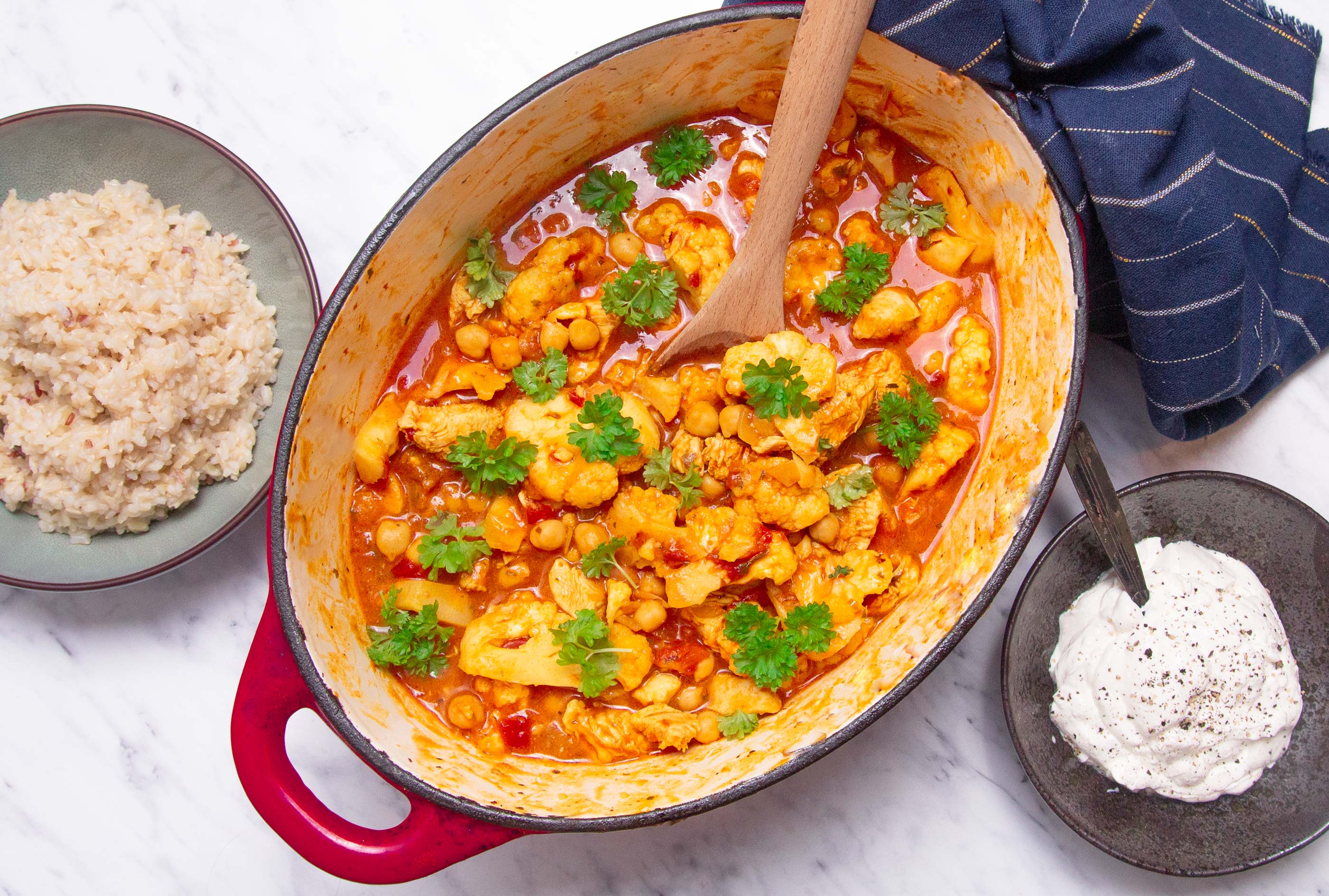 Ingredients
Freezer friendly
( 2 adults and 2 kids )
wholegrain rice

800 grams

chicken fillet

1

onion

1 clove

garlic

1

cauliflower

350 grams

tikka masala

1 can

chopped tomatoes

100 ml

water

1 tin

chickpeas

150 ml

creme fraiche 9%

salt

pepper

olive oil
ADD TO SHOPPING LIST
*
= Good to know - click the ingredient

= See the recipe - click the ingredient
Today's yummy Indian chicken tikka is extra easy - as we're using ready-made tikka masala sauce as a base. You can of course happily make your own, just click the little chefs' hat. The dish is for two days, so remember to save half for tomorrow. Enjoy!
Directions
1. Cook the rice according to the packet.
2. Roughly dice the fillets. Remember to thoroughly wash cutting board and knife when you're done.
3. Finely dice onion and garlic. Remove the stem from the cauliflower, or snap off little florets. Sautée onion, garlic and chicken for a couple of minutes in some olive oil in a pot. Then add the cauliflower and let cook for 5 minutes, until both the chicken and cauliflower have gotten a bit of colour.
4. Add tikka masala sauce, chopped tomatoes, water, and chickpeas, and let the sauce simmer for about 10 minutes.
5. Serve with rice and a dollop of creme fraiche on top - and perhaps a sprinkle of herbs, if you have some in stock. Enjoy!
Tip
Tasks for kids in the kitchen: Let your kids help pick little florets off the cauliflower. They can also help taste the sauce. Although this dish traditionally contains coriander, and plenty of adults (including the ones here at Mambeno) think that's delicious, most kids seem to think coriander tastes a bit like drinking straight from the shampoo bottle in the shower! So if you love coriander, by all means buy some - but let the kids have a taste, before you rain herbs onto their plate.
Share your tips and comments