High five!
The recipe has been added to your shopping list.
Stuffed tenderloin with potatoes, salad and gravy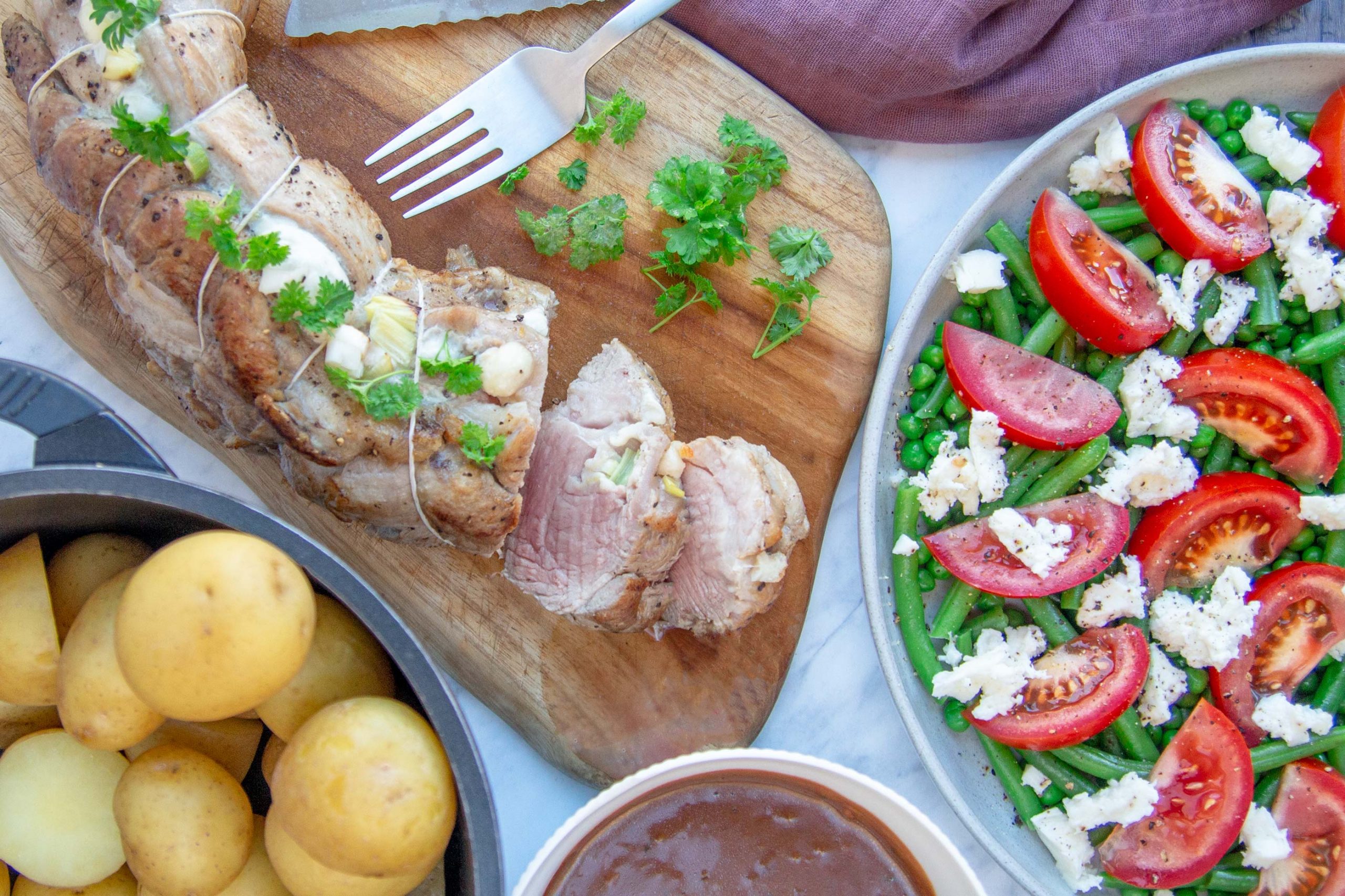 Ingredients
( 2 adults and 2 kids )
4

spring onions

1

pork tenderloin

1 ball

mozzarella

100 ml

water

650 grams

baby potatoes

300 grams

frozen beans

150 grams

frozen peas

2

tomato

1 cube

pork stock

100 ml

milk

– or single cream

1 tsp

dried thyme

salt

pepper

olive oil

meat pins or string

dressing of your choice
ADD TO SHOPPING LIST
ADD TO MEAL PLAN
*
= Good to know - click the ingredient

= See the recipe - click the ingredient
Pork tenderloin stuffed with mozzarella and spring onion, served with baby potatoes, bean salad and scrumptious gravy. Perfect for the weekend. Enjoy!
Directions
1. Preheat your oven to 225 degrees fan assisted. Remove tops and bottoms from the spring onion and cut into rings.
2. Trim the tenderloin by removing the outer layer of fat and tendons with a sharp knife. Season the tenderloin with some salt and pepper. and sear it in some olive oil on a pan.
3. Cut a lengthways pocket in the tenderloin, from one end to the other. Get the pocket as big as you can without cutting all the way through. Now stuff the tenderloin with spring onion and mozzarella – we recommend saving a bit of cheese for the salad. Tie the tenderloin up well with string, or seal it with meat pins, and place into an oiled oven dish.
4. Add a bit of water to the dish and pop it in the oven. The tenderloin needs about 20-30 minutes depending on the oven, until the juices run clear and not pink.
5. Meanwhile, scrub the potatoes and cook in salted water – this takes about 10-12 minutes.
6. Briefly bring beans and peas to the boil in a separate pot, then drain. Rinse and slice tomatoes and mix with the other veggies, dressing, and any leftover mozzarella.
7. Remove the tenderloin and let it rest for a couple of minutes on a cutting board. Resting makes for an even juicier tenderloin, though it isn't strictly necessary.
8. Drain the juice from the tenderloin into a small pot and bring to the boil along with stock, milk or cream and thyme. Add a bit of gravy browning if you like, and season with salt and pepper.
9. Remove strings or meat pins and slice the pork. Serve with potatoes, salad and gravy. Enjoy!
Tip
Tasks for younger kids in the kitchen: Let your kids help rip the mozzarella into smaller chunks. They can also slice tomatoes with a child safe knife.
Share your tips and comments