High five!
The recipe has been added to your shopping list.
Stuffed tenderloin with light potato dauphinoise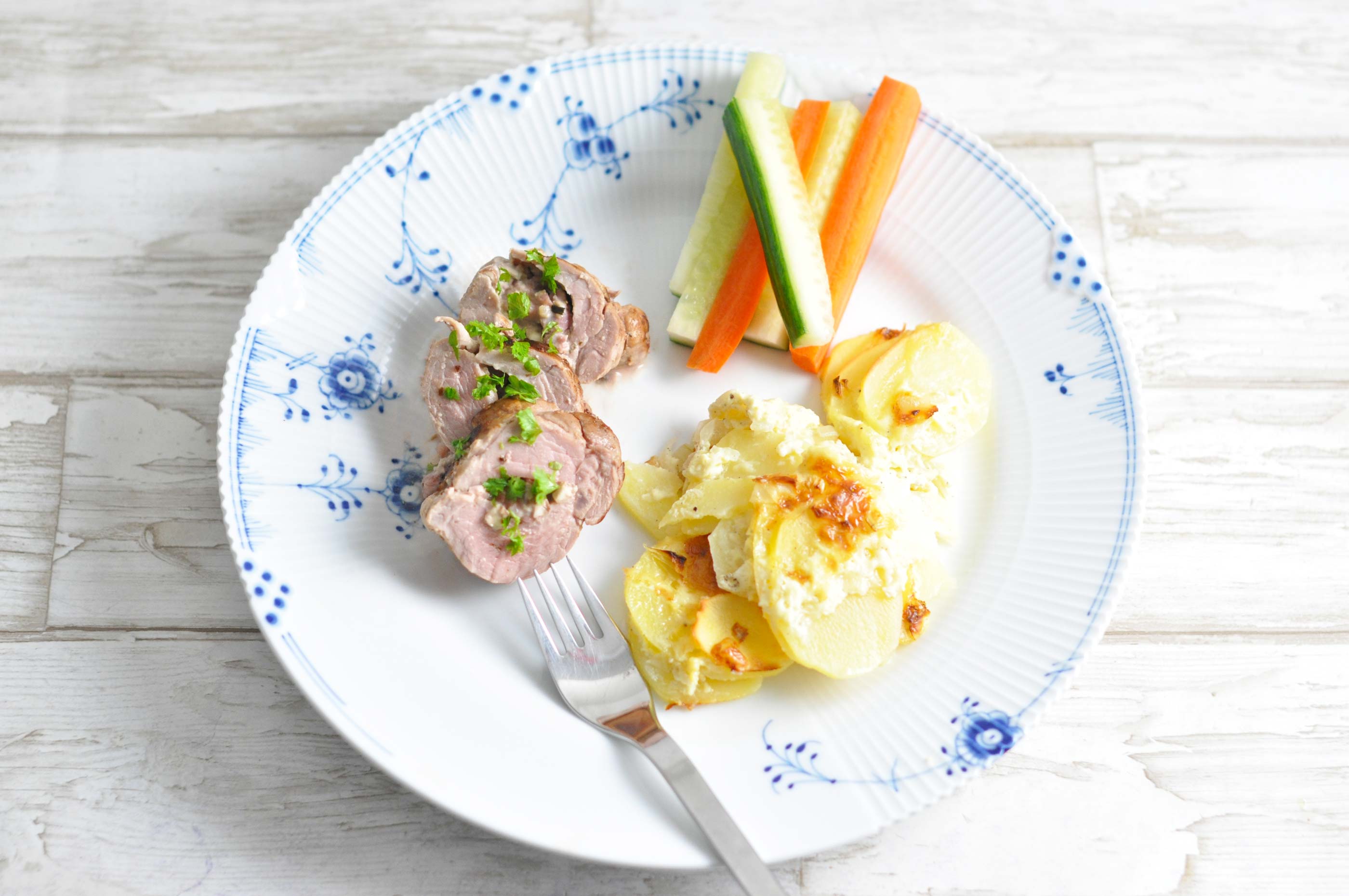 Ingredients
( 2 adults and 2 kids )
700 grams

potatoes

1

onion

200 ml

single cream

200 ml

milk

1

egg

50 grams

grated cheese

- ideally low fat

2 tsp

salt

70 grams

parma ham

75 grams

cream cheese

1

pork tenderloin

300 grams

carrots

*

0.5

cucumber

pepper

olive oil

meat pins or string
ADD TO SHOPPING LIST
ADD TO MEAL PLAN
*
= Good to know - click the ingredient

= See the recipe - click the ingredient
Look forward to an absolutely gorgeous tenderloin, stuffed with parma ham and cream cheese and served with light potato dauphinoise. The full fat double cream is swapped for the lower fat single cream (use half cream if you can find it!), milk and a bit of cheese. But don't worry - it's still absolutely delicious!
Directions
1. Preheat your oven to 225 degrees convection.
2. Peel the potatoes and thinly slice them. Finely dice the onion. Whisk cream, milk, egg, grated cheese, salt and some pepper well. Now mix potato slices and onion into the cream mix, using a spoon (or your hands) in a large bowl and pour everything into a casserole tin, that you've oiled with a dash of olive oil.
3. Put the potatoes in the oven at 225 degrees, while you prep the tenderloin.
4. Finely dice the parma ham and mix with the cream cheese. If needed, season with salt and pepper, but remember that both the parma and cheese are already quite salted. Trim the tenderloin with a sharp knife by removing the biggest chunks of fat and the large silver tendon. Cut a pocket into the tenderloin lengthways, all the way from one end to the other. Make the pocket as large as possible, but be careful not to cut all the way through. Now stuff your tenderloin with the cream cheese mix and cinch it up proper with meat string, or pin it closed with meat pins.
5. Season the tenderloin with some salt and pepper and sear it in some olive oil on an oven-safe pan. Pour a small bit of water into the pan and pop the pan into the oven with the potatoes. Turn the heat down to 200. The tenderloin needs about 20 minutes, or until the juices run clear, not pink. The spuds need about 40 minutes all in all, or until beautifully golden on top.
6. Leave the tenderloin to sit for approx. ten minutes on a cutting board. Remove the string or pins and slice. Serve with potato dauphinoise, and carrots and cucumber cut into sticks for snack veggies. Enjoy!
Share your tips and comments