High five!
The recipe has been added to your shopping list.
Stuffed jacket potatoes with chicken and parma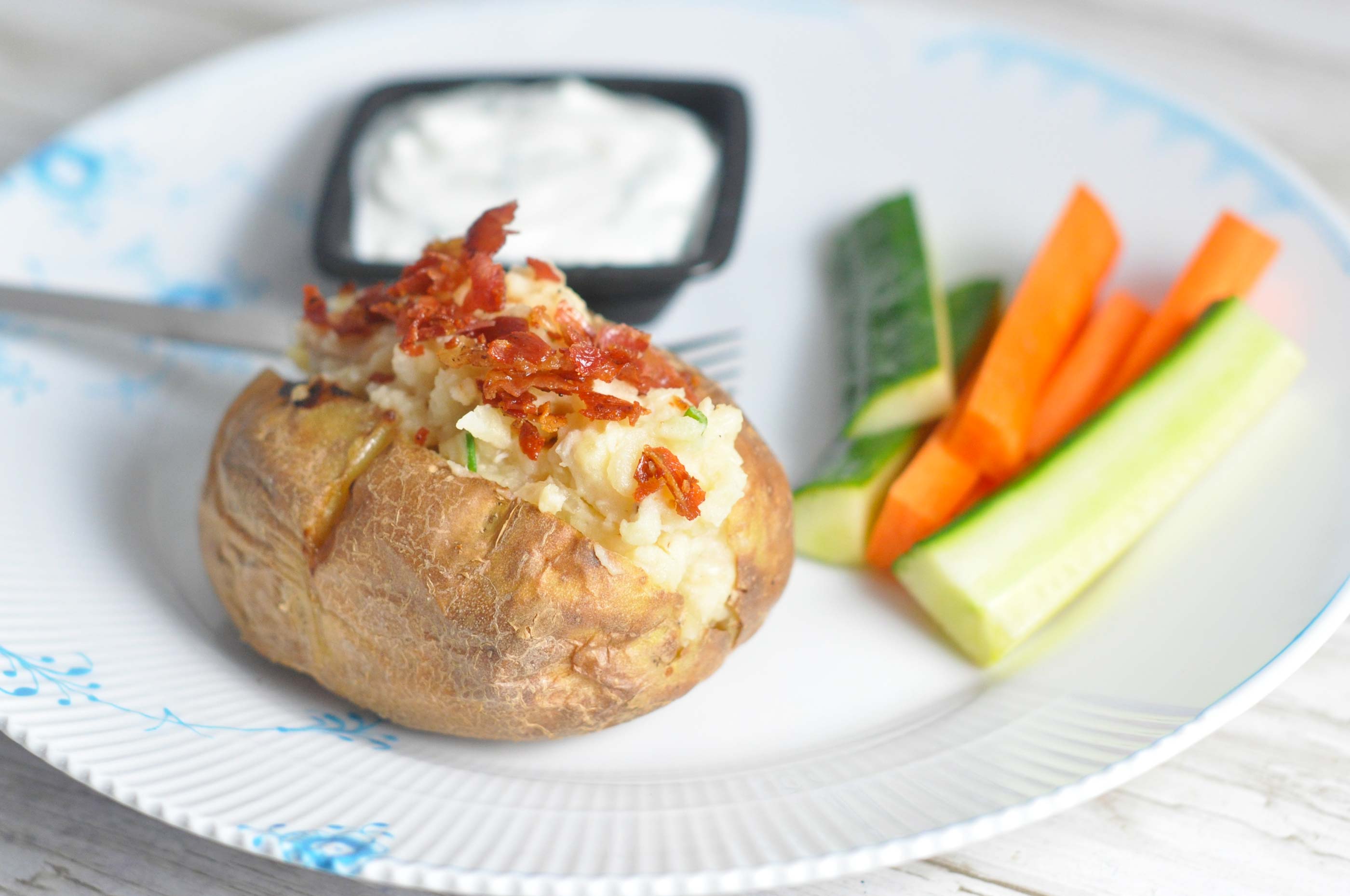 Ingredients
4

baking potatoes

1

onion

250 grams

chicken fillet

70 grams

parma ham

- or serrano

1 bunch

chives

50 ml

milk

50 ml

skyr

*

1 tbsp

acacia honey

*

0.5

lemon

olive oil

salt

pepper

Snack veggies

0.5

cucumber

300 grams

carrots

*

dressing of your choice
ADD TO SHOPPING LIST
ADD TO MEAL PLAN
*
= Good to know - click the ingredient

= See the recipe - click the ingredient
Stuffed jacket potatoes are absolutely divine! You can fill them with absolutely anything you like, but here we've filled ours with chicken and topped them with crispy parma (or bacon, it's up to you). If you're in a hurry, you can even cook the potatoes in the microwave - see the tip below. Enjoy!
Directions
1. Preheat your oven to 250 degrees convection. Scrub the potatoes completely clean and bake for approx. an hour, or until they're crispy on the outside and tender all the way through, when you poke them with a sharp knife.
2. Finely chop the onion and set it aside. Cut the chicken into thin strips, remembering to wash your hands and utensils after. Cook the onion for a few minutes with some olive oil in a pot. Add the chicken strips, season with salt and pepper and let cook until the chicken is cooked through. Cook the parma or bacon on a pan until crispy and let it dry off on a bit of kitchen roll.
3. When the potatoes are ready, slice them open lengthways and scrape the inside out into a bowl - be careful, they're VERY hot, so use an oven mitt or similar. Save the peels and be careful not to break them, as everything is getting stuffed back in at the end.
4. Mix the potato insides with the onion- and chicken mix, half the chives, milk and skyr, and add salt and pepper, honey and lemon to taste. Pop the mixture back into the jacket potatoes and top with parma or bacon and the rest of the chives.
5. Wash the cucumber, peel the carrots and cut both into sticks for snack veggies. Serve with the stuffed jacket potatoes and a bit of chive dressing or other dip or dressing to jazz up your snack veggies a bit.
Tip
If you're in a hurry, the microwave is your friend - although the peel won't get as crispy as in the oven! Pop the spuds on a plate and give them 10-15 minutes on full whack. Turn them over and give them another 10-15 minutes on the other side. Remember that both spuds and microwaves come in all shapes and sizes - so be sure to keep an eye on your potatoes while they're cooking, and poke them with a fork to check if they're soft and warm all the way through.
Share your tips and comments