High five!
The recipe has been added to your shopping list.
Stuffed courgettes with leftover rice, ham, bread and snack veggies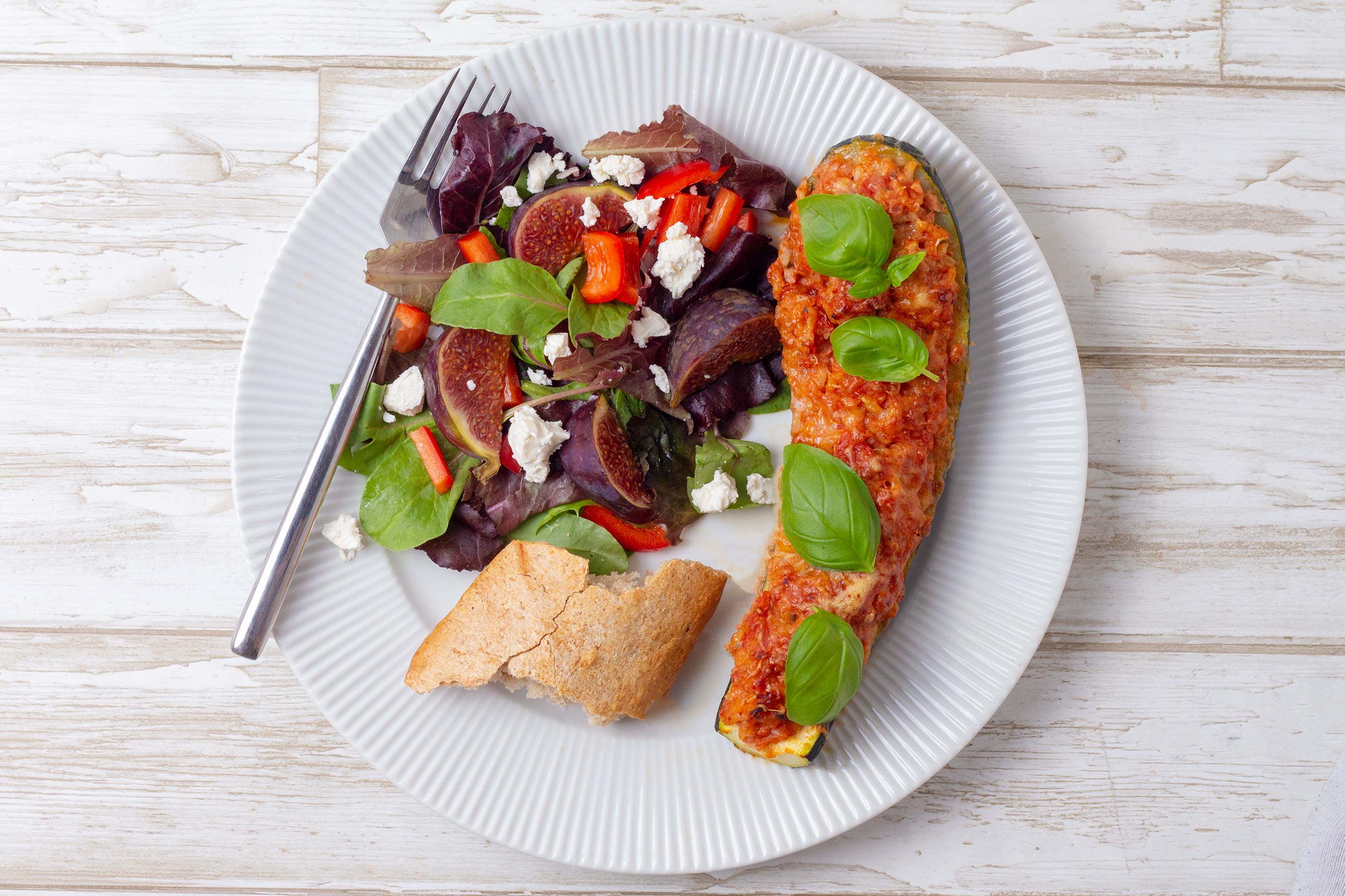 Ingredients
( 2 adults and 2 kids )
Stuffed courgettes

2

courgette

0.5

red bell pepper

1

onion

1 clove

garlic

200 grams

ham strips

0.5 tbsp

paprika

1 can

chopped tomatoes

0.5 tbsp

dried oregano

cold cooked rice

50 grams

grated cheese

olive oil

Sides

lettuce of your choice

2

fresh figs

- or dried

0.5

red bell pepper

50 grams

feta cubes

dressing of your choice

1

wholewheat baguette
ADD TO SHOPPING LIST
ADD TO MEAL PLAN
*
= Good to know - click the ingredient

= See the recipe - click the ingredient
Stuffed courgettes are a great way of getting veggies into the kids. Here we've stuffed the courgettes with ham, leftover rice from yesterday and chopped tomatoes and served with an easy and tasty salad with fresh figs. Enjoy!
Directions
1. Preheat your oven to 220 degrees convection.
2. Wash the courgettes and split lengthways. Hollow them out with a spoon (be careful not to poke a hole in the bottom) and save the scooped out courgette flesh.
3. Pop rinsed and cleaned bell peppers, peeled quartered onions, garlic, the scooped out courgette flesh and ham strips in a mini chopper and give the lot a whirl until it's chopped coarsely or finely - depending on your preference. You might need to do this in two batches, if everything doesn't fit in the mini chopper.
4. Cook the lot in some olive oil and paprika in a pot for a couple of minutes. Add chopped tomatoes, oregano or thyme and cold rice. Stir well and season with salt and pepper to taste.
5. Fill the courgettes with the meat sauce and top with grated cheese. Now bake the courgettes for approx. 20 minutes, until the cheese is melted and is beautifully golden.
6. Rinse lettuce, figs and bell pepper and cut everything into bite-sized chunks. Mix the lot with feta cubes and top with dressing of your choice.
7. Serve the stuffed courgettes with warm baguettes and the yummy salad.
8. Enjoy!
Share your tips and comments