High five!
The recipe has been added to your shopping list.
Stuffed bell peppers with chicken mince, pasta and tomato sauce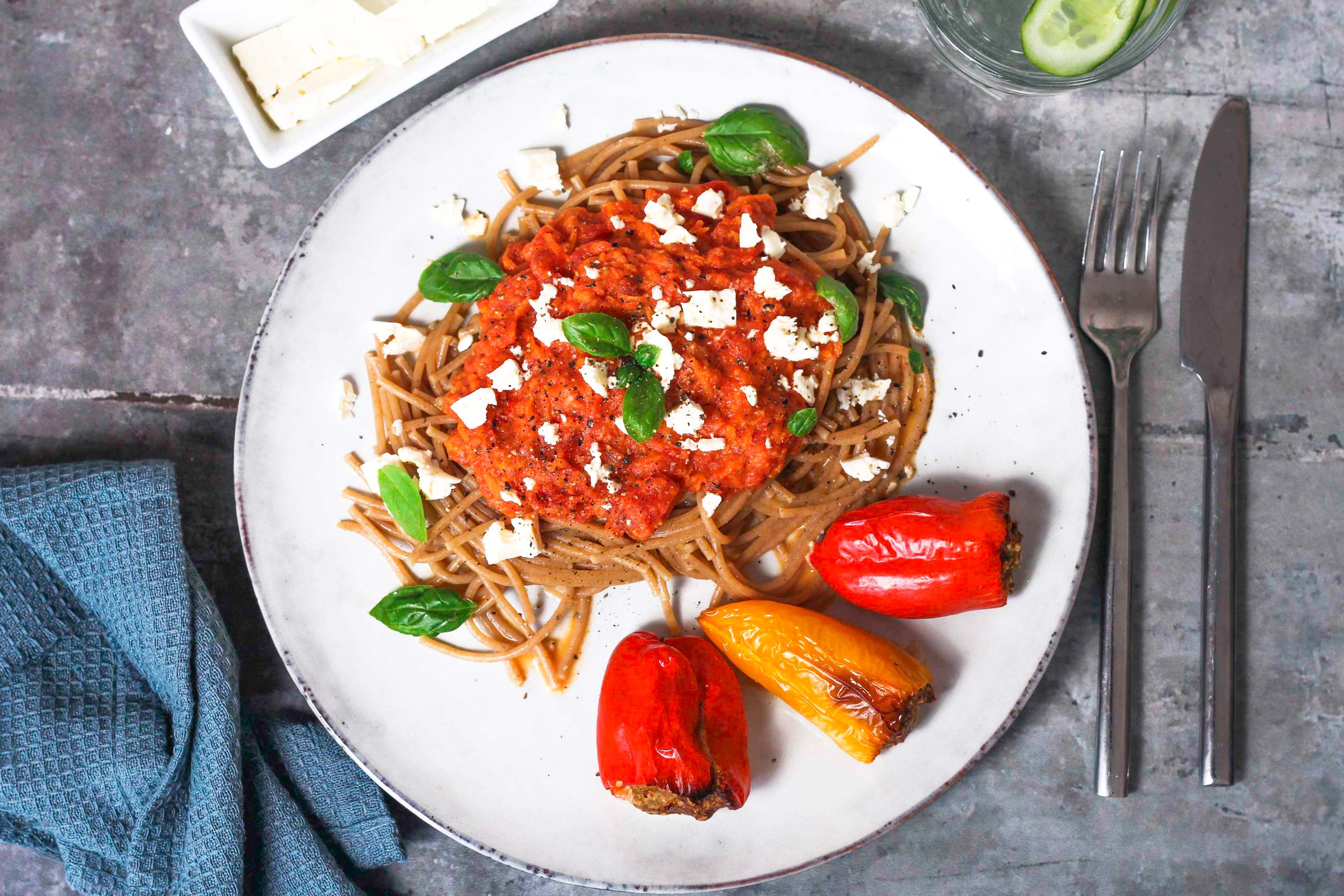 Ingredients
( 2 adults and 2 kids )
Pasta and stuffed bell peppers

wholewheat pasta

4

mixed bell peppers

1 clove

garlic

1 tsp

red curry paste

100 grams

feta block

400 grams

chicken mince

1

egg

1 tsp

salt

1 tbsp

breadcrumbs

Sauce

1

onion

1 clove

garlic

200 grams

carrots

*

1 can

chopped tomatoes

0.5 tbsp

dried oregano

- or thyme

1 cube

vegetable stock

salt

pepper

olive oil
ADD TO SHOPPING LIST
ADD TO MEAL PLAN
*
= Good to know - click the ingredient

= See the recipe - click the ingredient
Stuffed bell peppers are super tasty! And when baked, they get a lovely sweet and mild flavour. We've stuffed them with chicken mince, feta and curry pasta - and served them with pasta and tomato sauce. You can use regular bell peppers or a bunch of mini snack peppers, if you're bursting with patience!
Directions
1. Cook the pasta according to the packet.
2. Remove the stems from the bell peppers with a knife, so they can stand on their 'heads'. But only remove the stem itself, not the top itself, and try to avoid cutting holes in the bell peppers. Cut off the bottoms and set aside. Carefully remove the seeds with a spoon and wash the peppers inside and out.
3. Place garlic, the bell pepper bottoms, curry paste and feta in a mini chopper and give the lot a whirl, until finely chopped. Mix with chicken mince, egg, salt and breadcrumbs and mix well to make a farce.
4. Stuff the bell peppers. Place the bell peppers in a baking tray and bake for approx. 20-25 minutes, or grill over indirect heat with the lid on, if the weather permits barbecuing. If you have leftover farce, shape the rest into meatballs and bake them along with the peppers.
5. Peel onion and garlic, finely chop and sautée in some olive oil. Peel the carrots and grate on the fine side of a grater. Add carrots, chopped tomatoes, oregano (or thyme) and crumbled stock cube and let everything simmer with the lid on while the bell peppers cozy up in the oven. Season with salt and pepper to taste.
6. Serve the stuffed peppers with pasta, tomato sauce, and if you have some left over, crumbled feta on top.
7. Enjoy!
Tip
Tasks for kids in the kitchen: Let your kids peel the carrots. They can also help stuff the peppers with the mince filling - do remember good kitchen hygiene when handling raw chicken.
Share your tips and comments