High five!
The recipe has been added to your shopping list.
Stuffed bell peppers with beef filling, tomato sauce and snack veggies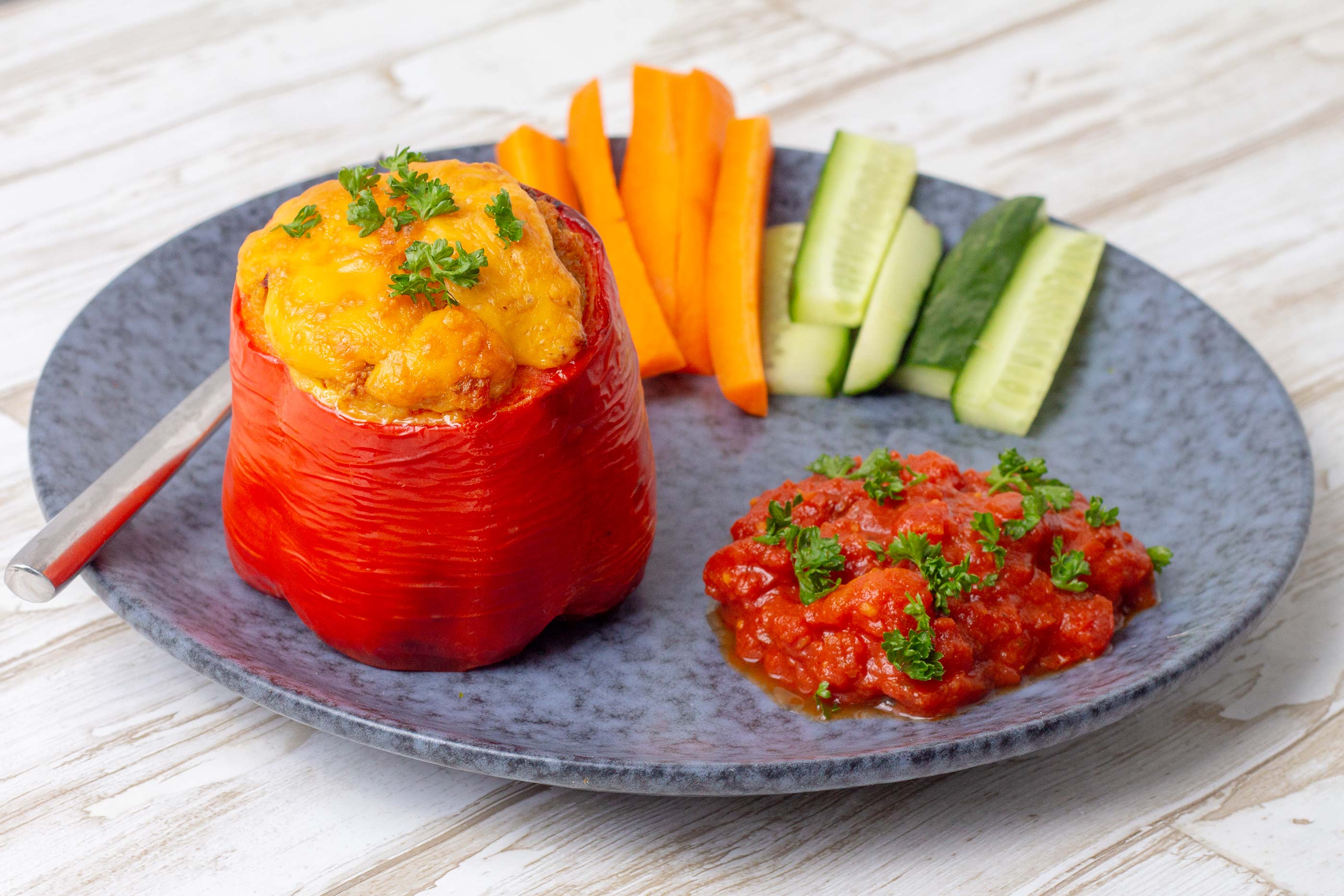 Ingredients
( 2 adults and 2 kids )
150 grams

couscous

4

mixed bell peppers

1

onion

1 clove

garlic

0.5 tbsp

dried oregano

100 grams

sundried tomatoes

2 tsp

curry

400 grams

beef mince

100 ml

milk

1

egg

1 tsp

salt

sliced cheese

1 can

chopped tomatoes

1 cube

vegetable stock

300 grams

carrots

*

0.5

cucumber

pepper

olive oil
ADD TO SHOPPING LIST
ADD TO MEAL PLAN
*
= Good to know - click the ingredient

= See the recipe - click the ingredient
Stuffed bell peppers are delicious - here we've stuffed them with beef mince, sundried tomatoes and couscous. The bell peppers get soft and sweet in the oven, and the sundried tomatoes adds a gorgeous flavour. Couscous is made from mild semolina that most kids enjoy. You can also opt for rice or bulgur. Enjoy!
Directions
1. Preheat your oven to 200 degrees convection and cook the couscous according to the packet - this takes 5-7 minutes.
2. Remove the stems from the bell peppers with a knife, so they can stand upside down. Only remove the green stem and not the top itself, and try to avoid cutting holes in the bell peppers. Cut the bottoms off and set them aside. Carefully remove the seeds with a spoon and wash the bell peppers both inside and outside.
3. Place peeled onion, garlic, the bottoms of the bell peppers, oregano and sundried tomatoes in a mini chopper and give the lot a whirl until finely chopped. Save a third of the chopped veg for later. Cook the rest in olive oil along with curry and beef mince, until the beef is seared well.
4. Now mix beef, couscous, milk, egg and salt. Place the stuffing in the bell peppers and place a slice of cheese on top. Place the peppers in a baking tray and ovenbake for approx. 20 minutes, until the cheese is golden.
5. Cook the rest of the chopped veggies in a bit of olive oil. Add chopped tomatoes and crumbled vegetable stock cube and let the lot simmer with the lid on, while the bell peppers cosy up in the oven. Season to taste with salt and pepper. Serve the stuffed bell peppers with tomato sauce, carrots and cucumber cut into sticks for snack veggies. Enjoy!
Tip
You can also opt to serve the bell peppers with rice or bulgur - just keep in mind that these take longer to cook. Tasks for kids in the kitchen: Let your kids rinse the cucumber and cut it into sticks. They can also help stuff the bell peppers with beef filling and cheese on top.
Share your tips and comments