High five!
The recipe has been added to your shopping list.
Fried pork with parsley sauce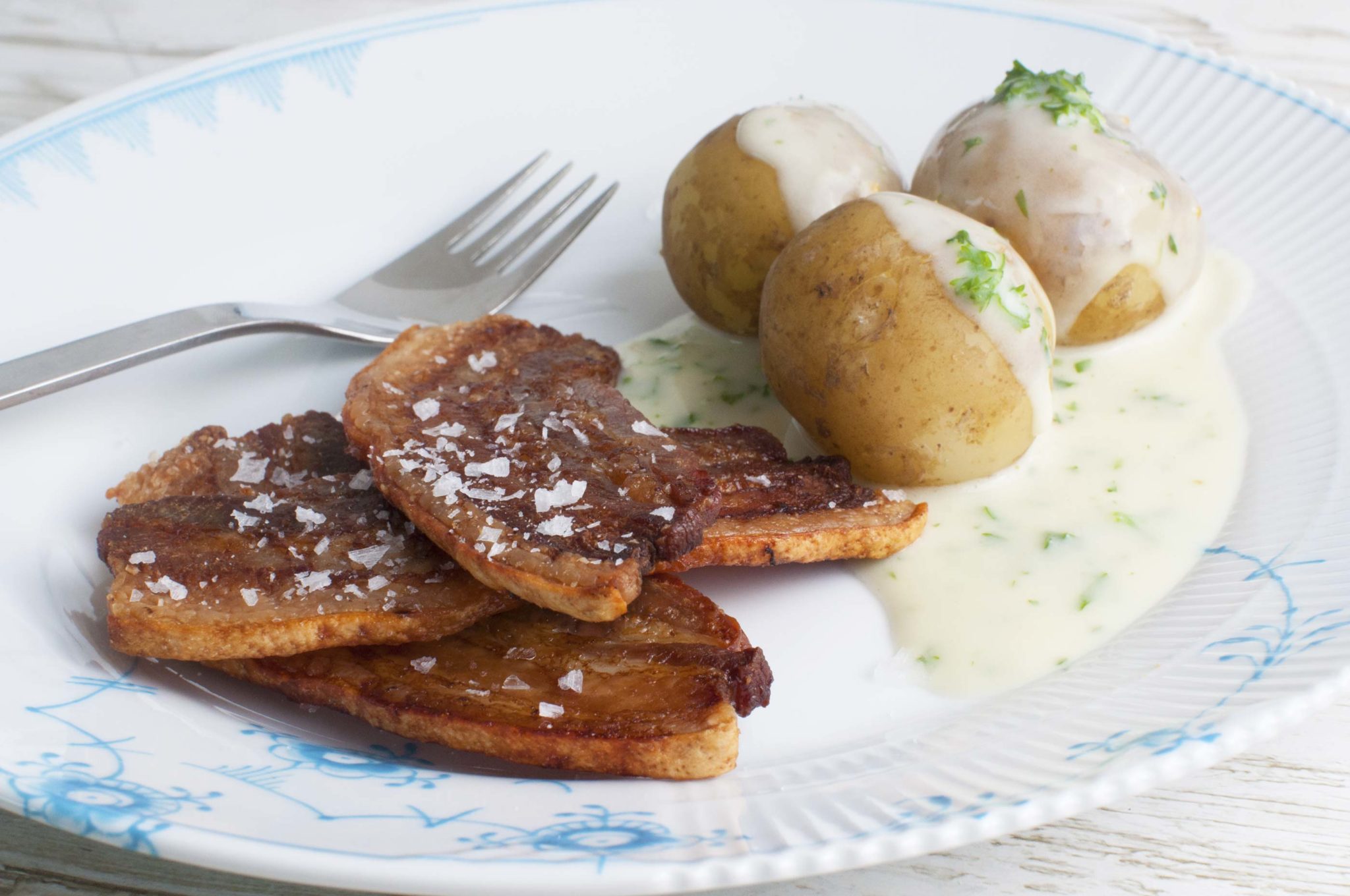 Ingredients
( 2 adults and 2 kids )
700 grams

baby potatoes

600 grams

sliced pork belly

50 grams

butter

35 grams

plain flour

300 ml

milk

300 ml

cooking water

1 bunch

parsley

salt

pepper
ADD TO SHOPPING LIST
ADD TO MEAL PLAN
*
= Good to know - click the ingredient

= See the recipe - click the ingredient
Fried pork is the official national dish of Denmark. And with our FULL endorsement! The fried pork slices are not only great for dinner, but fantastic in packed lunches the following day. Here's an easy recipe for the Danish classic, made in the oven. Enjoy!
Directions
1. Preheat your oven to 200 degrees convection.
2. Peel the potatoes and boil in plenty of salted water. Remember to save the potato water for the sauce!
3. Place the pork belly on an oven grate and flatten with your palm. Season with salt. Pop the pork in the oven for 30 minutes, with a baking sheet on the shelf below to collect the drippings. Flip the pork about halfway through. It's cooked when it has a nice brown colour on both sides, and very importantly - when it's crispy!
4. While the pork is in the oven, fix the sauce. Melt the butter in a pot and add flour. Simmer for a couple of minutes while stirring - you don't want it to brown or blacken, it just gets rid of the floury taste to give it a quick shvitz.
5. Now, little by little, add milk and cooking water in turns, while whisking proper hard. You should get rid of any and all lumps before adding more liquid, every time. Once the sauce has a nice, creamy consistency that reminds you a bit of Nan's cooking, it's perfect! Then add chopped parsley, and salt and pepper to taste - and perhaps a dash of honey and lemon juice, if you have some to hand. After this point, the sauce cannot boil (or it will split).
6. Serve the crispy pork with sea salt on top, potatoes, and plenty of parsley sauce - and we'd suggest a wee parsley garnish, too.
7. Enjoy!
Tip
Tasks for kids in the kitchen: Let your kids help flatten the pork and chop the parsley.
Share your tips and comments