High five!
The recipe has been added to your shopping list.
Steak with roast potatoes, pesto and parmesan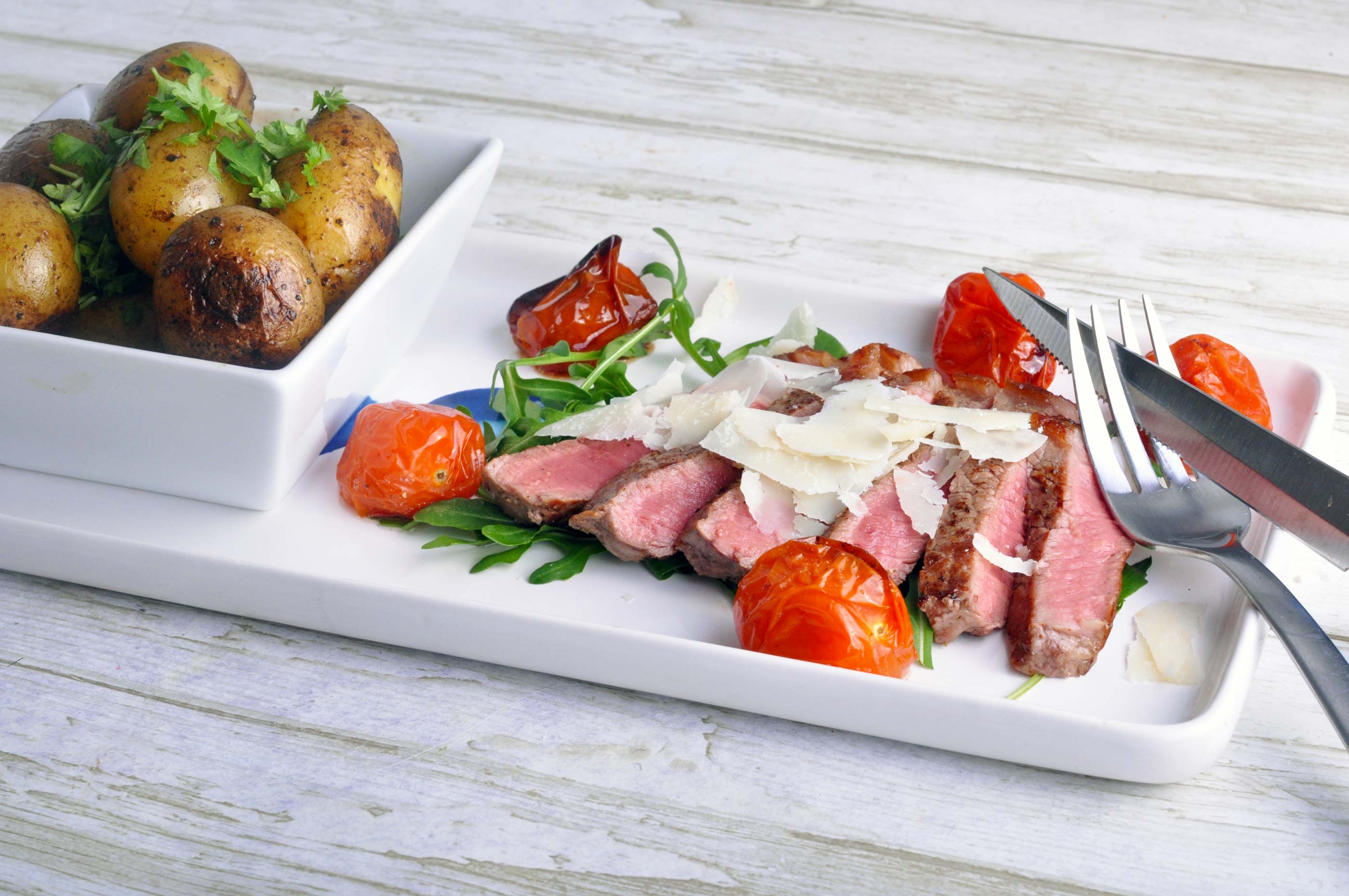 Ingredients
( 2 adults and 2 kids )
20

cherry tomatoes

600 grams

baby potatoes

4

steaks

0.5

lemon

parmesan

lettuce of your choice

pesto

olive oil

salt

pepper
ADD TO SHOPPING LIST
ADD TO MEAL PLAN
*
= Good to know - click the ingredient

= See the recipe - click the ingredient
This is the recipe for a super tasty weekend dish - Italian style - great both for dinner guests, and when you just want to spoil the family. Use whatever steaks your family likes the best. We've used dinner steaks from Lidl, which are both affordable and really tasty. Served here with pesto, parmesan, baked cherry tomatoes, and the loveliest roast potatoes. Enjoy!
Directions
1. Preheat the oven to 200 degrees convection.
2. Rinse the cherry tomatoes. Pop them in an oven-safe tray, drizzle with a bit of olive oil, and season with salt and pepper. If you have any balsamic vinegar handy, drizzle a bit of that as well. It's delicious, but can easily be done without.
3. Pop the tomato tray in the oven with half a centimetre of water in the bottom, and bake for 20-30 minutes while you cook the rest. You want the tomatoes nice and soft when you take them out.
4. Boil the potatoes until almost tender - about 10-15 minutes, depending on the size, and drain. Give the spuds a go in a pan with a bit of olive oil until they get a lovely golden colour. Season with salt and pepper.
5. Season the steaks and cook with a bit of olive oil on a pan - or chuck them on the grill, if weather permits.
6. Let the steaks rest uncovered for five-ten minutes before slicing. This keeps the juices in the meat where you want them!
7. Rinse the lettuce, place on the plates and drizzle with some olive oil and lemon juice, and a bit of balsamic vinegar if you have any. Place the sliced steak on top, drizzle with pesto and finish with grated parmesan on top. Serve with the gorgeous baked tomatoes and roast potatoes on the side. Enjoy!
Tip
Although you can find grated parmesan at the supermarket, it's usually much cheaper to buy a whole piece of cheese and grate it yourself. It tastes a lot better that way too. You can also go with Grana Padano, it's not quite parmesan, but it's usually cheaper and tastes almost the same.
Share your tips and comments