High five!
The recipe has been added to your shopping list.
Steak with purée of Jerusalem artichoke, potatoes and salad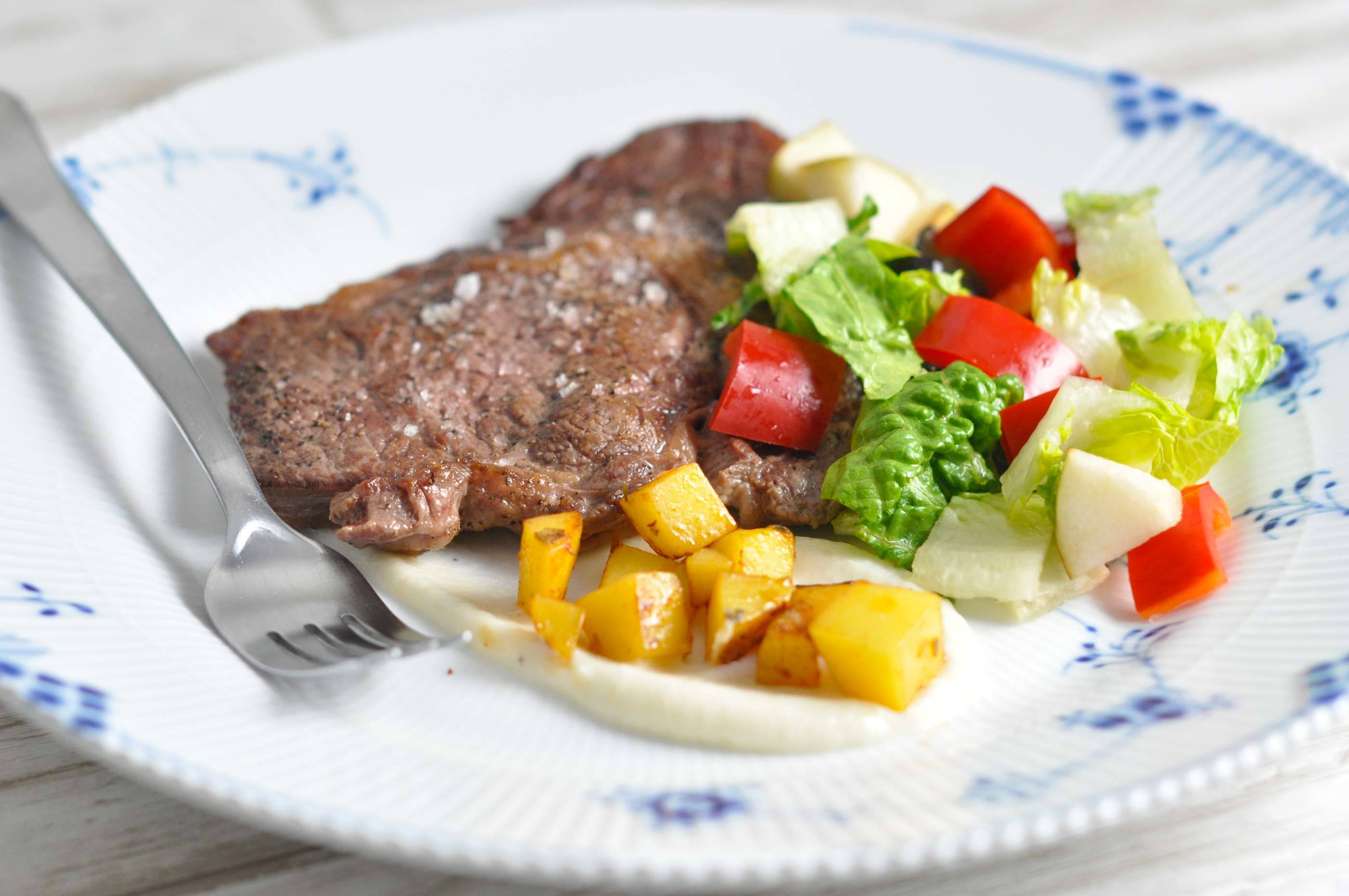 Ingredients
( 2 adults and 2 kids )
Steaks, artichoke purée, potatoes

300 grams

Jerusalem artichokes

500 grams

potatoes

2 tbsp

skyr

*

25 grams

butter

0.5 clove

garlic

0.5

lemon

1 tsp

all purpose seasoning

4

steaks

Salad

lettuce of your choice

1

red bell pepper

50 grams

grapes

1

pear

25 ml

olive oil

1 tbsp

acacia honey

*

0.5

lemon

0.5 tbsp

sweet mustard

salt

pepper
ADD TO SHOPPING LIST
ADD TO MEAL PLAN
*
= Good to know - click the ingredient

= See the recipe - click the ingredient
A great weekend steak with a totally addictive purée of Jerusalem artichoke, crispy potatoes and a quick salad made from the week's leftovers. Super tasty weekend food! Enjoy.
Directions
1. Peel artichokes and potatoes. Roughly dice the artichokes and boil in water that just about covers them, until completely tender when poked with a fork. This takes 20-25 minutes. Meanwhile, dice the potatoes into 1 cm cubes and set aside.
2. Rinse the lettuce and rip into chunks. Wash the bell pepper, remove the seeds and cut into bite sized chunks. Wash and halve the grapes, wash and dice the pear. Mix everything in a bowl and dress with a quick dressing of olive oil, honey, some lemon juice, sweet mustard and seasoned with salt and pepper.
3. Once the artichokes are tender, drain the water into a bowl and pop them into a blender along with skyr, butter, garlic and a bit of lemon juice. Blend on full whack, until you have a completely smooth purée. If needed, add a bit of boiling water to get the perfect consistency. Add salt and pepper to taste.
4. Season the steaks with salt and pepper and cook in a mix of butter and olive oil on a pan - or the grill! Let the steaks rest uncovered on a plate, and finally cook the potatoes on the same pan, with the all purpose seasoning. You want the potatoes warm throughout, but still crispy - this takes 5-10 minutes. Pop a stripe of purée onto the plate with the back of a tablespoon, place the potatoes on top and serve with warm steaks and salad. Enjoy!
Tip
All purpose seasoning in a spice mix, produced by Santa Maria among others. As it already contains salt, regular salt is often not needed where the seasoning is used. You can absolutely use other kinds of seasoning, such as paprika. Do remember to never fill the blender more than halfway when blending hot liquids, as they can "explode" when the blender is switched on. If you don't have a blender, a hand blender will do just fine.
Share your tips and comments