High five!
The recipe has been added to your shopping list.
Spring rolls with easy salad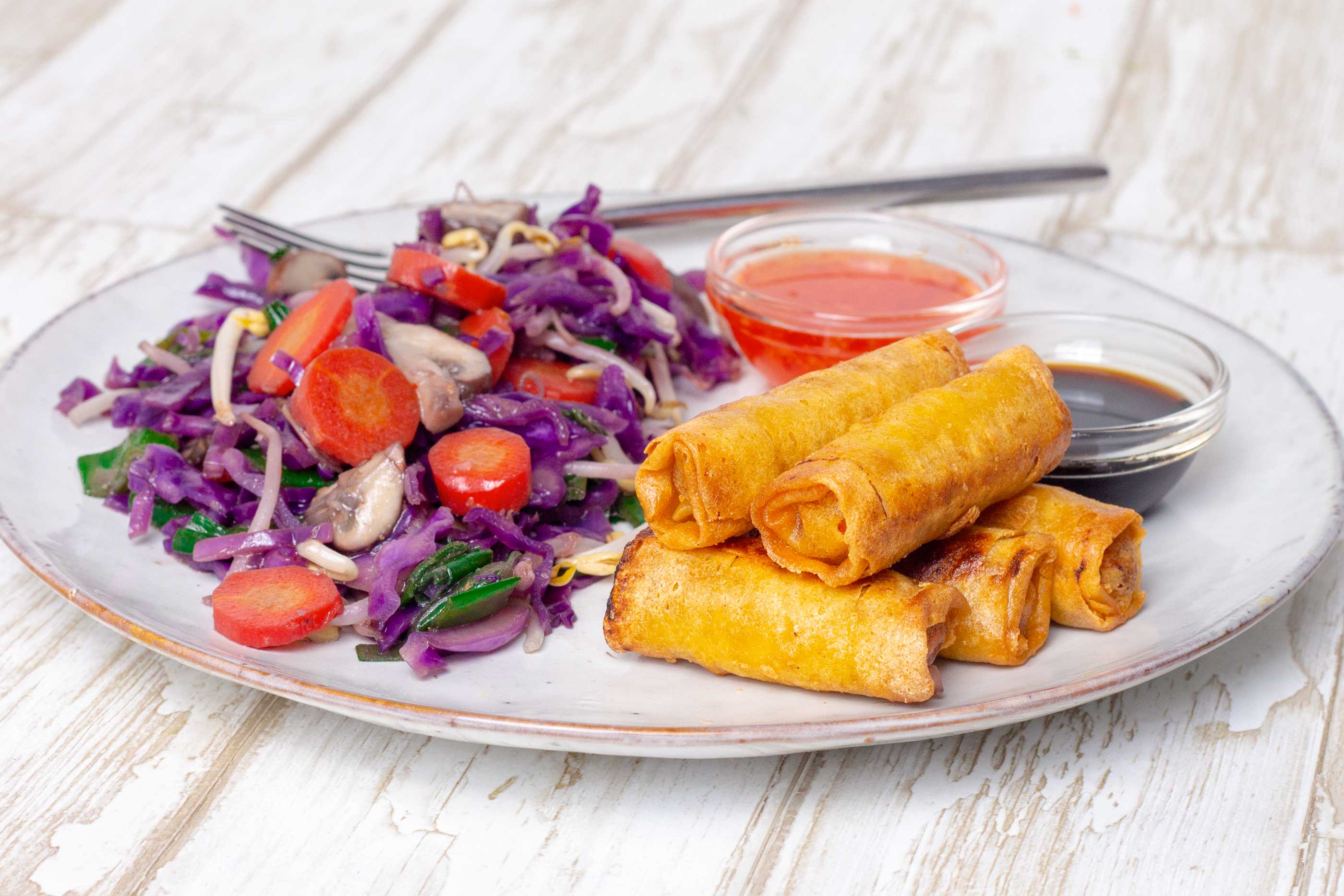 Ingredients
( 2 adults and 2 kids )
250 grams

wholewheat noodles

8

spring rolls

0.5

pointed cabbage

200 grams

carrots

*

100 grams

mushrooms

5

spring onions

150 grams

bean sprouts

3 tbsp

soy sauce

3 tbsp

sweet chilli sauce

rapeseed oil

salt

pepper
ADD TO SHOPPING LIST
ADD TO MEAL PLAN
*
= Good to know - click the ingredient

= See the recipe - click the ingredient
Spring rolls are a definite hit with most kids. Here we've served them with a warm salad of pointed cabbage, noodles, spring onion and bean sprouts. We've used red pointed cabbage, but you can use the regular kind as well. Enjoy!
Directions
1. Cook the noodles according to the packet, then rinse with cold water and leave to drip off in a sieve or drainer.
2. Cook the spring rolls on a pan with rapeseed oil or other oil for frying, according to the packet. You can also heat the rolls in the oven, following the directions on the packet. But usually the rolls come out yummiest if you cook them in some oil on a pan.
3. Rinse and thinly slice the pointed cabbage. Peel the carrots and cut into bite-sized chunks. Rinse and clean the mushrooms and spring onions and cut into smaller pieces.
4. Cook all the veggies on a pan in oil on high heat for about 5 minutes. Add rinsed bean sprouts, noodles, soy sauce and sweet chilli sauce and stir well. Season with salt and pepper to taste.
5. Serve the spring rolls and the warm noodle salad with some extra soy and sweet chilli sauce.
6. Enjoy!
Tip
Tasks for kids in the kitchen: Let your kids rinse and cut the mushrooms into wedges. And if they're brave, pop a pair of goggles on them and let them chop the onions. If nothing else, it'll make for a perfect Kodak Moment!
Share your tips and comments