High five!
The recipe has been added to your shopping list.
Spiced mac and cheese with beef and kidney beans – for two days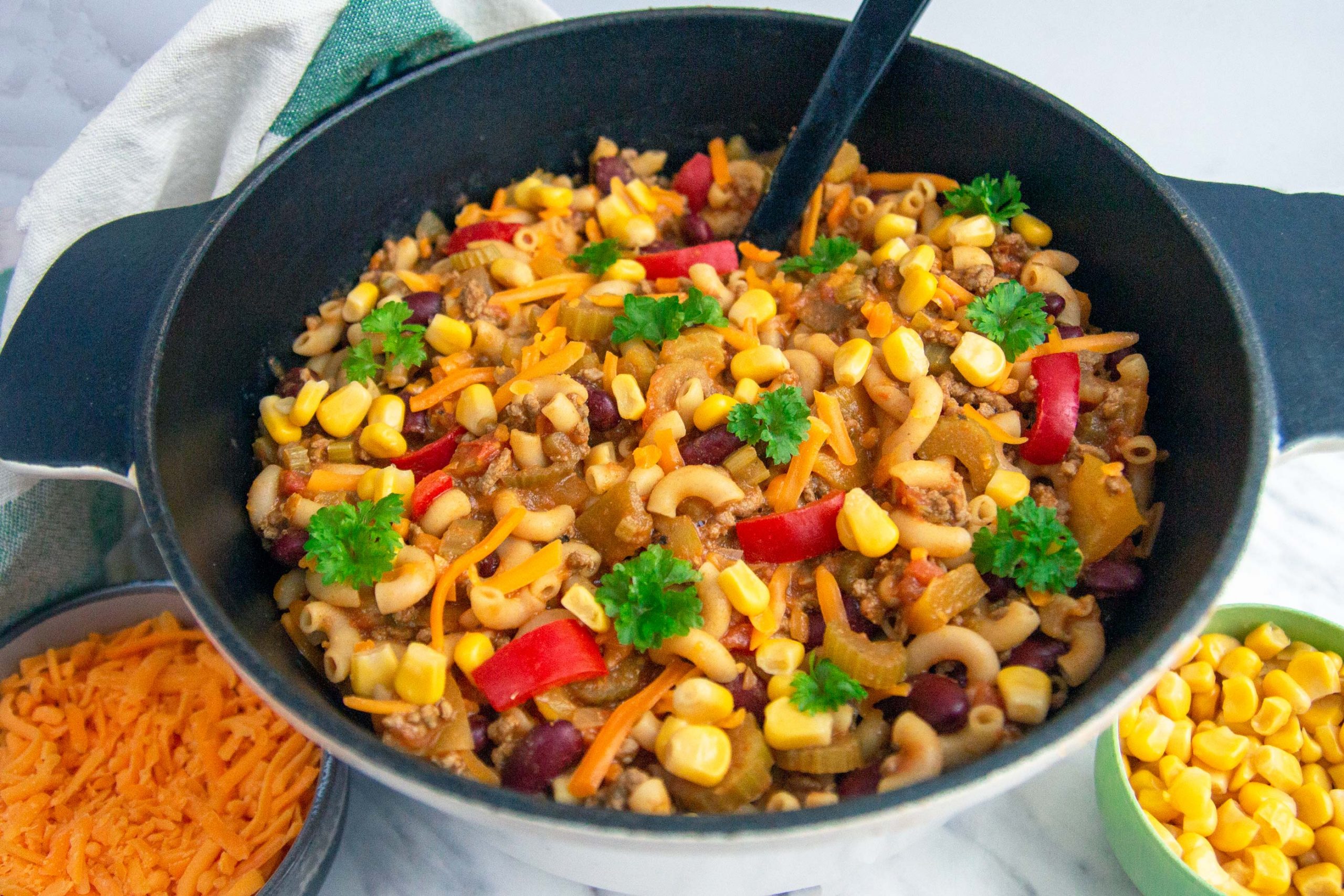 Ingredients
( 2 adults and 2 kids )
2

onion

2 clove

garlic

3

mixed bell peppers

8 stick

celery

*

800 grams

beef mince

1 tbsp

ground coriander

0.5 tbsp

cumin

1 tbsp

curry

600 ml

water

2 cube

vegetable stock

2 can

chopped tomatoes

2 tin

kidney beans

250 grams

macaroni

125 grams

cheddar cheese

285 grams

loose sweetcorn

pepper

olive oil

salt
ADD TO SHOPPING LIST
ADD TO MEAL PLAN
*
= Good to know - click the ingredient

= See the recipe - click the ingredient
Mac and cheese is an American classic on the level of our spag bol or sunday dinner. We've put together a yummy and lightly spiced version with beef mince, kidney beans, celery and bell pepper, mixed with grated cheddar and stopped with sweetcorn. The recipe is designed for two days, so remember to safe half of the bolognese for easy dinner tomorrow. Enjoy!
Directions
1. Finely chop onion and garlic. Rinse and dice bell pepper and celery and sweat the lot in a large pot in some olive oil.
2. Add beef, coriander, cumin and curry and sear well along with veggies.
3. Add water, crumbled stock cube, chopped tomatoes and kidney beans to the pot. Pop the lid on, lower the heat a bit and let the lot simmer for about 10-15 minutes. Remember to gently stir all the way to the bottom here and there, so nothing sticks.
4. Meanwhile, cook the macaroni according to the packet and drain the sweetcorn. If using frozen sweetcorn, bring to the boil in boiling water according to the packet.
5. Split the bolognese into two portions and save half for tomorrow. Grate the cheese on the coarse side of the grater and mix into the bolognese along with macaroni and top with loose sweetcorn.
6. Serve the dish in deep plates – and enjoy!
Tip
Tasks for kids in the kitchen: Let your kids help rinse and dice the bell pepper. They can also help add the ingredients to the pot. 
Extra flavour: If you'd like a bit more flavour in the dish, give it a good dash of fresh or dried chilli and oregano.
Share your tips and comments