High five!
The recipe has been added to your shopping list.
Spaghetti with root vegetable bolognese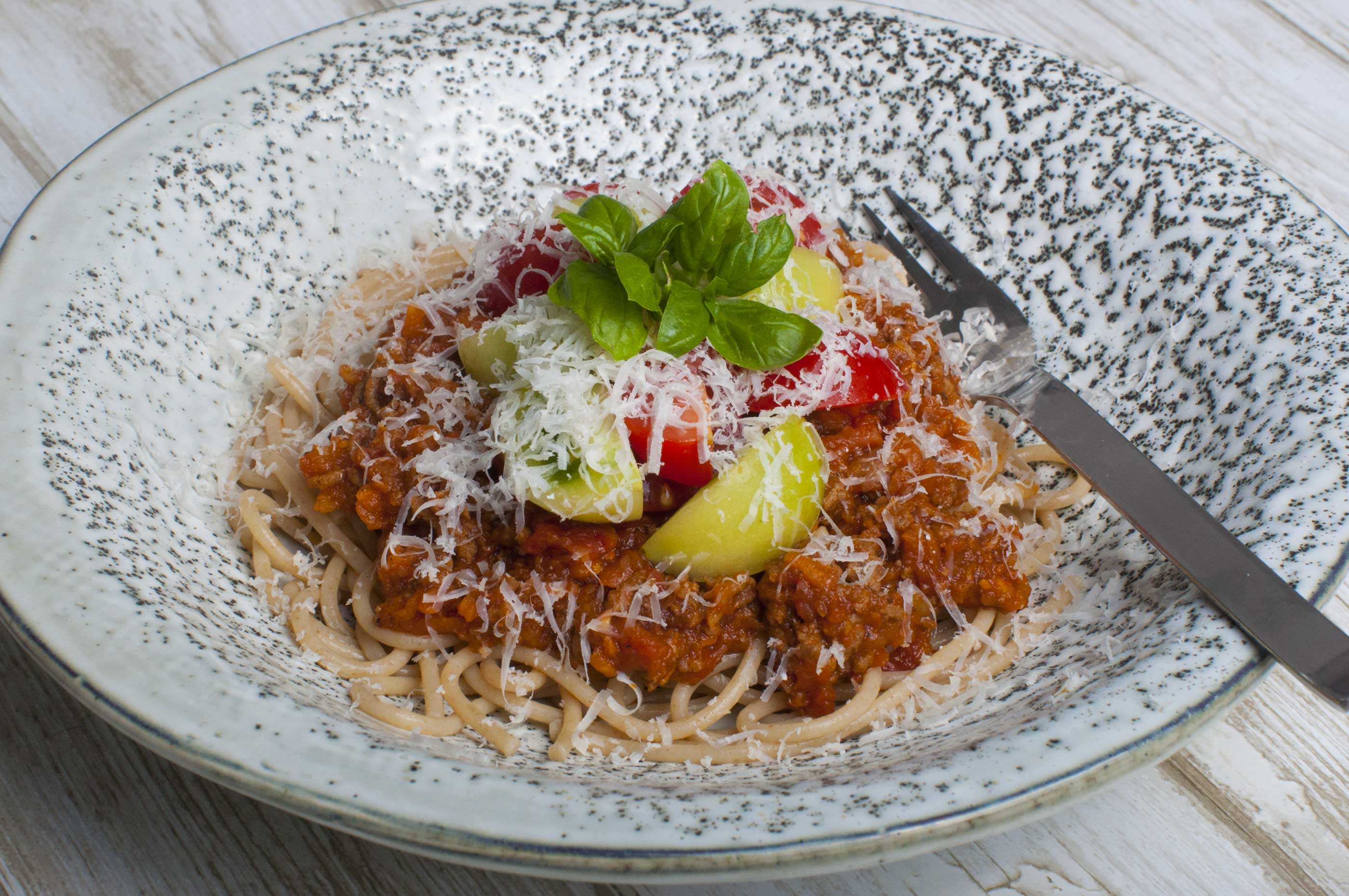 Ingredients
Freezer friendly
( 2 adults and 2 kids )
2

onion

1 clove

garlic

200 grams

sweet potato

0.5

celeriac

*

300 grams

carrots

*

800 grams

beef mince

2 can

chopped tomatoes

1 tbsp

dried oregano

100 ml

tomato ketchup

70 grams

tomato purée

1 cube

beef stock

wholewheat spaghetti

salt

pepper

olive oil
ADD TO SHOPPING LIST
ADD TO MEAL PLAN
*
= Good to know - click the ingredient

= See the recipe - click the ingredient
This bolognese is absolutely gorgeous! Especially as it'll last you two days - and don't forget, it's secretly full of all sorts of root vegetables that normally aren't exactly kid favourites, and they'd never know! Enjoy!
Directions
1. Finely chop onion and garlic. Peel the sweet potatoes, celeriac and carrots and roughly grate them. If you have a food processor, chuck them in there and give them a spin, it's much quicker. But you can definitely use a good old fashioned, analogue grater. It just takes a while longer - and makes life a bit more exciting for the fingertips!
2. Brown the onion and garlic in a big deep pan or pot with a bit of olive oil. Add the mince and let it brown thoroughly on all sides. Add the grated root veggies and stir well until everything is mixed together.
3. Now add chopped tomatoes, oregano, tomato ketchup, tomato purée and crumbled stock cube and let the bolognese simmer with the lid on for as long as your patience allows. At least 10 minutes - ideally longer. Remember to check periodically if there's enough liquid - if the bolognese is cooking dry, just add a bit more water.
4. Boil the spaghetti following the instructions on the packet. Add salt and pepper to taste, and serve on top of the piping hot spaghetti - optionally topped with a bit of fresh tomatoes, grated cheese and a sprinkle of herbs if you have any handy (do avoid herb sprinkles for kids younger than 3).
5. Enjoy!
Tip
Remember to save the leftover bolognese for dinner tomorrow.
Share your tips and comments