High five!
The recipe has been added to your shopping list.
Spaghetti traybake with beef and veg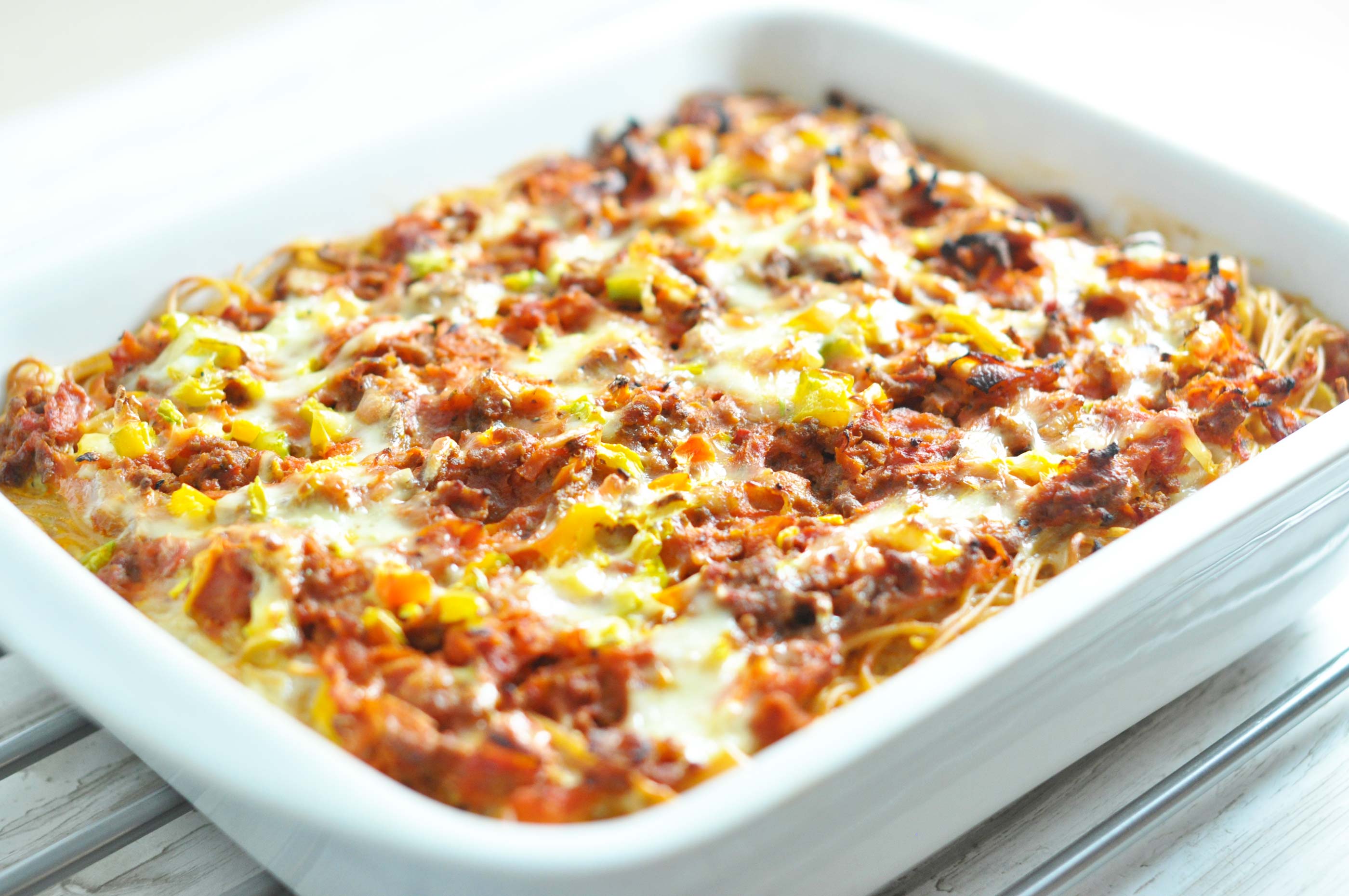 Ingredients
Freezer friendly
( 2 adults and 2 kids )
300 grams

wholewheat spaghetti

1

onion

1

garlic

300 grams

carrots

*

1

green bell pepper

0.5 packet

bacon slices

500 grams

beef mince

2 can

chopped tomatoes

70 grams

tomato purée

1 tbsp

dried oregano

1 cube

beef stock

3

egg

200 ml

milk

100 grams

grated cheese

salt

pepper
ADD TO SHOPPING LIST
ADD TO MEAL PLAN
*
= Good to know - click the ingredient

= See the recipe - click the ingredient
You're probably most used to spaghetti in the classic, boiled version wih bolognese on top. But this gratin is absolutely gorgeous as well - and perfect for two days. Enjoy!
Directions
1. Preheat your oven to 200 degrees convection. Cook the spaghetti according to the packet instructions and drain. Finely chop onion and garlic. Peel the carrots and grate on the rough side of a grater. Wash the bell pepper, remove the seeds and finely dice it.
2. Cut the bacon into strips and place them onto a deep, cold pan or pot. Switch on the hob and let the bacon get a nice sear. Add onion and garlic and cook for another few minutes. Add the beef and let it cook until seared well. Add the grated carrots, chopped tomatoes, tomato purée, oregano and stock cube. Let the lot simmer for at least 10 minutes while you fix the cheese mass. Season with salt and pepper to finish.
3. Beat egg, milk, cheese and bell pepper in a bowl and season with salt and pepper. Take away half to use as topping. Add the spaghetti to the other half, and mix well.
4. Spread half of the spaghetti mixture across the bottom of a casserole tin. Spread half of the bolognese on top of the spaghetti and top with the rest of the spaghetti. Finish with the other half of bolognese and the rest of the cheese on top. Pop the tin in the oven and let it gratinate for about 20 minutes, or until golden brown on top. You can serve with a quick salad of the weeks leftover veggies if you have any. Enjoy!
Tip
You can absolutely buy grated cheese at the supermarket, but it's much cheaper to buy a solid piece of cheese and grate it at home, cut into cheese sticks for the kids' lunch, and cut a few slices off for a nice afternoon toastie. And that keeps those nasty E-numbers off your dinnertable!
Share your tips and comments