High five!
The recipe has been added to your shopping list.
Sweet potato soup with fried cod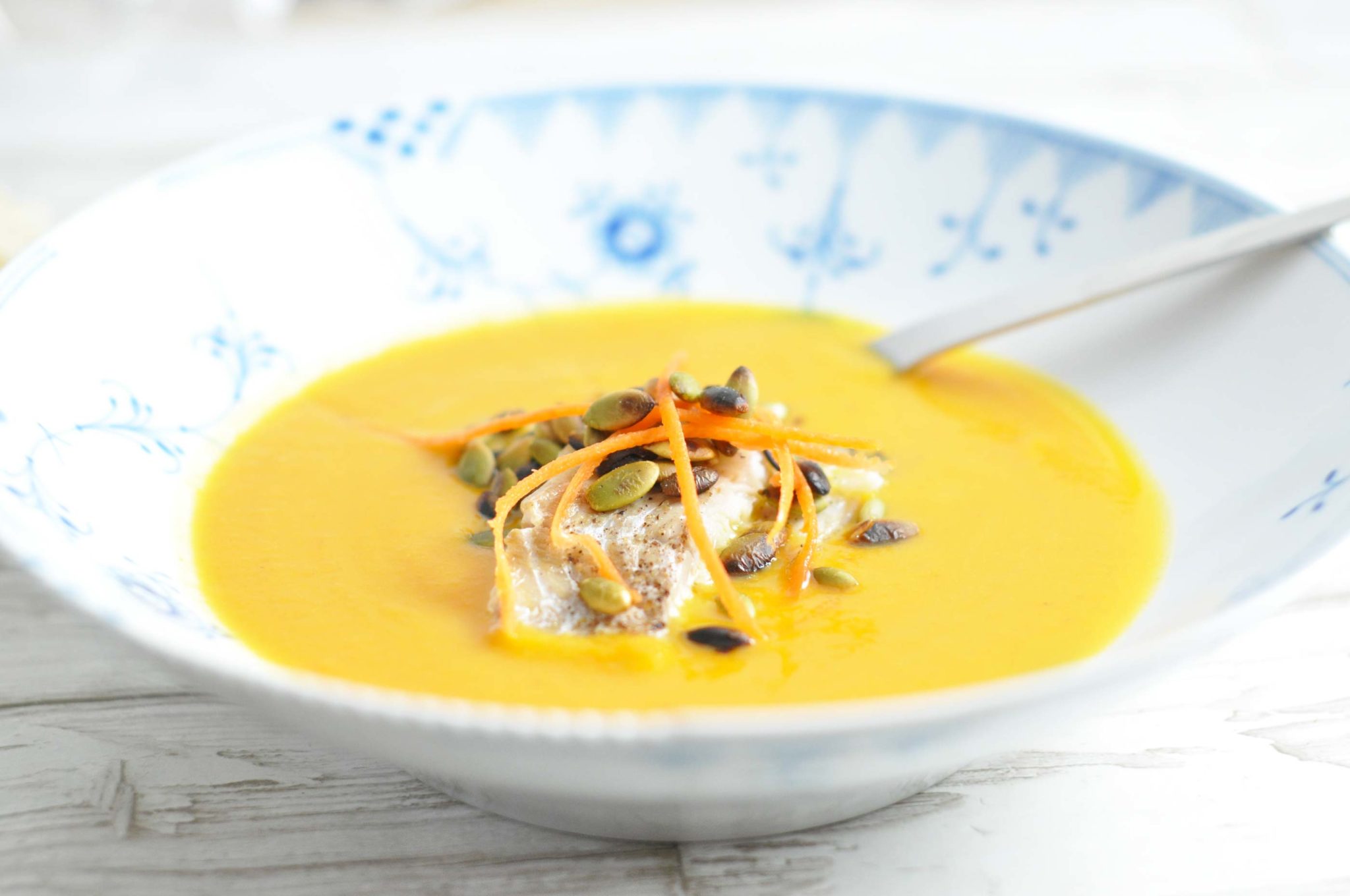 Ingredients
Freezer friendly
( 2 adults and 2 kids )
300 grams

carrots

*

450 grams

sweet potatoes

1

onion

1 tsp

curry

1 tsp

cumin

1 litre

water

2 cube

vegetable stock

50 grams

pumpkin seeds

225 grams

cod fillet

0.5

lemon

1

wholewheat baguette

200 ml

skyr

*

salt

pepper

olive oil
ADD TO SHOPPING LIST
ADD TO MEAL PLAN
*
= Good to know - click the ingredient

= See the recipe - click the ingredient
A gorgeous soup with plenty of sweetness, and classic fried cod. Garnish the soup with ribboned carrot and some roasted nuts or seeds, if you have some to hand. If you'd like to make the dish 100% vegetarian, simply leave out the cod. Enjoy!
Directions
1. Peel the carrots and sweet potatoes, then roughly dice both. Save a small carrot for garnish. Finely chop the onion and cook the veggies for a couple of minutes in some olive oil along with curry and cumin. You don't want to brown the vegetables, but the spices should start getting lovely and fragrant.
2. Add water and stock cubes and bring the pot to the boil. Let the soup simmer for approx. 15 minutes, or until the veggies are totally tender. Meanwhile, roast pumpkin seeds or nuts on a pan and set aside. Season the cod fillets with salt and pepper and fry on the same pan, with some olive oil.
3. Blend the soup with a hand (or regular) blender, until completely smooth. Pour it back in the pot (if using a regular blender), and season to taste with salt, pepper and a dash of lemon juice.
4. Serve the soup with fried cod, some ribboned carrot, skyr and the roast pumpkin seeds or other nuts on top, if you happened to have some in. Dip a bit of warm baguette in the soup - and slurp away!
5. Enjoy!
Tip
If the kids aren't convinced by big pieces of fish, we suggest mashing the cod with a fork. But start with a small piece, to see how it goes down. Also remember to never fill your blender more than halfway when blending hot liquids. They can "explode" as the blender starts. Start slow and carefully nudge up the speed. Place a dishtowel over, in place of the lid, while blending. If you don't have a countertop blender, you can happily use a hand blender straight in the pot. But give the soup a proper go! We want it as smooth and lump-free as possible.
Share your tips and comments