High five!
The recipe has been added to your shopping list.
Vegetarian summer pasta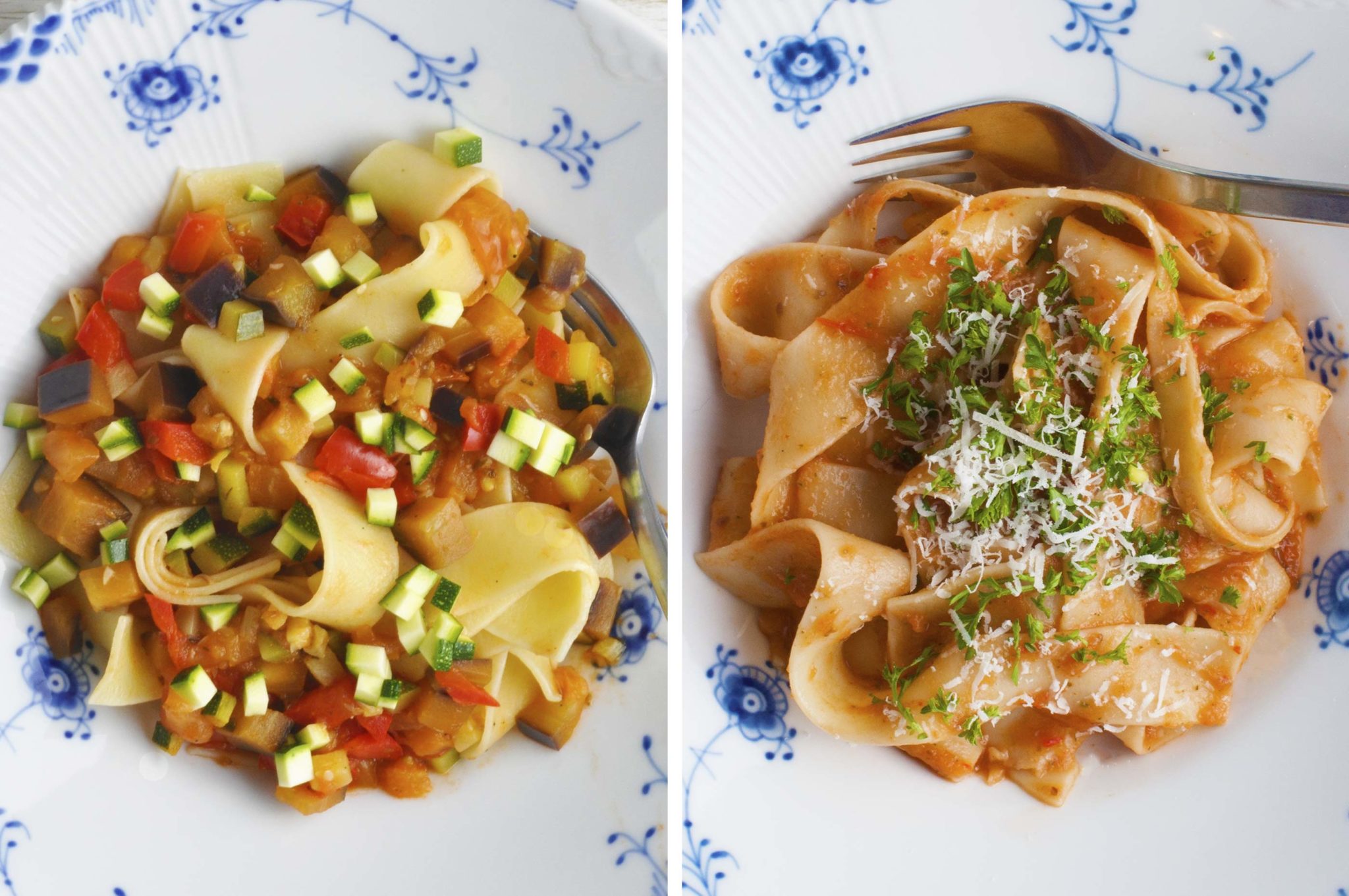 Ingredients
Freezer friendly
( 2 adults and 2 kids )
1

aubergine

wholewheat pasta

1

red bell pepper

1

courgette

4

tomato

1 clove

garlic

0.5 tbsp

dried oregano

200 ml

pasta water

35 grams

tomato purée

0.5

lemon

sea salt

pepper

olive oil
ADD TO SHOPPING LIST
ADD TO MEAL PLAN
*
= Good to know - click the ingredient

= See the recipe - click the ingredient
A quick and delicious vegetarian pasta, with a sauce that can be served with visible veggie chunks or blended into a smooth, tomatoey sauce – depending on how your kids feel about veggies. If you have a block of cheese in the fridge, grate some over top before serving – although the dish is delicious without, too. Enjoy!
Directions
1. Rinse and finely dice the aubergine. Place in a colander, cover with a good handful of sea salt, and leave to sit while you sort the rest. And don't worry – the salt gets rinsed off. It simply helps make the aubergine soft and yummy when cooked.
2. Cook the pasta according to the packet. Save the pasta water, you'll need it for the sauce.
3. Clean and wash the bell pepper, rinse courgette and tomato and finely dice the lot. Finely chop garlic.
4. Sweat the garlic for a minute or so, in some olive oil in a deep pan or pot. Add bell pepper, tomato and oregano and let simmer for a couple of minutes.
5. Rinse the salt off the diced aubergine and add to the pot. Add pasta water and tomato purée and let the sauce simmer for 5-10 minutes with the lid on, until the aubergine is tender. Finally, add the diced courgette. Season to taste with a dash of lemon juice, salt and pepper.
6. Now you have two options! If the kids are wild about veggies, simply mix the sauce with pasta, garnish with some herbs or greens (if you have some handy) and serve.
7. If your kids are less enthused about visible veg, give the sauce a proper go with a hand blender or in a regular blender, until it has the look and consistency of tomato sauce.
8. Have another taste after blending. Mix with pasta and serve with green garnish, and optionally some grated cheese on top.
9. Enjoy!
Share your tips and comments