High five!
The recipe has been added to your shopping list.
Snickers-snacks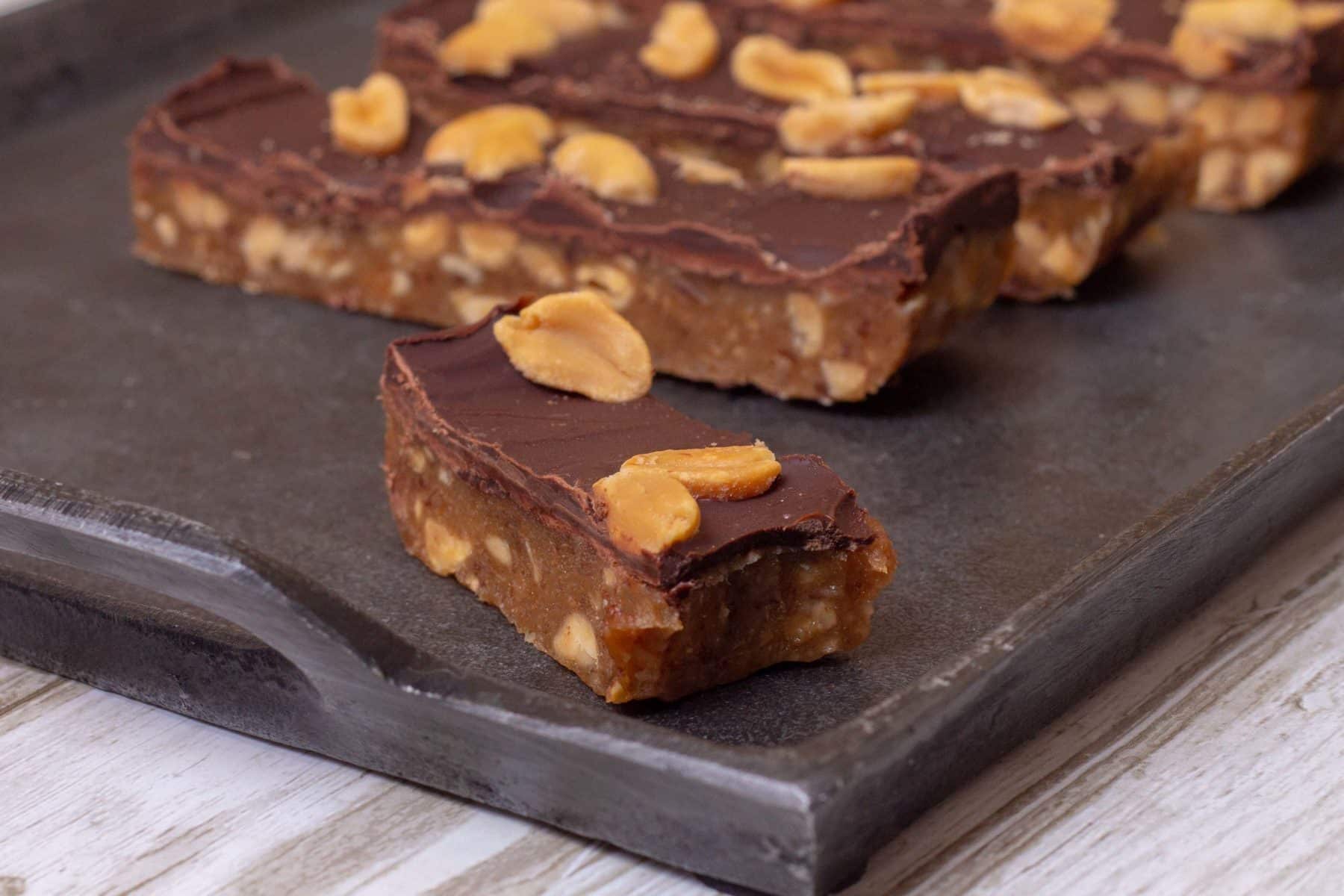 Ingredients
( 26 )
150 grams

peanuts

150 grams

dates

*

2 tbsp

boiling water

3 tbsp

peanut butter

150 grams

dark chocolate

cling film
ADD TO SHOPPING LIST
*
= Good to know - click the ingredient

= See the recipe - click the ingredient
They are MEGA scrumptious, these Snickers-snacks. They're creamy, crunchy and delicious. A bit like a classic Snickers. They're perfect snacks in the packed lunch, to fix falling blood sugar in the afternoon, or for dessert. Enjoy!
Directions
1. Pop peanuts in a mini chopper and give them a spin, until roughly chopped. Set aside.
2. If the dates have stones, remove these - or your mini chopper will pay the price. And your teeth! We're just saying...
3. Put dates, boiling water and peanutbutter in a mini chopper. Blend into an even mass and then mix with the chopped peanuts.
4. Coat a bread tin or similar with cling film and pour the mass into it, about 1-1.5 cm thick.
5. Melt chocolate in a bain marie or the microwave.
6. Pour the melted chocolate over the peanut mass. If there's some peanuts left over, you can sprinkle them over the chocolate. Pop the tin in the freezer and give it a few hours in the cold. Then you can flip the chocolate bar out onto the table and cut it into appropriate snack-pieces.
7. Store in a tin in the fridge - if you have time, before they're eaten!
8. Enjoy!
Tip
Tasks for kids in the kitchen: Let your kids remove the stones from the dates. They can also help putting all the ingredients in the mini chopper - and of course to taste and lick bowls as you go!
Share your tips and comments