High five!
The recipe has been added to your shopping list.
Simmer pot with beef and sweet potatoes - for two days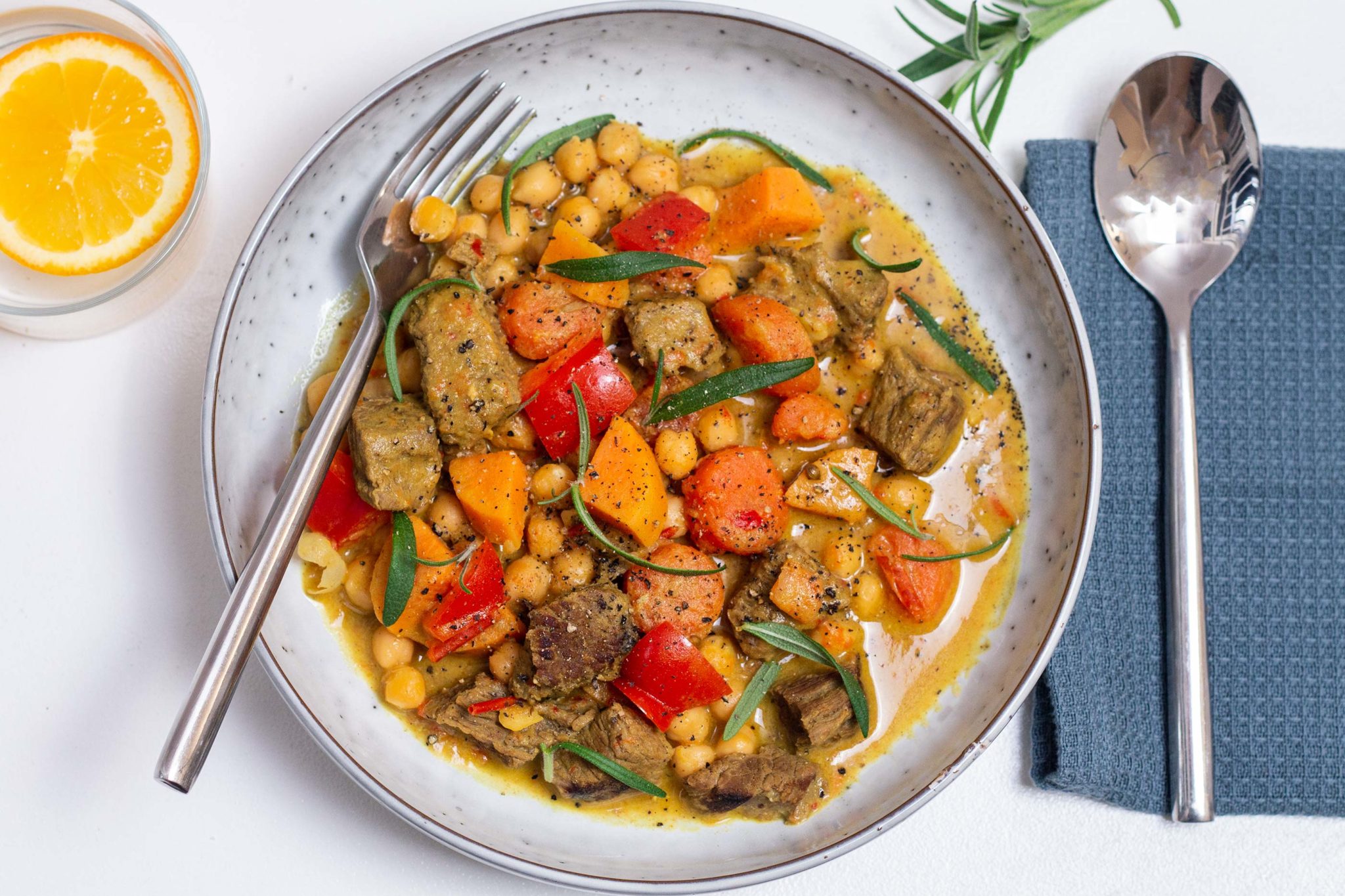 Ingredients
( 2 adults and 2 kids )
2

onion

2

red bell pepper

600 grams

carrots

*

600 grams

sweet potatoes

800 grams

beef strips

1 tbsp

curry paste

1 tbsp

ground coriander

140 grams

tomato purée

600 ml

water

1 cube

vegetable stock

400 ml

coconut milk

1 tbsp

acacia honey

*

2 can

chickpeas

olive oil

salt

pepper
ADD TO SHOPPING LIST
ADD TO MEAL PLAN
*
= Good to know - click the ingredient

= See the recipe - click the ingredient
Simmer-foods mean less work in the kitchen, and more time to put your feet up and relax while dinner readies itself. Here's the recipe for a super tasty and spiced simmer pot with beef strips, sweet potatoes and chickpeas. The recipe is intended for two days - so that's an extra easy dinner for tomorrow. Enjoy!
Directions
1. Finely chop the onion. Rinse, clean and dice the bell peppers. Peel the carrots and sweet potatoes and roughly dice them.
2. Season the beef with salt and pepper and sear in a deep pan or pot with a dash of olive oil, until it's browned. Add onion, curry paste and ground coriander and stir well.
3. Now add tomato purée, water, stock cube, coconut milk, acacia honey, sweet potatoes, bell pepper, carrots and chickpeas.
4. Let the lot simmer with the lid on, for as long as your patience will let you - but at least 30 minutes. The beef will only get more tender the longer you leave it.
5. Season to taste with salt, pepper, acacia honey, and maybe a bit more curry paste.
6. Serve the yummy simmer pot in deep plates, and remember to save the rest for a quick heat-up dinner tomorrow.
7. Enjoy!
Tip
Tasks for kids in the kitchen: Let your kids help rinse and cut the bell peppers. They can also help cut the sweet potatoes - you can make it easier for them by cutting them lengthways, so the kids only have to dice them.
Share your tips and comments