High five!
The recipe has been added to your shopping list.
Sesame drumsticks with coleslaw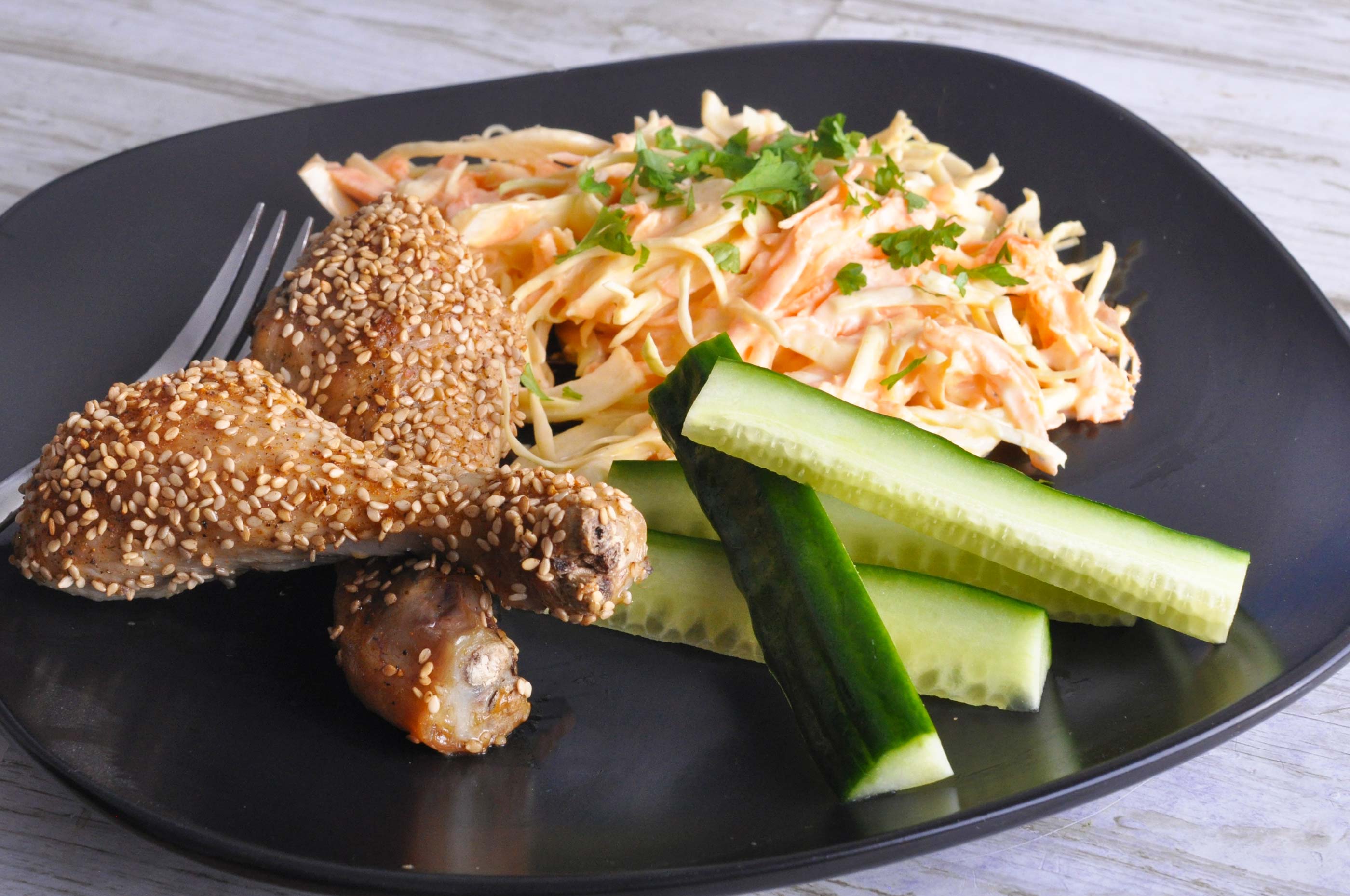 Ingredients
( 2 adults and 2 kids )
Sesame drumsticks

8

chicken drumsticks

25 grams

sesame seeds

0.5

cucumber

olive oil

baking parchment

salt

pepper

Coleslaw

0.5 head

cabbage

300 grams

carrots

*

200 ml

skyr

*

3 tbsp

mayonnaise

1 tbsp

acacia honey

*

1 tbsp

sweet mustard
ADD TO SHOPPING LIST
ADD TO MEAL PLAN
*
= Good to know - click the ingredient

= See the recipe - click the ingredient
Chicken drumsticks is a winner in most families with kids. They're easy to cook and the little ones love them. Here we've coated the drumsticks in sesame seeds and served them with a classic coleslaw and snack veggies. If the kids still aren't convinced by the whole "veg" concept, serve a wholewheat baguette or rye bread on the side - or cook a bit of wholegrain rice or wholewheat pasta.
Directions
1. Preheat your oven to 200 degrees convection.
2. Pop the drumsticks in an oiled roasting tin (or covered with baking parchment). Drizzle the drumsticks with a good dash of olive oil, season with salt and pepper and sprinkle with sesame seeds. Bake for approx. 30 minutes - but keep in mind that both ovens and chickens come in all sorts, so cook the drumsticks until cooked through and the roasting juices run clear.
3. Meanwhile, chop the cabbage and carrots into thin strips - either with a knife or a mandolin - and mind your fingers! Mix skyr, mayonnaise, acacia honey and sweet mustard to make a dressing, and add salt and pepper to taste. Mix with cabbage and carrot strips.
4. Wash the cucumber and cut into sticks for snack veg. Serve with the crispy drumsticks and the classic coleslaw - maybe with a sprinkle of herbs, if you have any.
5. Enjoy!
Tip
Remember to save a drumstick or two for the little ones' packed lunches. If you can't find skyr or just aren't fully convinced by it yet, you can substitute it for yoghurt, or good old fashioned mayonnaise if you prefer.
Share your tips and comments