High five!
The recipe has been added to your shopping list.
Sesame-coated tenderloin with veggie chips and bread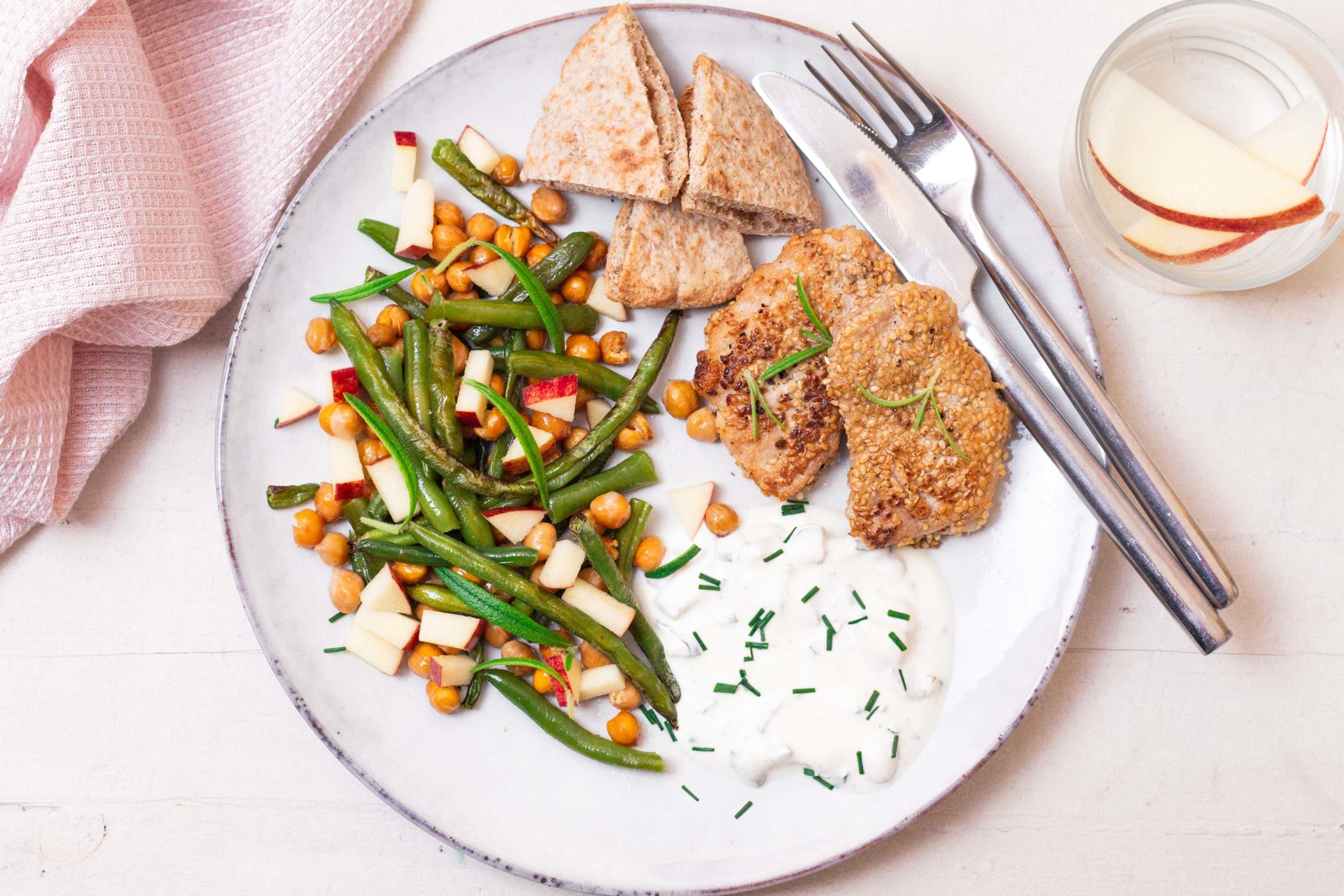 Ingredients
( 2 adults and 2 kids )
1 can

chickpeas

500 grams

frozen beans

1

pork tenderloin

1

egg

75 grams

sesame seeds

4

wholewheat pitabreads

1

apple

dressing of your choice

baking parchment

salt

pepper

olive oil
ADD TO SHOPPING LIST
ADD TO MEAL PLAN
*
= Good to know - click the ingredient

= See the recipe - click the ingredient
They're super yummy, these sesame-coated tenderloin steaks! We're serving them with bean and chickpea chips (yep!), dressing, and wholewheat pitabreads as small bites. If you want more of a weekend vibe over dinner, you can swap the bean chips for regular potato chips. Enjoy!
Directions
1. Preheat your oven to 220 degrees convection. Drain the water from the chickpeas and spread onto a baking tray covered with baking parchment along with the frozen beans. Mix with a nice dash of oil and bake for 25-30 minutes.
2. Cut the tenderloin into steaks and slightly flatten them with your palm. Remember to wash hands and utensils when you're done.
3. Crack the egg into a deep plate and beat it with a pinch of salt and pepper. Pour the sesame seeds into a bowl.
4. Now coat the tenderloin steaks well in the egg mass, and then coat in sesame seeds. It's okay if they're not coated completely. Cook the steaks on a pan in olive oil until golden and cooked through.
5. Meanwhile, warm the pitabreads in the oven and then cut into little triangles. Rinse and finely dice the apple, to be sprinkled over the veggie chips as garnish.
6. Serve the coated tenderloin steaks with the crispy vegetable chips, dressing, and pitabreads. Enjoy!
Tip
Tasks for kids in the kitchen: Let your kids help coat the tenderloin steaks. They can also dice the apple.
Share your tips and comments