High five!
The recipe has been added to your shopping list.
Seasoned chicken fillets with mashed potatoes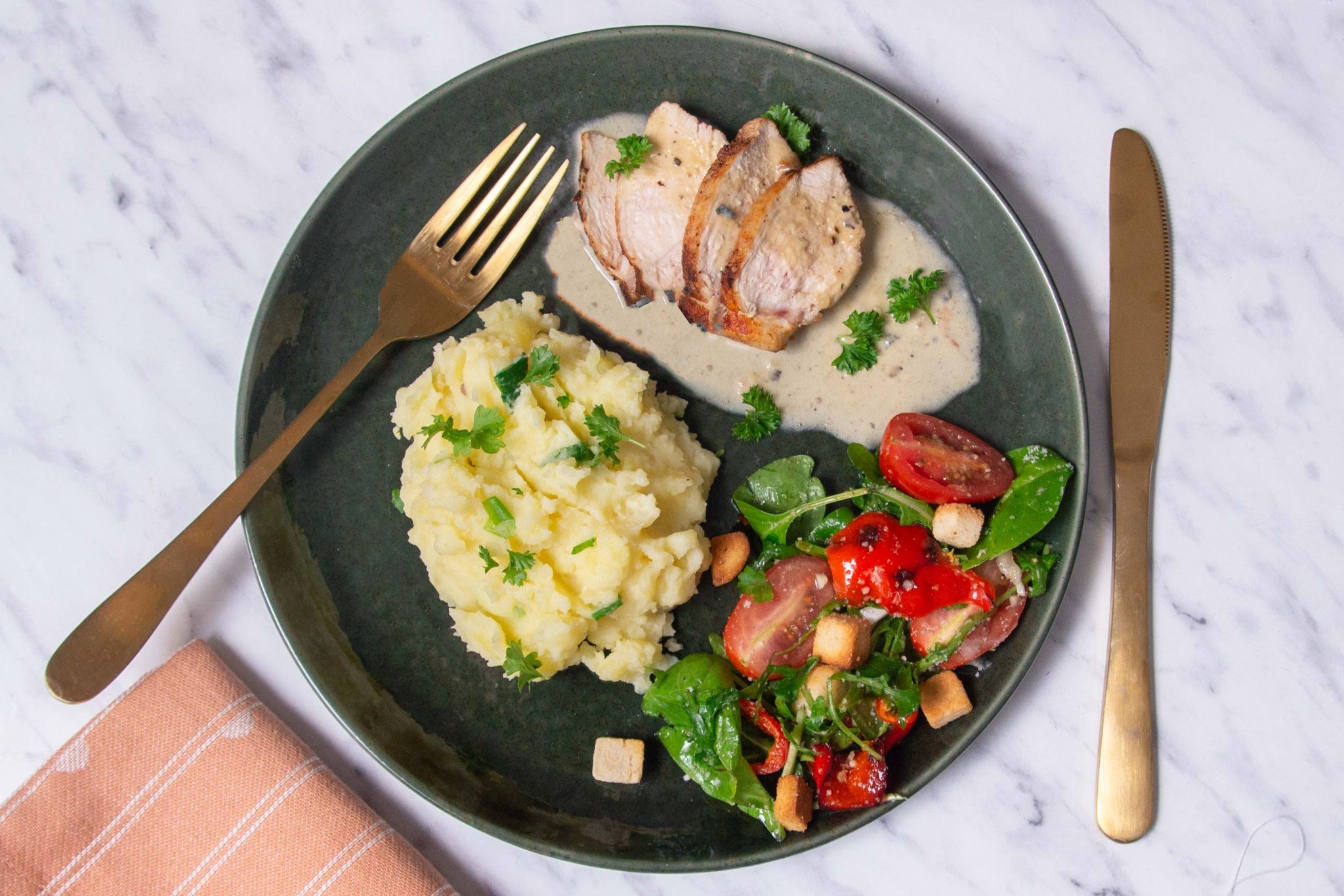 Ingredients
( 2 adults and 2 kids )
Mash, chicken and lettuce

800 grams

potatoes

500 grams

chicken fillet

1 tbsp

paprika

1 clove

garlic

8

cherry tomatoes

1

red bell pepper

50 grams

croutons

25 grams

butter

50 ml

milk

50 ml

cooking water

olive oil

dressing of your choice

Gravy

500 ml

milk

1 cube

beef stock

corn flour

gravy browning

salt

peber
ADD TO SHOPPING LIST
ADD TO MEAL PLAN
*
= Good to know - click the ingredient

= See the recipe - click the ingredient
A classic and delicious spot of dinner with chicken fillet, mashed potatoes, a yummy gravy, and an easy salad with croutons. Enjoy!
Directions
1. Peel and roughly dice the potatoes. Cook until tender in a pot of unsalted water - until totally tender.
2. Pop chicken fillets into a freezer bag along with paprika, pressed garlic and some oil. Massage the seasoning into the fillets. Cook in olive oil on a pan until cooked through.
3. While the chicken cooks, whip up the salad. Chop up tomatoes and bell pepper, mix the lot with rinsed spinach and top with croutons and a dressing of your choice.
4. Drain the potato water into a bowl - you'll need it in a minute! Mash the potatoes well with a whisk, add butter, and whisk until it's melted. Add milk and cooking water until the consistency is like thick porridge, and season with salt and pepper. Be mindful not to overwork the mash, especially if you're using an electric whisk. It can make the consistency a bit strange and rubbery..!
5. Remove the chicken from the pan - leave the juices! Pour milk onto the pan along with crumbled stock cube, and bring to the boil over low heat while stirring. Stir a bit of corn flour into a cup of water and add to the pan little by little, until the gravy has the consistency you like best. Season with salt, pepper, and optionally a bit of lemon and sugar.
6. Serve the chicken sliced, with mash, gravy, salad and an optional herb garnish, if you feel the need to counteract the brown a bit. Enjoy!
Tip
Tasks for kids in the kitchen: Let your kids help rinse the veggies and chop tomatoes and bell pepper. They can also help stir and taste the sauce - kids are champions at that!
Share your tips and comments