High five!
The recipe has been added to your shopping list.
Savoury spinach crepes with salmon and cottage cheese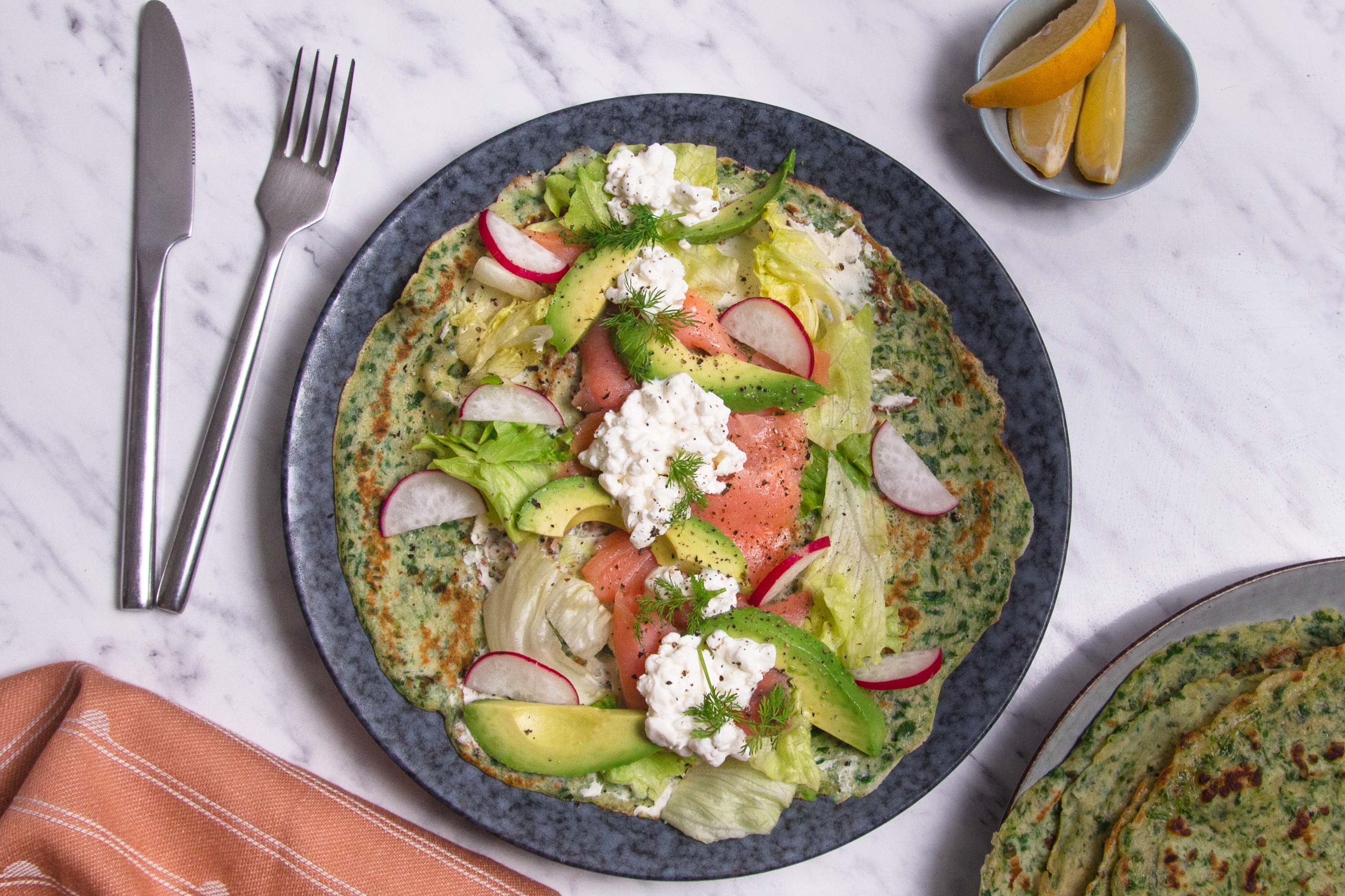 Ingredients
( 2 adults and 2 kids )
8

radishes

2

avocado

1

lemon

150 grams

fresh spinach

*

100 ml

milk

8

egg

150 grams

spiced cream cheese

lettuce of your choice

200 grams

cottage cheese

200 grams

smoked salmon trimmings

salt

pepper

olive oil
ADD TO SHOPPING LIST
ADD TO MEAL PLAN
*
= Good to know - click the ingredient

= See the recipe - click the ingredient
We LOOOOVE savoury crepes (and so do our kids, by the way..!) We've snuck a bit of spinach into these crepes, so they're in proper Popeye-style. We're serving them with salmon, avocado, cottage cheese and veggies, and using smoked salmon trimmings which is a lot cheaper than regular smoked slices, and work fine for these crepes. Important: Som trimmings needs cooking check the packaging. Enjoy!
Directions
1. Rinse and slice the radishes. Halve the avocado, remove the pit and slice the flesh. Drizzle with some lemon juice, so the avocado doesn't brown.
2. Rinse the spinach leaves thoroughly, so they're completely free of dirt. Blend with a bit of the milk in a mini chopper - or very finely chop the spinach with your best ninja knife. Whisk with egg, the remaining milk, and some salt and pepper.
3. Now cook your savoury crepe batter in some olive oil on your favourite crepe pan. The crepes can be a bit thicker than dessert ones - but only a bit. Once they've settled a bit, you can loosen them around the edge with a spatula and carefully flip them, to cook on both sides.
4. Put the crepes on the table along with cream cheese, rinsed lettuce, cleaned and rinsed radishes, avocado, cottage cheese, lemon slices and smoked salmon, and let the whole family assemble their own favourite crepe.
5. Remember that some smoked salmon trimmings might need cooking - check the packaging. And if so fry them on a pan with olive oil.
6. Enjoy!
Tip
Tasks for kids in the kitchen: Let your kids help slice radishes and avocado. They can also whisk the batter.
Choose MSC branded salmon if you can - it ensures sustainable fishing.
Share your tips and comments