High five!
The recipe has been added to your shopping list.
Savoury crepes with beef mince and salad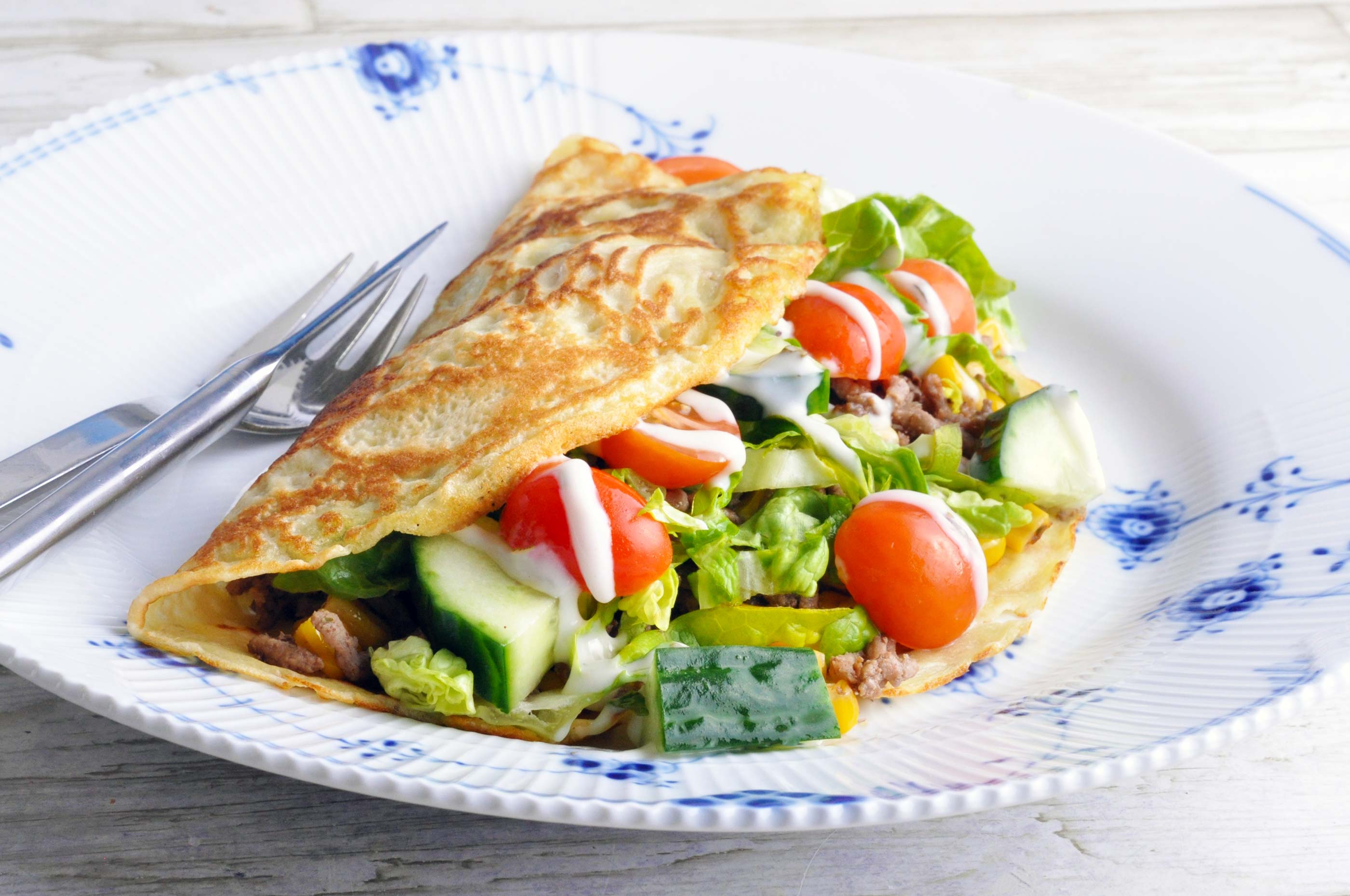 Ingredients
( 2 adults and 2 kids )
1

onion

250 grams

sweetcorn

200 grams

carrots

*

500 grams

beef mince

0.5 tbsp

dried oregano

lettuce of your choice

0.5

cucumber

4

tomato

8

savoury crepes

dressing of your choice

salt

pepper

olive oil
ADD TO SHOPPING LIST
ADD TO MEAL PLAN
*
= Good to know - click the ingredient

= See the recipe - click the ingredient
Crepes for dinner is a definite winner - at least with our kids! Here we've filled the crepes with classic beef mince with sweetcorn and carrots, and of course salad. You can buy the crepes at the supermarket, or make your own using our easy recipe. Simply click the little chefs' hat in the ingredients. Enjoy.
Directions
1. Finely chop the onion. Rinse the sweetcorn with cold water in a sieve. Peel the carrots and grate them on a grater - it's up to your whether you want them roughly or finely grated. Depends how thoroughly camouflaged you'd like them to be in the meat sauce!
2. Cook the onion with some olive oil in a deep pan or pot. Give it a few minutes, until slightly browned. Add mince and oregano and cook while stirring continuously, until the mince is seared on all sides.
3. Add carrots and sweetcorn and continue to cook until the meat sauce is warm all the way through, and the carrots cooked into the sauce. Add salt and pepper to taste.
4. Finely chop the lettuce. Rinse cucumber and tomatoes and dice both. Warm the crepes in a pan, in the oven or microwave, and pop them on the table along with meat sauce and veggies in small bowls, and let the family assemble their crepes the way they like them. Top with a bit of dressing and munch away!
5. Enjoy!
Share your tips and comments