High five!
The recipe has been added to your shopping list.
Sausage rolls with courgette and chia seeds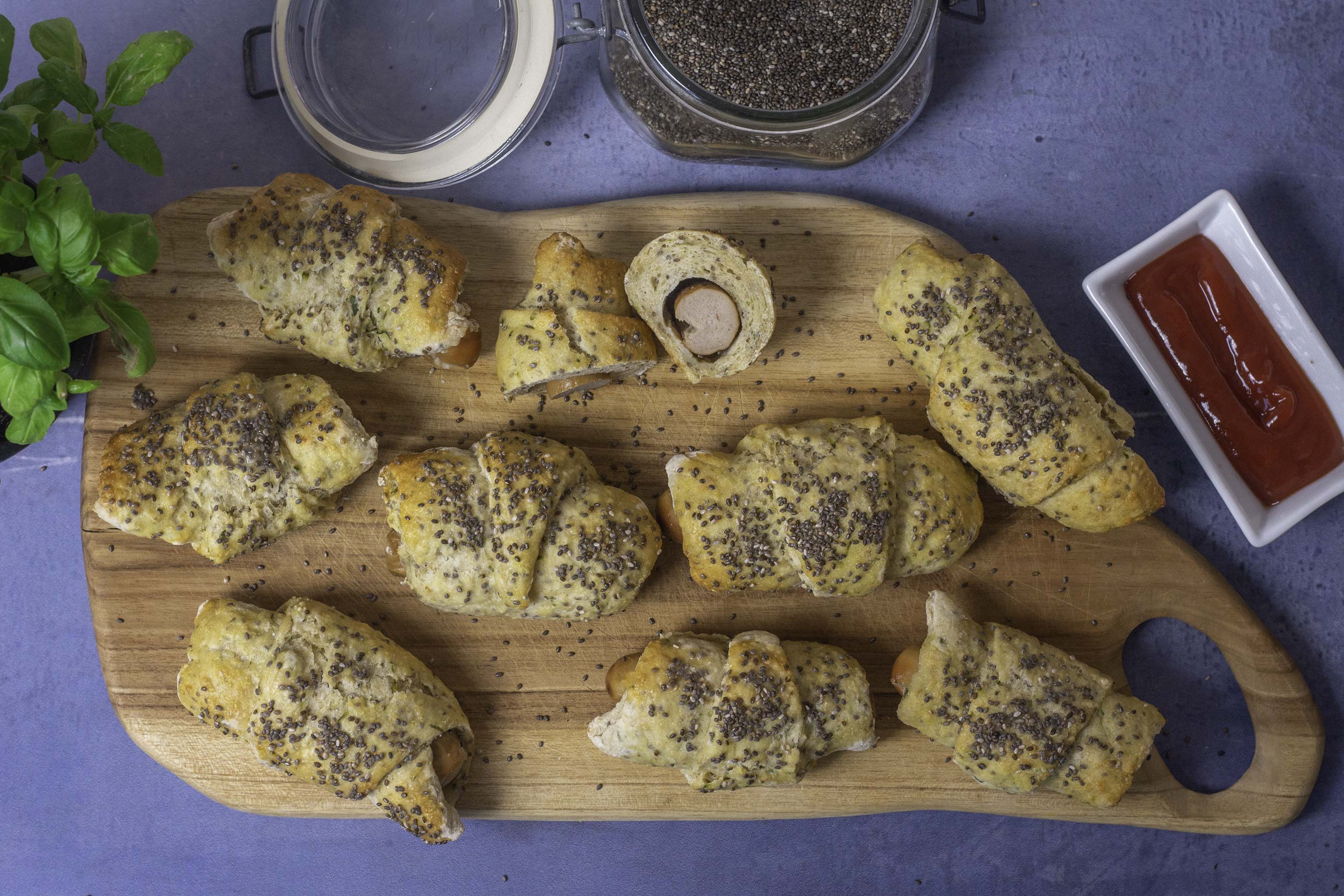 Ingredients
( Approx. 16 )
150 ml

cold water

50 ml

boiling water

100 ml

yoghurt naturel

25 grams

yeast

25 ml

olive oil

1 tsp

salt

1

courgette

50 grams

chia seeds

- or flaxseed

400 grams

plain flour

8

grill sausage

1

egg

baking parchment
ADD TO SHOPPING LIST
*
= Good to know - click the ingredient

= See the recipe - click the ingredient
Sausage rolls are an absolute staple, and we've made this gorgeous variation with camouflaged courgette and chia seeds - they might even have Greggs beat! You can use flax or sesame seeds instead, if you can't find chia seeds at the supermarket. Enjoy!
Directions
1. Preheat your oven to 190 degrees convection.
2. Mix cold and warm water in a bowl. Add yoghurt and crumble in the yeast. Stir well until everything is dissolved, then add oil and salt.
3. Rinse and grate the courgette on the fine side of a grater. Squeeze the moisture out of the grated courgette and mix into the yeast mixture along with chia or flaxseed.
4. Stir in the flour little by little. As the dough starts to come together, finish it off by kneading on a flour-coated tabletop.
5. Split the dough in half, and roll each half out into a circle. Cut the circle into eight triangles, pop a piece of sausage on the widest end of each, and roll towards the centre.
6. Place the sausage rolls with the seam facing down on a baking tray with baking parchment. This way the sausage rolls don't come undone as they bake.
7. Let them raise for 40 minutes under a cloth, then brush with eggwash. Sprinkle with chia or other seeds on top, if you like.
8. Bake the sausage rolls for 15-20 minutes, until golden on top.
9. And munch away - enjoy!
Tip
Tasks for kids in the kitchen: Let your kids help rinse and grate the courgette. They can also help pour the rest of the ingredients into the dough, cut the sausages, and place them on the dough.
Share your tips and comments