High five!
The recipe has been added to your shopping list.
Samosas with rice salad and raita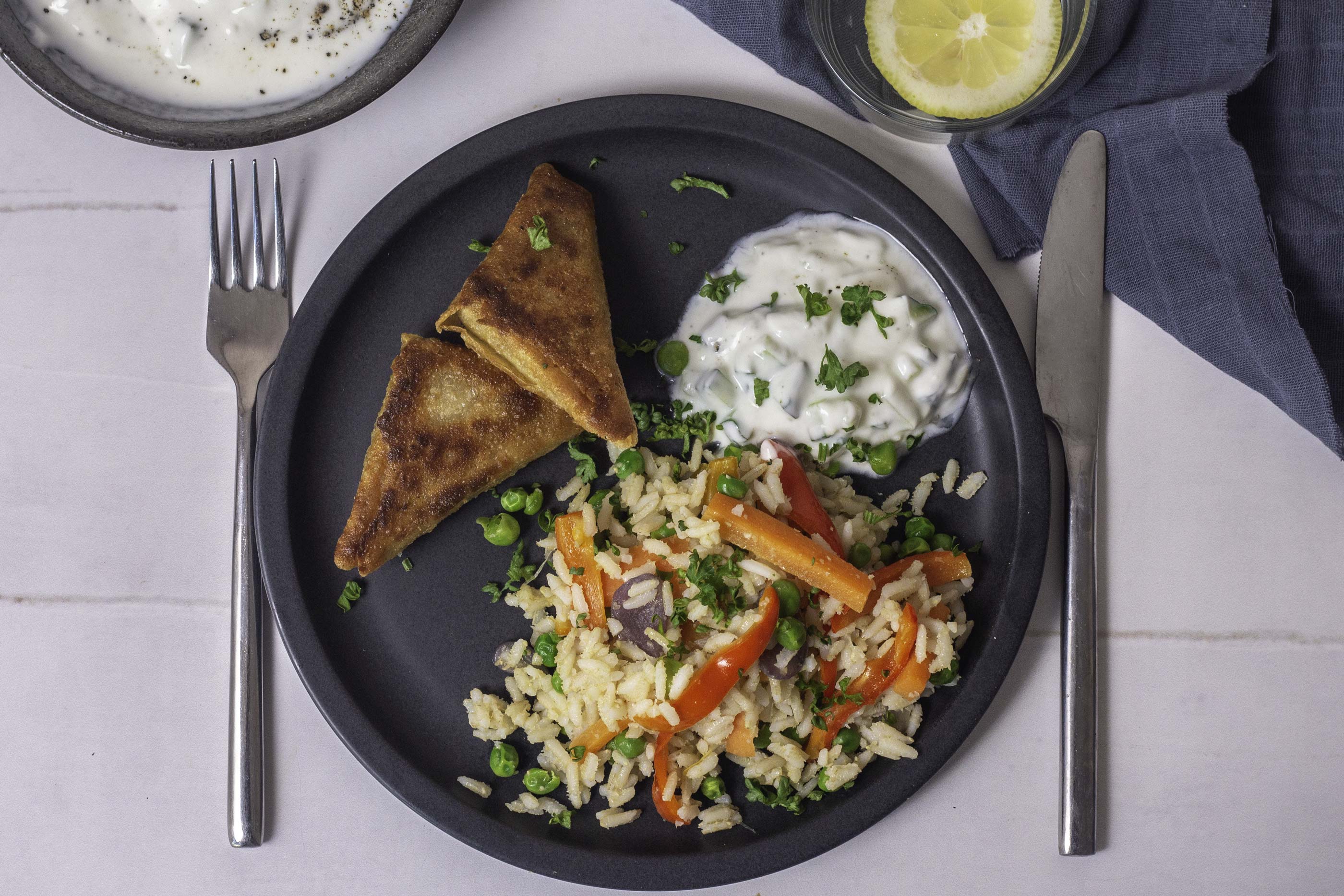 Ingredients
( 2 adults and 2 kids )
wholegrain rice

1

onion

1 clove

garlic

1

red bell pepper

200 grams

carrots

*

0.5 tbsp

curry

200 grams

frozen peas

samosas or spring rolls

15 leaf

fresh mint

0.5

cucumber

200 ml

yoghurt naturel

salt

pepper

olive oil
ADD TO SHOPPING LIST
ADD TO MEAL PLAN
*
= Good to know - click the ingredient

= See the recipe - click the ingredient
Samosas are super yummy! It's an Indian dish, a bit like a spring roll. You can make samosas yourself by clicking the chefs' hat. Most supermarkets will have them frozen as well, or you can swap them for spring rolls. We're serving the crispy treats with rice salad and raita. Enjoy!
Directions
1. Cook the rice according to the packet. Finely chop onion and garlic. Rinse and clean the bell pepper, peel the carrots and cut both into thin strips. Sautée onion, garlic and curry for a couple of minutes in a bit of olive oil on a pan.
2. Add bell pepper, carrots and frozen peas and continue to sautée until everything has a nice sear. Mix the veggies with the rice and season to taste with salt and pepper.
3. Warm a good dash of olive oil in a deep pan. Fry samosas or spring rolls until golden, and leave to drip off on some kitchen roll. Remember to turn them as you go. You can also cook them in the oven, according to the packet.
4. And now for the raita. Rinse and finely chop the mint. Wash the cucumber, split it lengthways and remove the seeds. Roughly grate the cucumber and squeeze out as much moisture from the grated cucumber as you can. We suggest wringing it in a clean dishtowel.
5. Mix cucumber, mint and yoghurt in a bowl and season to taste with salt. Serve the crispy samosas with raita and rice salad.
6. Enjoy!
Tip
Tasks for kids in the kitchen: Let your kids help make the raita. They can rinse, grate and squeeze the cucumber, mix everything together, season and taste.
We've made an easy drawing showing how to fold samosas, if you're making them yourself.
Share your tips and comments