High five!
The recipe has been added to your shopping list.
Samosas with raita and rice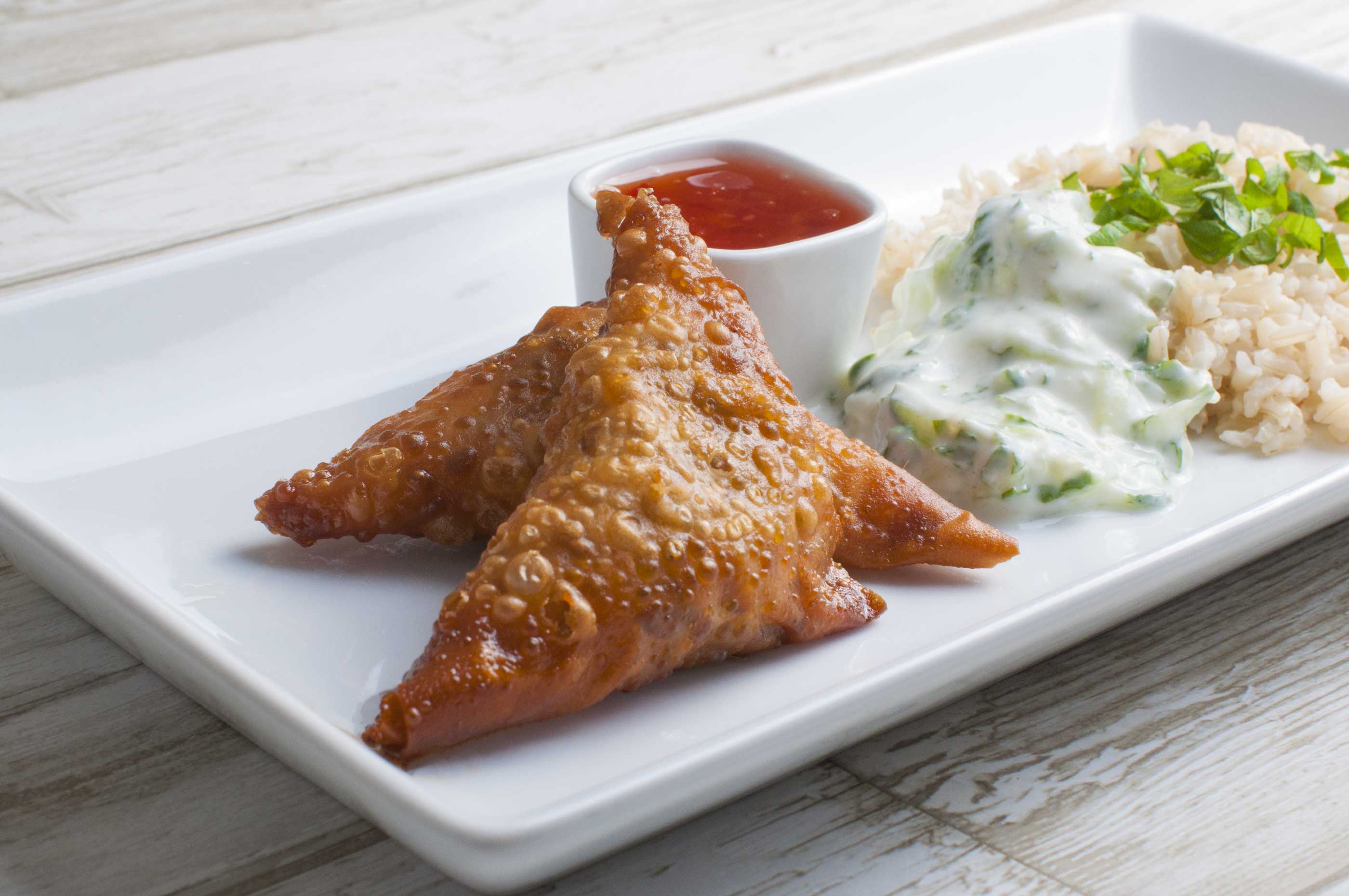 Ingredients
( 2 adults and 2 kids )
Samosas

wholegrain rice

200 grams

carrots

*

4

spring onions

1 clove

garlic

2 tsp

curry

500 grams

beef mince

70 grams

tomato purée

140 grams

sweetcorn

1 packet

filo pastry

olive oil

plain flour

oil for frying

salt

pepper

Raita

15 leaves

fresh mint

0.5

cucumber

200 ml

natural yoghurt

1 tsp

cumin

salt
ADD TO SHOPPING LIST
ADD TO MEAL PLAN
*
= Good to know - click the ingredient

= See the recipe - click the ingredient
Samosas are little crisp packets of filo pastry, that can be stuffed with all sorts of deliciousness. They're no trouble at all to make, but they do take a bit of time. So whip them up on a Friday or weekend with the kids. Here we've filled them with beef and veggies, and served them with rice and a yummy raita (raita is a sort of garlic-free tzatziki). Enjoy!
Directions
1. Boil the rice following the instructions on the packet. Peel the carrots and finely dice them. Clean and rinse the scallions and chop finely along with garlic. Sautée scallions, garlic and curry for a few minutes with a bit of olive oil in a pan. Add the mince and continue cooking until it's good and brown. Add tomato purée and sweetcorn, add salt and pepper to taste and put to the side.
2. Now for the raita. Rinse and finely chop the mint. Wash the cucumber, split it lengthways and remove the seeds. Roughly grate the cucumber and press as much liquid out of it as you can. Mix cucumber, mint, yoghurt and cumin in a bowl and add salt to taste.
3. Cut the filo pastry into rectangles of roughly 15 x 25 cm and check out our little diagram here. Place the pieces with the short side at the top, farthest away from you. Place some filling on the top half. Fold the top right corner down along the left edge, forming a triangle.
4. Now grab the top left corner and fold it straight down along the edge, "tipping" the triangle in towards yourself. Now grab the "new" left corner and fold over towards the bottom of the right edge, leaving a small flap of pastry free.
5. Mix a bit of flour and water to form a paste. Apply to the pastry flap with a finger and close your samosa. Voila! And off you go. Heat the oil in a deep pan or a pot until it sizzles when you dip in the samosas. Fry until golden and leave them to drip off on a bit of kitchen roll. Remember to flip them.
6. Serve the crispy samosas with raita and rice. Enjoy!