High five!
The recipe has been added to your shopping list.
Salmon parcels barbecued or ovenbaked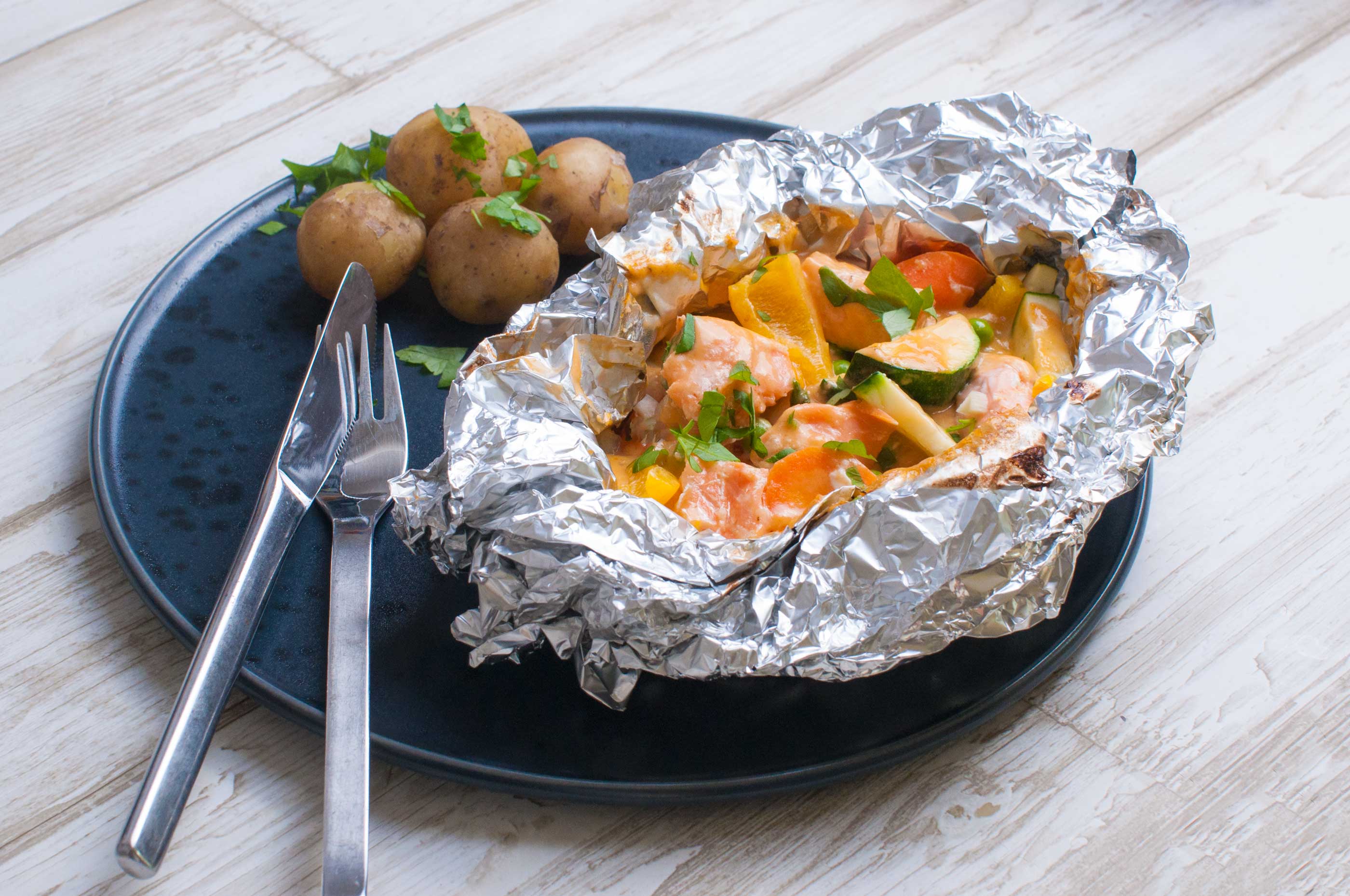 Ingredients
( 2 adults and 2 kids )
600 grams

baby potatoes

1

onion

1 clove

garlic

1

courgette

1

yellow bell pepper

200 grams

carrots

*

100 grams

frozen peas

225 grams

salmon fillet

500 grams

creamy Pasta Bake Sauce

aluminium foil

salt

pepper
ADD TO SHOPPING LIST
ADD TO MEAL PLAN
*
= Good to know - click the ingredient

= See the recipe - click the ingredient
One of our very best and easiest fish recipes! The tastiest salmon parcels with loads of veg and served with baby potatoes. We've used a ready-made Dolmio pasta sauce with no additives, that's absolutely delicious. We've also used fresh peas but you can of course go for the frozen ones too. Enjoy!
Directions
1. Fire up the grill with indirect heat or preheat your oven to 200 degrees convection.
2. Wash the potatoes and get them boiling in a pot of salted water. Boil until just about tender. This takes 15-20 minutes, depending on size.
3. Finely chop onion and garlic. Rinse the courgette and the bell pepper, peel the carrots and cut into bite-sized chunks. Shell the peas and mix with the rest of the veg in a bowl.
4. Place two pieces of aluminium foil of about 30 cm. per person in X-shapes on the table. So one piece placed lengthways, and another piece on top going across. Spread the veg in the middle of the four aluminium crosses, place the fish on top, and season with salt and pepper. Spread the sauce on top of the fish and veg. Finally, close up the parcels, but leave an opening on top for the steam to escape through.
5. Place the foil parcels on the middle on the grill, and cook under lid for about 20 minutes, until the fish is tender and only just cooked through. You can check by lightly pressing the salmon with a fork. When the layers separate under pressure, the fish is cooked.
6. Serve one parcel per person with tasty baby potatoes on the side.
7. Enjoy!
Tip
If you don't use all of the sauce you can store it in the freezer for next time.
Share your tips and comments