High five!
The recipe has been added to your shopping list.
Salad with chicken, parma and a world of veggies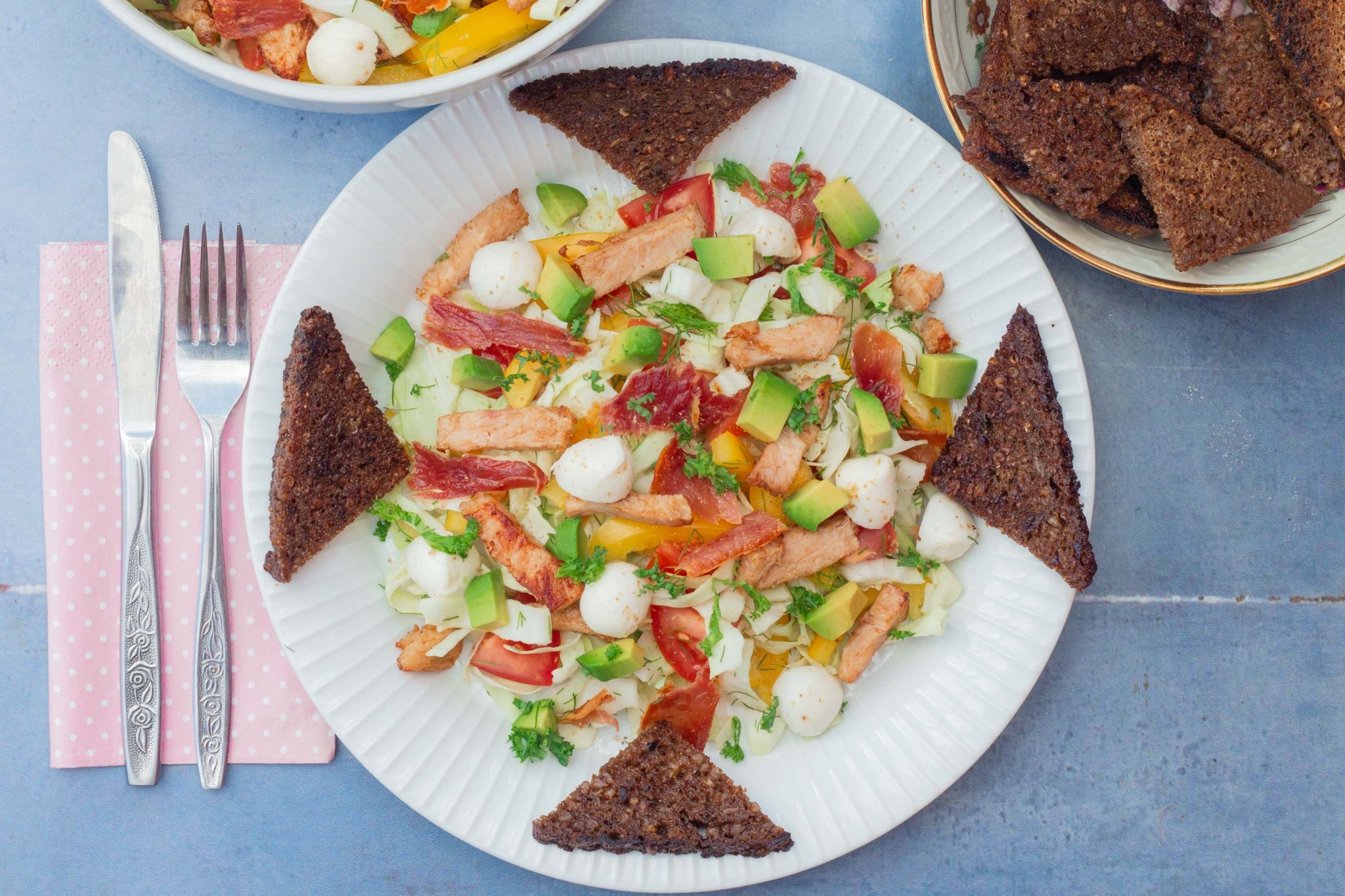 Ingredients
( 2 adults and 2 kids )
6 slice

rye bread

`

100 grams

serrano ham

400 grams

chicken fillet

1 head

romaine lettuce

3

tomato

1

yellow bell pepper

2

avocado

1 ball

mozzarella

dressing of your choice

salt

pepper

olive oil
ADD TO SHOPPING LIST
ADD TO MEAL PLAN
*
= Good to know - click the ingredient

= See the recipe - click the ingredient
This is such a tasty salad - we're just saying! With chicken, serrano ham, avocado, mozzarella, bell pepper, tomato and lettuce. We're serving the tasty lot with crispy rye bread slices. Enjoy!
Directions
1. Preheat your oven to 200 degrees convection, and cut the rye bread into triangles. Brush with a bit of olive oil and season with salt and pepper. Bake for about 10 minutes, until crispy and yummy. Remember to flip them halfway.
2. While the rye bread triangles are getting yummy in the oven, prep everything else. Start by frying the serrano (or bacon, if you're really out to party!) on a dry pan. Pop the serrano on the cold pan, switch on the hob and let the ham fry until crisp. Then leave it to drip off on some kitchen roll.
3. Now sear the chicken fillets in the fat left over on the same pan - If more is needed, add some olive oil. Season with salt and pepper and finish them in the oven for about 10 minutes, until cooked through. You can either pop the pan in the oven, if the pan is the kind that can take it, or move the fillets to a baking tray.
4. Meanwhile, rinse the lettuce and tomato and clean the bell pepper, and cut everything into bite-sized bits. Halve the avocado, remove the pit and dice the meat. Rip or slice the mozzarella into smaller bits.
5. Slice or rip the cooked chicken into strips and mix everything into a gorgeous salad.
6. Serve the salad with dressing and crispy rye bread segments. Enjoy!
Tip
Tasks for kids in the kitchen: Let your kids help cut the many vegetables. They can also rip up the mozzarella and break up the serrano, once it's gone cold and crisp.
If the kids aren't the most well-versed in salads, you can serve all the ingredients in little bowls rather than mixing it together. Then everyone can pick the bits they'd like.
Share your tips and comments