High five!
The recipe has been added to your shopping list.
Rootza pizza with meatballs and onion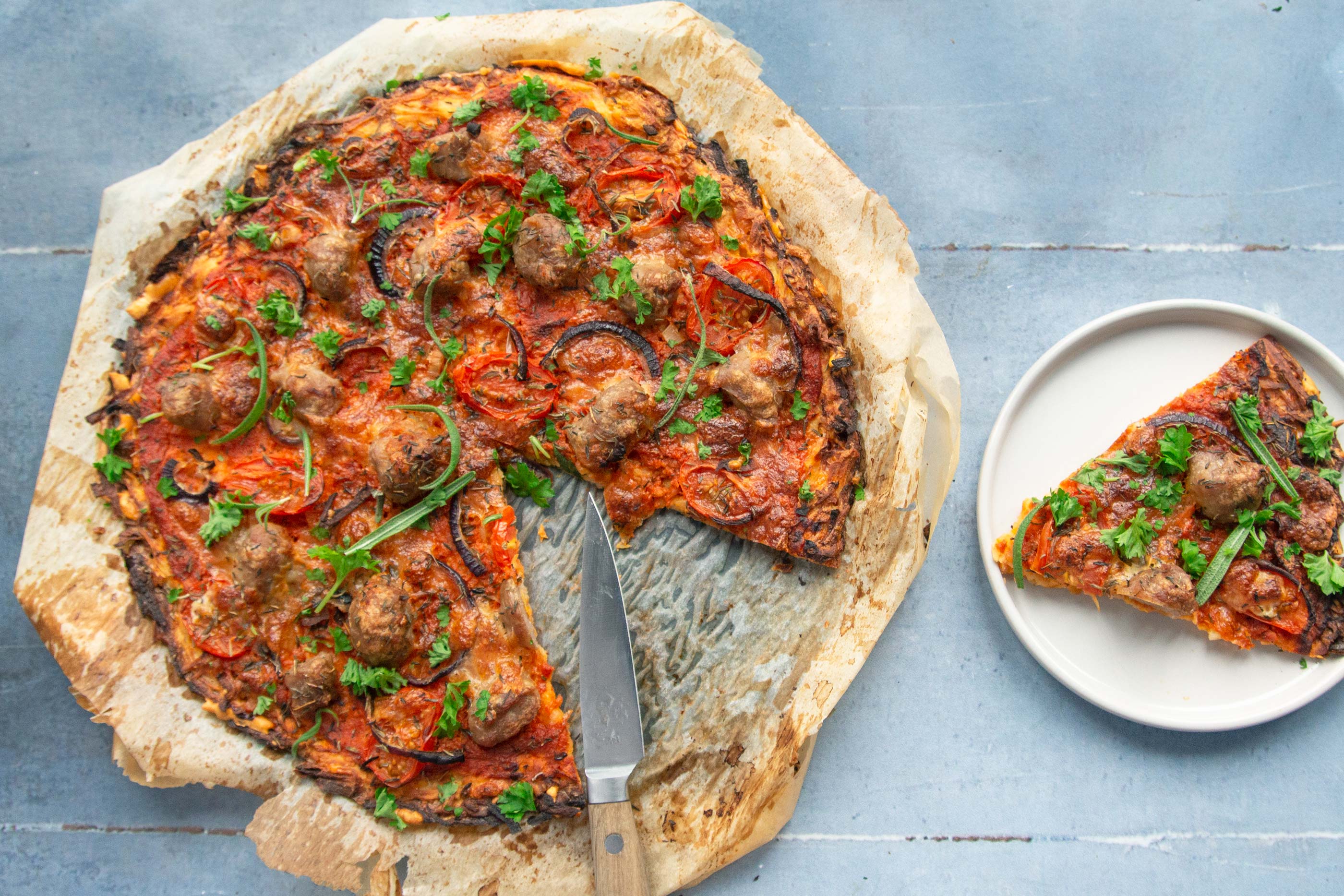 Ingredients
Freezer friendly
( 2 adults and 2 kids )
Pizza bases

300 grams

fresh beets

*

300 grams

carrots

*

600 grams

baking potatoes

2

egg

50 grams

grated cheese

Toppings

2

onion

10

cherry tomatoes

280 grams

pizza sauce

500 grams

dinner sausage

150 grams

grated cheese

dried oregano

- or thyme

baking parchment
ADD TO SHOPPING LIST
ADD TO MEAL PLAN
*
= Good to know - click the ingredient

= See the recipe - click the ingredient
Rootza pizza is a different kind of pizza than you're probably used to – but it's PACKED full of flavour. Believe it or not: The base is made from grated root veggies! We're topping the bases with meatballs made from dinner sausage, tomato, onion, and grated mozzarella. And feel free to make a little bet with yourself about whether the kids realise that the bases are pure veg. Enjoy!
Directions
1. Preheat the oven to 250 degrees over-under heat, with a baking tray on the bottom shelf. If you have a pizza stone, place it on the baking tray in the cold oven before you switch it on.
2. Peel beets, carrots and potatoes. Either grate on the coarse side of a grater or blend in a mini chopper or food processor. Wrap the grated veggies in a clean dishtowel (that's okay to be stained red and orange!) and wring out the juices.
3. Place the veggies in a bowl with eggs, cheese and a pinch of salt and pepper, and mix well.
4. Divide the "dough" into four piles on two baking trays lined with baking parchment. Press the bases flat and push the edges in a bit – they should be about 15-20 cm in diameter. Bake the bases for about 10-15 minutes, until the edges are browned.
5. Meanwhile, peel the onions and cut into rings. Rinse and slice the tomatoes.
6. Spread tomato sauce onto the bases – leaving the outermost centimeter bare. Cut a hole at the end of the dinner sausage and squeeze out little meatballs, and spread them out onto the pizzas along with onion, tomato slices, grated cheese and oregano or thyme. If you have dinner sausage left over, cook it whole or as meatballs in some olive oil on a pan, and serve with the pizza or save for packed lunches.
7. Bake the pizzas for 10-15 minutes, until the cheese is golden and the crust crispy.
8. Yum, time to munch away. Enjoy!
Tip
Tasks for kids in the kitchen: Let your kids help peel the veggies. They can also add sauce to the bases and help add the toppings.
Share your tips and comments