High five!
The recipe has been added to your shopping list.
Roast pumpkin seeds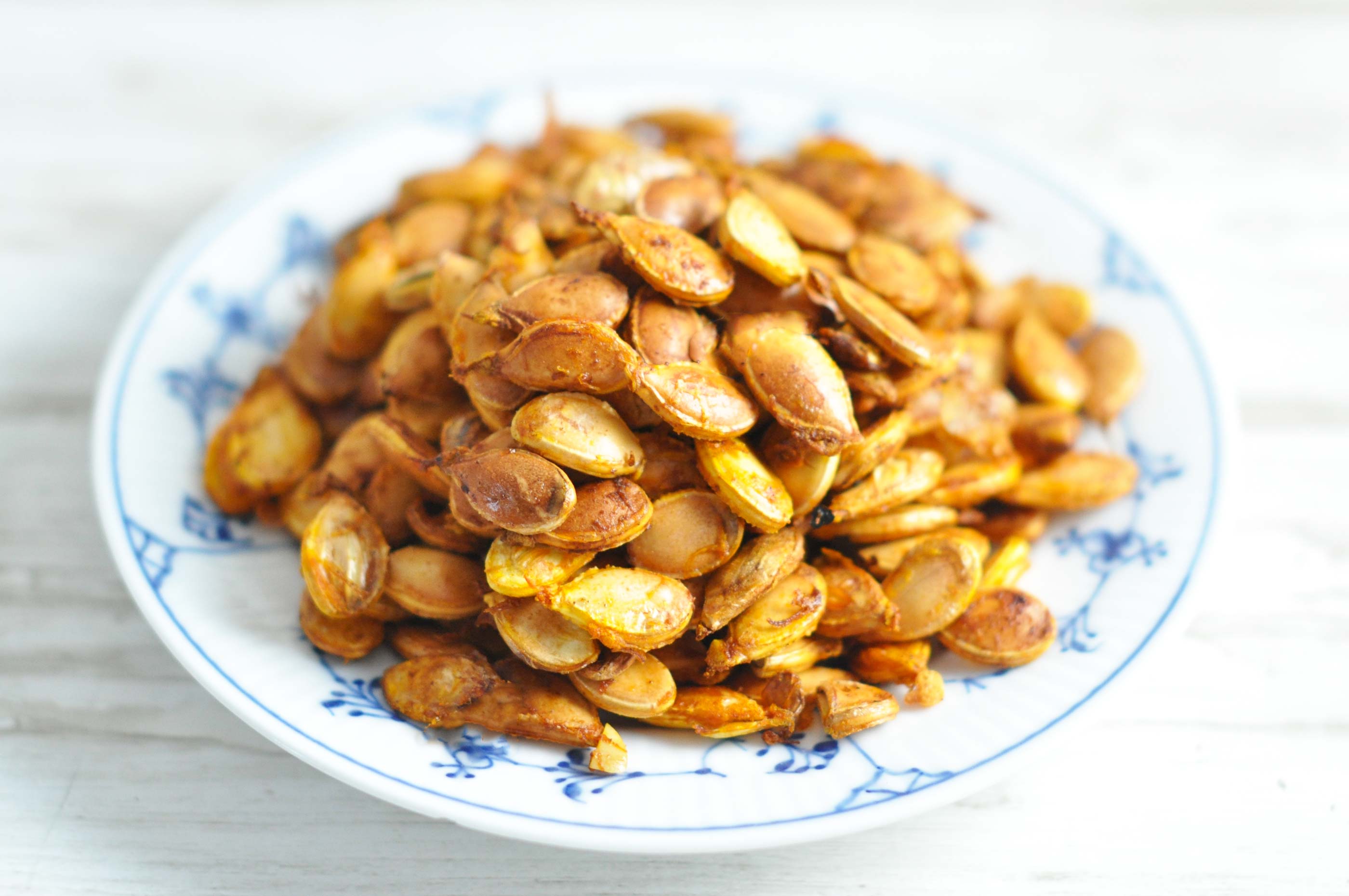 Ingredients
( 1 portion )
pumpkin seeds

all purpose seasoning

olive oil
ADD TO SHOPPING LIST
*
= Good to know - click the ingredient

= See the recipe - click the ingredient
Roast pumpkin seeds are so delicious. And if you're already cooking with pumpkin, or just already getting the Jack-o-lanterns ready for Halloween, hang onto the seeds. You can turn them into your very own tasty snacks!
Directions
1. Preheat your oven to 200 degrees convection.
2. Remove all the seeds from the pumpkin with a spoon. Now use your fingers to remove the excess pumpkin flesh from the seeds. The easiest way is to pop the seeds into a bowl of water and "massage" the seeds with your fingers until clean. It's impossible to get rid of all of the flesh, and it's fine if a little bit is left on. This is a pretty droll task, and one of those where it's completely your right as a parent to supplement with a bit of child labour!Fjern alle kernerne fra græskarret med en ske. Brug nu fingrene til at fjerne alt det overskydende græskarkød fra kernerne. Det er nemmest, hvis du hælder kernerne i en skål med vand og "masserer" kødet af med fingrene. Det er umuligt at fjerne alt kødet, og det gør heller ikke noget, hvis der sidder lidt tilbage. Det er i øvrigt rimelig kedeligt og en af de arbejdsopgaver hvor det som forældre er helt okay at supplere med en hurtig omgang børnearbejde ;o)
3. Dry the pumpkin seeds in a clean dishtowel and place on a baking tray with baking parchment. Coat with a dash of olive oil and all purpose seasoning - or whatever you fancy of have handy. Bake the pumpkin seeds for about 20 minutes, or until golden brown, crispy and are filling the kitchen with a wonderful smell. Remember to turn them halfway through cooking.
4. Let the pumpkin seeds cool, and use them as snacks in packed lunches, or as garnish on a tasty pumpkin soup.
5. Enjoy!
Tip
All-purpose seasoning is a spice mix, produced by Santa Maria among others. As it already contains salt, you often don't need to add regular salt when using it. You can use other types of spice, such as paprika, if you prefer.
Share your tips and comments