High five!
The recipe has been added to your shopping list.
Roast pork tenderloin with rösti and summer salad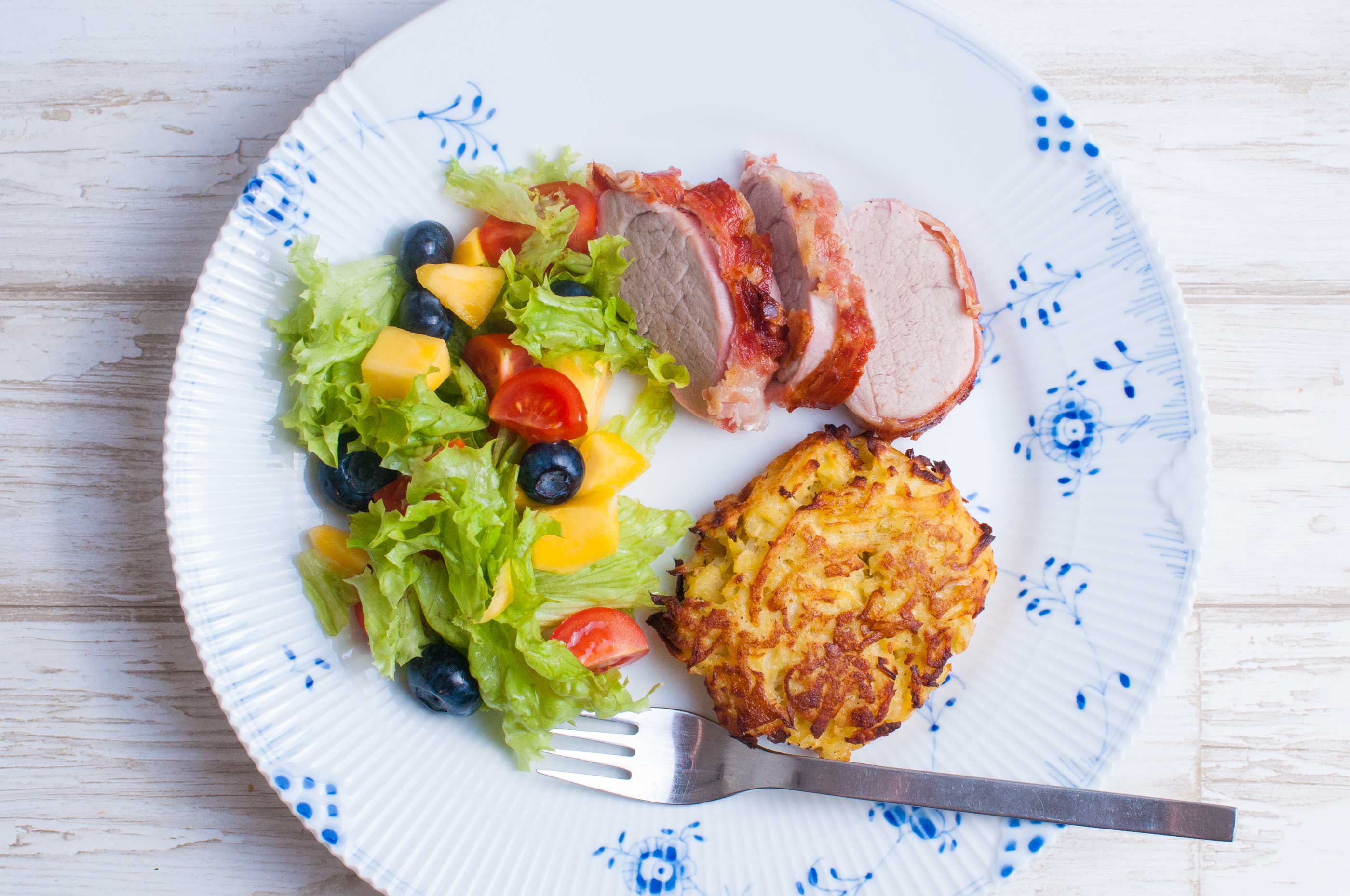 Ingredients
( 2 adults and 2 kids )
1

pork tenderloin

125 grams

bacon slices

600 grams

potatoes

2

onion

2

egg

lettuce of your choice

1

mango

100 grams

blueberries

10

cherry tomatoes

butter

olive oil

baking parchment

salt

pepper
ADD TO SHOPPING LIST
ADD TO MEAL PLAN
*
= Good to know - click the ingredient

= See the recipe - click the ingredient
Potato rösti tastes amazing! Here we've served it with roast pork tenderloin wrapped in bacon, and an easy, tasty and summery salad. You can swap the bacon for parma ham if you prefer to keep the fat as low as possible. Enjoy!
Directions
1. Preheat your oven to 200 degrees convection or fire up the grill.
2. Trim the tenderloin by removing the biggest and toughest sinew using your favourite knife. Season with salt and pepper and wrap bacon slices around the tenderloin.
3. Place the tenderloin in a baking tray or aluminium tray. Pour a small bit of water into the bottom of the tray and cook the tenderloin in the oven or over indirect heat on the barbecue, until it's cooked through or slightly pink in the middle - depending on your preference. This will take approx. 30-40 minutes depending on size.
4. Meanwhile, make the rösti. Peel the potatoes and roughly grate them - either on a grater, or even better (and quicker) in a food processor. Squeeze out as much liquid as you can. Let the kids help - they'll find it fun! Finely chop the onion and mix with potatoes and egg - and some salt and pepper.
5. Melt a good knob of butter and olive oil on a pan and shape some nice rösti with your hands. Once again squeeze out the liquid you can from the potatoes. Cook, not until cooked through, just until golden brown on both sides. Be careful when you flip them - use a spatula or the like.
6. Place the rösti on a baking tray covered with baking parchment and cook until done in the oven along with the tenderloin - this takes about 10 minutes.
7. Meanwhile throw together the salad of rinsed lettuce, diced mango, rinsed blueberries and rinsed, halved cherry tomatoes.
8. Let the tenderloin rest for about 10 minutes on a cutting board before you slice it. Serve with the salad and the crispy rösti.
9. Enjoy!
Share your tips and comments